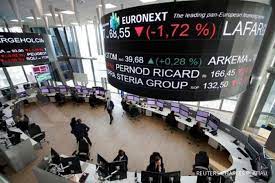 Holly Ellyatt
European markets are heading for a higher open Thursday after U.S. Federal Reserve Chair Jerome Powell said smaller interest rate hikes could begin in December.
Speaking at an event Wednesday, Powell said he expects the central bank will be in a position to reduce the size of rate hikes as soon as next month. However, he warned that monetary policy is likely to stay restrictive for some time until real signs of progress on inflation emerge.
Read more
Fed Chair Powell says smaller interest rate hikes could start in December. European markets traded higher on Wednesday to close out a strong month, as regional investors reacted to the latest inflation data from the euro zone in November.
Inflation in the single currency area dropped by more than expected in November, fueling market hopes that record-high price growth across the bloc has peaked and the European Central Bank will begin slowing its interest rate hikes next month.
German October retail sales well below forecasts
German retail sales contracted by 5% year-on-year and 2.8% for the month in October, the federal statistics office said Thursday, well below a Reuters consensus forecast of a 2.8% annual and 0.6% monthly decline.
– Elliot Smith
CNBC Pro: Forget Amazon. Here's what top tech investor Paul Meeks is buying
Investor confidence in the tech sector has been shaken this year amid a flight to safety, but top tech investor Paul Meeks said he is now "more bullish" on the sector than in recent months, though he remains selective within the sector.
He tells CNBC the stocks he favors.
— Zavier Ong
CNBC Pro: UBS reveals 15 global stocks sensitive to China's reopening plans
Chinese stocks have risen this week after the nation's health authorities reported a recent uptick in vaccination rates, which experts regard as crucial to reopening the country.
The impact of Beijing's change in tack toward dealing with the outbreak of Covid-19 is being felt not only in China but also around the world.
The Swiss bank UBS has identified 15 stocks in the MSCI Europe index that will outperform "in an environment where China's growth rebounds and the country reopens its borders."
— Ganesh Rao
Powell continues to believe in a path to a soft-ish landing
Federal Reserve Chair Jerome Powell says he continues to believe in a path to a "soft-ish" landing — even if the path has narrowed over the past year.
"I would like to continue to believe that there's a path to a soft or soft-ish landing" Powell said at the Brookings Institution.
"Our job is to try to achieve that, and I think it's still achievable," Powell said. "If you look at the history, it's not a likely outcome, but I would just say this is a different set of circumstances."
— Sarah Min
Powell says Fed can "moderate the pace" of future rate increases due to lagged effect of past hikes
Federal Reserve chairman Jerome Powell told an audience at the Brookings Institution Wednesday that the central bank can afford to ease back on its tighter monetary policy at its December meeting (due to wrap up Dec. 14).
The lagged effect of higher rates already taken in 2022, plus the drawing down of the size of the Fed's balance sheet through quantitative tightening, mean "it makes sense to moderate the pace of our rate increases as we approach the level of restraint that will be sufficient to bring inflation down," Powell said.
"The time for moderating the pace of rate increases may come as soon as the December meeting," said the 69-year-old Fed chair.
In response to Powell's remarks, the S&P 500 quickly gained to about 3970 vs about 3950 before the address.
— Scott Schnipper, Jeff Cox
European markets: Here are the opening calls
European markets are heading for a higher open Thursday after U.S. Federal Reserve Chair Jerome Powell said smaller interest rate hikes could begin in December.
The U.K.'s FTSE index is expected to open 21 points higher at 7,604, Germany's DAX up 170 points at 14,580, France's CAC up 57 points at 6,788 and Italy's FTSE MIB up 228 points at 24,851, according to data from IG.
Data releases include euro zone unemployment and final purchasing managers' index figures for October and Germany's retail sales in October.
— Holly Ellyatt
Source : CNBC