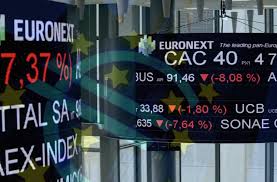 Holly Ellyatt
European markets are heading for a mixed open Thursday as investor nervousness continues over the state of the global economy and inflation.
The U.S. Federal Reserve is expected to issue a 50 basis point interest rate hike next week and while that would be a smaller increase than recent rate hikes, investors are increasingly concerned about whether the central bank can avoid a recession next year in its attempt to squash inflation.
U.S. stock futures were down slightly on Thursday morning following a fifth straight day of losses for the S&P 500 as Wall Street weighed the likelihood of a downturn.
Sentiment was more buoyant in the Asia-Pacific region overnight. Hong Kong's Hang Seng index popped on Thursday, as a local news outlet reported the city is considering easing Covid measures further, including lifting its outdoor mask rule and relaxing mandatory testing for arrivals.
CNBC Pro: Bank of America says these two global chip stocks could rise by 75% on EV car sales
A shortage of semiconductors during a boom in electric-vehicle sales could help raise profits at a handful of chip makers, according to Bank of America.
The Wall Street bank predicted that two chip stocks could see their share prices rise by more than 75% on the back of that trend.
— Ganesh Rao
CNBC Pro: Is Apple a stock to buy or avoid? Two investors face off
It's been a tumultuous year for tech companies, as investors flee growth stocks in the face of rising interest rates, and other headwinds.
Apple has held up better amid the tech carnage, although there have been some headwinds.
Two investors faced off on CNBC's "Street Signs Asia" on Wednesday to make a case for and against buying the stock.
— Weizhen Tan
European markets: Here are the opening calls
European markets are heading for a mixed open on Thursday with investor jitters continuing on recession concerns.
The U.K.'s FTSE index is expected to open 4 points higher at 7,493, Germany's DAX 12 points lower at 14,249, France's CAC down 8 points at 6,653 and Italy's FTSE MIB down 37 points at 24,204, according to data from IG.
There are no major earnings or data releases.
— Holly Ellyatt
Source : CNBC