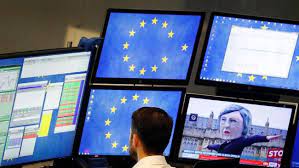 Holly Ellyatt
European markets are heading for a tepid open on Monday, bucking a positive trend in Asia-Pacific markets overnight, where shares rose on Monday as China relaxed Covid testing rules in some cities and signaled more easing may come.
Oil prices rose 2% before paring gains to trade around 1% higher as OPEC+ stuck to its policy of lowering oil production and as China relaxed some of its Covid rules.
The alliance of OPEC and non-OPEC producers agreed to stay the course on output policy ahead of a pending ban from the European Union on Russian crude.
European markets closed lower Friday, influenced by a decline in U.S. markets as investors digested the latest U.S. jobs data that showed payrolls rose by 263,000 in November, a bigger gain than expected.
It was the final monthly employment report before the Fed's two-day meeting on Dec. 13-14, in which the central bank is expected to slow to a 50 basis point interest rate hike from the 75 basis point hikes seen in recent months.
Hong Kong movers: Chinese tech firms and reopening stocks jump
Chinese technology, consumer and travel-related firms listed in Hong Kong saw sharp gains in early trade after some cities in China saw some easing in Covid restrictions.
Tech heavyweights Tencent gained 5.5% and Meituan rose 3.5%, while Alibaba jumped 4.72% and Xiaomi added 7.31%. EV stocks such as Li Auto jumped 9.19% and Nio climbed 11.5%.
Meanwhile, Hong Kong-listed casino stocks also jumped, with MGM China rising 12.44%, Wynn Macau climbing 12.35% and Sands China adding 7.5%. Galaxy Entertainment rose 3.61% and SJM Holdings rose 4.82%.
Hotpot restaurant operator Haidilao soared 15%, and shares of airlines also popped. China Southern Airlines and China Eastern Airlines each rose more than 5%, while Air China Ngained 4%. The broader Hang Seng index was up 3.21%.
— Abigail Ng, Jihye Lee
Oil futures up 2% after OPEC+ holds steady and China reportedly eases some Covid restrictions
Oil futures rose after OPEC+ agreed to stick to its existing policy of reducing oil production ahead of Russia sanctions.
The European Union's agreed price cap of $60 for Russian oil comes into effect Monday, though economists at National Bank of Australia say it's "unclear what impact this will have on Russian exports and how Russia will respond."
Separately, oil prices were lifted on the latest reports signaling China is further easing its Covid curbs.
Brent crude futures, stood at $87.53 a barrel, up 2.29% in Asia hours while U.S. West Texas Intermediate futures, traded at $81.78 a barrel, up over 2.2%.
— Jihye Lee
CNBC Pro: Goldman Sachs upgrades this global tech giant, saying the stock could rise up to 90%
Goldman Sachs sees one opportunity in electric vehicles that's on an "upward trend."
This trend will gain pace as EVs become "ever more technology driven" and simpler to build, said Goldman analysts in a Dec. 1 report.
That's set to benefit one global stock, said Goldman, which gives the stock up to 90% upside in its bull case for the firm.
— Weizhen Tan
European markets: Here are the opening calls
European markets are heading for a flat open on Monday as investors look ahead to more regional data.
The U.K.'s FTSE index is expected to open 4 points lower at 7,554, Germany's DAX up 2 points at 14,531, France's CAC down 2 points at 6,740 and Italy's FTSE MIB down 14 points at 24,671, according to data from IG.
Data releases include euro zone retail sales for October as well as final purchasing managers' index data for November. There are no major earnings.
— Holly Ellyatt
Source : CNBC