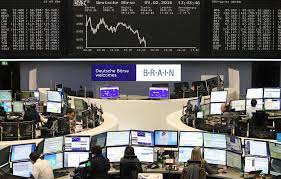 Hannah Ward-Glenton
European markets are expected to open lower Friday as investors continue to assess the impact of inflation and production data from the U.S. and U.K. and company earnings.
The pan-European Stoxx 600 index closed slightly higher Thursday after a choppy session that saw France's CAC 40 index hit an all-time intraday high.
In the U.S., wholesale prices rose 0.7% in January, which was more than expected and encouraged fears over the country's stubbornly high inflation metrics. U.S. stock futures slipped Thursday night on the news.
Asia Pacific markets traded lower on Friday as investors digested more economic data out of the U.S. and more hawkish commentary from the Federal Reserve.
JPMorgan strategist says market is seeing the 'overheat before the retreat'
A lot of the market selloff might be in, but optimism is still running too high, according to JPMorgan Asset Management global market strategist Meera Pandit told CNBC on Thursday.
"This is probably the overheat before the retreat in the economy," Pandit said on CNBC's "Closing Bell" on Thursday.
Pandit said the market right now is rallying off of strong economic data, overshoot on jobs, the latest consumer price index report and producer price index data, retail sales and industrial production. The strategist warned that consumer spending might weaken in the next several months, noting that stimulus checks and saving rates are waning.
"We're either going to see slower growth and a slowdown and disinflation, or, if growth is resilient, that means that inflation might have a little bit more room to run and therefore the Fed has to hike," Pandit said. "Either way, that's a little bit pessimistic for risk assets."
Pandit said the firm is seeing an environment of downward revisions in the U.S., noting that valuations of U.S. stocks are comparatively expensive to international stocks, which she said are trading at a 30% discount.
– Pia Singh
Dow heads for a losing week, but Nasdaq remains in positive territory
Stocks are mixed on a weekly basis following Thursday's action.
The Dow Jones Industrial Average is the laggard of the three, posting a 0.51% loss for the week. The 30-stock index is on track for its third consecutive week of losses, a first since its three-week losing streak ended in September.
The Nasdaq Composite is the outperformer, with a 1.18% gain. The tech-heavy index is on track for its sixth positive week in seven.
Finally, the S&P 500 is flat for the week.
–Darla Mercado, Chris Hayes
CNBC Pro: This semiconductor stock is soaring — and is set to rise another 20%, Morgan Stanley says
Investor interest in the semiconductor sector has rebounded in recent months with the iShares Semiconductor ETF up nearly 50% from its October lows.
2023 will be a "recovery year" for semiconductors, according to Morgan Stanley, and the bank has raised its price target on one "high quality" chip stock.
— Zavier Ong
Standard Chartered expects China's economy to grow 5.8% this year
Standard Chartered expects China's economy to expand by 5.8% this year, CEO Bill Winters said in an interview with CNBC's "Squawk Box Europe."
"We're expecting China to grow 5.8% this year, obviously coming back from quite a difficult Covid period," Winters told CNBC's Geoff Cutmore, adding that "Hong Kong is back to life."
"The recession outlook does look a bit tough in the west, [but] the markets where we do the bulk of our business Asia, Africa and the Middle East, are looking pretty good," he said.
China's economy grew by 3% in 2022, according to data released in January.
— Jihye Lee, Hannah Ward-Glenton
China Renaissance shares plunge after it says founder is missing
Shares of Hong Kong-listed China Renaissance plunged by more than 20% Friday after the investment bank and fund manager said it was unable to reach founder and controlling shareholder Bao Fan.
China Renaissance said its business was operating normally.
Chinese financial news outlet Caixin pointed out that in September, an executive who was then chair of a China Renaissance subsidiary was called in by regulators for a probe over corporate governance violations.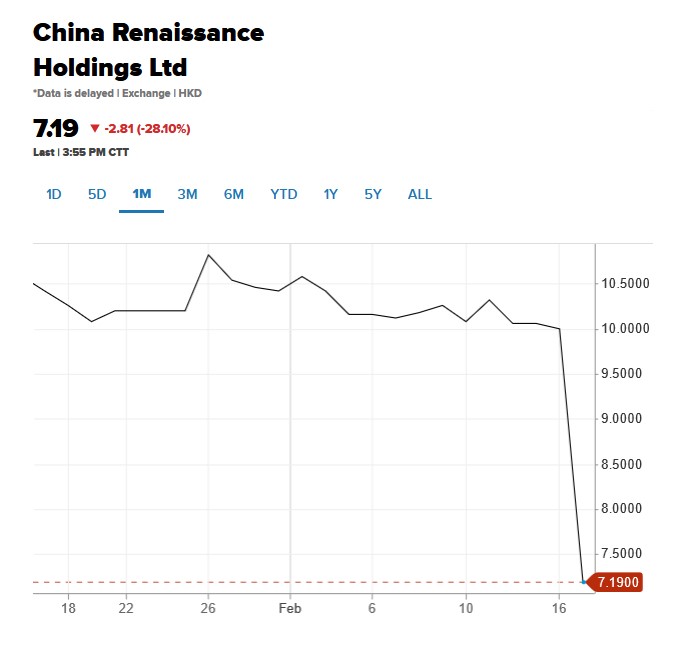 — Evelyn Cheng
Here are the opening calls
Most major bourses are expected to open lower Friday. The U.K.'s FTSE 100 is expected to lose 9 points to dip just below 8,000 at 7,999, while France's CAC 40 will have dropped from it's all-time intraday high Thursday to 7,341. Germany's DAX is seen to lose 79 points to 15,458, while Italy's MIB is expected to buck the trend and gain 124 points to hit 27,763.
— Hannah Ward-Glenton
Source : cnbc