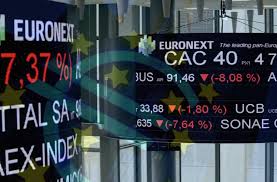 Hannah Ward-Glenton
European markets are expected to open higher Friday, after Credit Suisse and First Republic Bank received financial help designed to prevent a crisis in the banking sector.
European banking stocks recovered Thursday and ended on a positive note, with Credit Suisse having trimmed Wednesday's dramatic 24% share price dip to end the session 18.8% higher. Investors breathed a sigh of relief after the Swiss National Bank said it would provide a liquidity backstop to the embattled bank.
U.S. stocks painted a similar picture Thursday after First Republic Bank saw its share price slide in recent days. Investor sentiment was then buoyed when a group of financial institutions agreed to deposit $30 billion in the bank in what's meant to be a sign of confidence in the banking system.
Asia-Pacific markets were higher Friday in response to the First Republic Bank deposit pledge, while U.S. stock futures were mixed early Friday morning.
First Republic slides in extended trading
Shares of First Republic fell 18% in extended trading, erasing the afternoon rally sparked by a $30 billion deposit plan announced by the country's biggest banks.
While the move gives First Republic a significant cash pile, the bank did announce after the bell that it had borrowed tens of billions of dollars from the Federal Reserve and the Federal Home Loan Bank over the past week. Outflows of deposits have now "slowed considerably," the bank said.
First Republic also announced that it was suspending its common stock dividend.
— Jesse Pound
CNBC Pro: Short sellers are doubling down on these European banks — and Credit Suisse isn't their top target
Short-sellers are sitting on nearly $2 billion in profit from bets against the European banking sector this month so far. And, perhaps surprisingly, Credit Suisse wasn't the most profitable short.
Short-sellers profit when a stock falls. They borrow shares to immediately sell them with plans to repurchase them later when the price is lower, making a profit from the difference.
— Ganesh Rao
Former Indian central bank chief says too early to tell if bank rescue has worked
Former Reserve Bank of India Governor Raghuram Rajan thinks it's still too early to tell whether the U.S. rescue plan to stem bank contagion risks has worked.
"I think what's happened so far, in terms of the rescues, is sort of done the first aid. The question is — is there a slow bleed that is still going on," he told CNBC's "Street Signs Asia."
"My sense is that we won't know whether the Fed has been successful on this rescue mission until a few weeks have passed and we see no more problems."
Rajan, now a professor of finance at The University of Chicago Booth School of Business, noted questions remain around the collapse of Silicon Valley Bank.
"There are lots of questions to be answered here," he said. "How come a mid-size bank was oblivious of interest rate risk?"
He added regulators need to rebuild confidence in small- and medium-sized banks, and that means "signaling very clearly that the banks with problems have been taken care of and I think we're not there yet."
— Sumathi Bala
European markets: Here are the opening calls
European equity markets are expected to open higher across the board.
The U.K.'s FTSE index is expected to see a 45 point increase to 7,454.7, according to IG data, while the DAX will jump 32.5 points to 15,030.9. France's CAC is anticipated to increase 23.5 points to 7,066.1 while Italy's MIB will gain 150 points to reach 25,621.5.
— Hannah Ward-Glenton
Source : cnbc