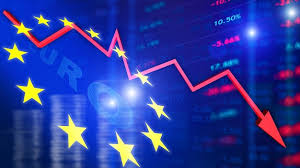 Jenni Reid & Holly Ellyatt
European stock markets retreated Wednesday as investors readied for U.S. inflation data for August, set to be released later today.
The Stoxx 600 index was down by 0.88% at 11:40 a.m. in London as most sectors declined. Retail stocks dropped 2% as industrials fell 1.5%.
European markets
| TICKER | COMPANY | PRICE | CHANGE | %CHANGE |
| --- | --- | --- | --- | --- |
| .FTSE | FTSE 100 | 7502.42 | -25.11 | -0.33 |
| .GDAXI | DAX | 15596.88 | -118.65 | -0.75 |
| .FCHI | CAC 40 Index | 7198.85 | -54.03 | -0.74 |
| .FTMIB | FTSE MIB | 28308.98 | -275.6 | -0.96 |
| .IBEX | IBEX 35 Idx | 9347.4 | -108 | -1.14 |
Autos briefly rallied in morning trade after European Commission President Ursula von der Leyen said the EU would launch an investigation into subsidies given to electric vehicle makers in China.
The sector rose as much as 2% after the announcement before falling to a slight loss. Von der Leyen said Europe was "open to competition but not for a race to the bottom."
Zara owner Inditex, the world's biggest fast fashion retailer, dipped 3.2% despite reporting interim half-year results that beat expectations and showed a 14% rise in gross profit. Analyst reactions suggested higher operating expenses and concerns over future performance may have spooked some investors, as others took profits.
On the data front, official figures showed the U.K. economy contracted by 0.5% in July. Economists in a Reuters poll had signalled a 0.2% fall.
Economists are estimating a 3.6% year-over-year rise in U.S. inflation, according to Dow Jones. That would mark an increase from the prior month's reading of 3.2%. The core consumer price index, which excludes food and energy costs, is forecast to have risen 4.3% in August, down from the 4.7% gain in July. 
Overnight, U.S. stock futures were little changed Wednesday morning as investors prepared for the release of the consumer price index, while Asia-Pacific markets fell across the board as investors assessed key economic data out of Japan and South Korea.
Stocks on the move: Aviva, Redrow, BP
Shares of British insurer Aviva were 2.5% higher at 11:17 a.m. London after it said it would sell its 25.9% stake in Singapore Life Holdings and two debt instruments for £800 million ($997 million).
British homebuilder Redrow climbed 4.7% as it beat a pre-tax profit estimate, even as the FTSE 250 firm said it expected the figure to fall by a half in the next financial year.
U.K. builders were broadly higher, with Persimmon up by 2.8% and Taylor Wimpey
up 2%, despite recent data showing house prices falling at their fastest rate since 2009 and mortgages in arrears spiking.
Meanwhile, the business world digested the shock departure of BP CEO Bernard Looney.
Looney told the company that he had not been "fully transparent in his previous disclosures" about relationships with colleagues prior to becoming CEO.
Market reaction was muted, with BP shares 0.8% lower.
— Jenni Reid
Not surprising if U.S. core inflation doesn't fall to 2% in a year: Goldman Sachs Asset Management
Valentijn van Nieuwenhuijzen, global co-head of multi-asset solutions at Goldman Sachs Asset Management, says that's given the state of the labor market and wage trends.
Stocks on the move: Autos climb 1.4%
Autos stocks rose 2% in early trade before trimming gains to 1.2% despite broader negativity in markets.
The European Commission, the executive arm of the European Union, on Wednesday launched an investigation into subsidies given to electric vehicle makers in China.
Volvo and Renault topped the Stoxx 600, gaining 4.6% and 4.4%, respectively, while Volkswagen
shares climbed 2.5%.
— Jenni Reid
UK economy contracted more than expected in July
U.K. gross domestic profit fell by 0.5% in July, below the 0.2% contraction forecast in a Reuters poll of economists.
Services output was the main drag, the Office for National Statistics said, declining 0.5%.
The economy put in a better-than-expected performance for the second quarter as a whole, with the ONS reiterating its reading of 0.2% growth.
It is the latest sign of economic strain amid higher interest rates. On Tuesday, figures showed U.K. mortgages in arrears jumped to a seven-year high in the three months to June.
Paul Dales, chief U.K. economist at Capital Economics, said the GDP figures may indicate a mild recession has begun and "underlying growth has lost momentum since earlier in the year."
Dales highlighted strikes and unusually wet weather as drags on certain sectors, but said output declined more broadly, suggesting widespread weakness.
"Even so, with wage growth still uncomfortably strong, we suspect the Bank of England will still raise interest rates one final time next week, from 5.25% to 5.50%," Dales said.
— Jenni Reid
Oil prices push higher after hitting 10-month high
Oil prices climbed Wednesday morning after hitting their highest level since November 2022 on supply concerns.
ICE Brent Crude futures with November 2023 expiry were 0.22% higher at $92.26 a barrel at 7 a.m. London time. WTI Crude futures were 0.3% higher at $89.11.
Both benchmarks rose nearly 2% on Tuesday.
Export terminals have been closed in Libya amid devastating storms that have killed more than 1,000 people.
Meanwhile, OPEC released its monthly market report, reiterating its forecast for demand for the rest of the year.
A separate report from the U.S. Energy Information Administration said it expected global oil inventories to decline in the fourth quarter, and for Brent crude to average $93 per barrel for the period. It also raised its 2023 oil demand growth forecast.
Brent Crude last week rose above $90 a barrel for the first time this year after Saudi Arabia extended voluntary output cuts.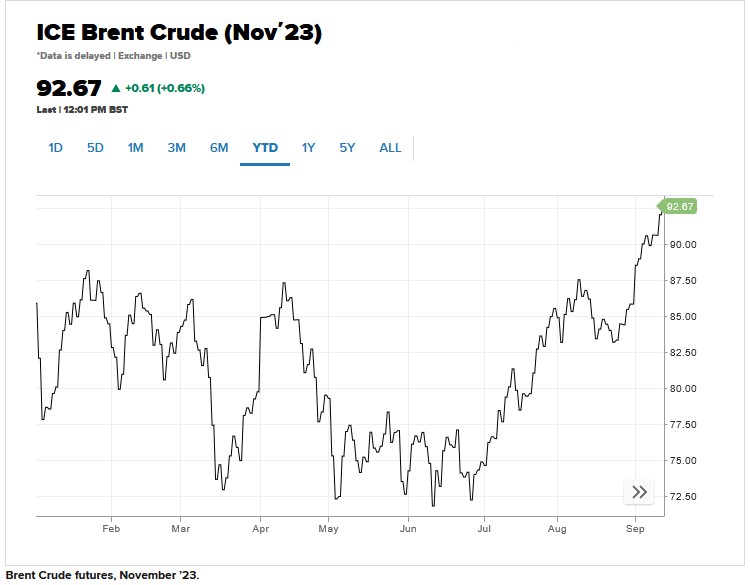 — Jenni Reid
CNBC Pro: Alibaba and more: CLSA names 3 of the 'cheapest AI plays' worldwide — giving two over 50% upside
Analysts at capital markets and investment group CLSA picked three global stocks they expect will benefit from the "lucrative potential" of artificial intelligence.
"We estimate the global AI market could reach $1 trillion by 2026, with generative AI, the next big driver of productivity and innovation, making up $100 billion," the analysts said in a note.
— Amala Balakrishner
Apple stock falls as company unveils iPhone 15
Apple stock slipped 1.8% Tuesday after the company unveiled the iPhone 15 at its "Wonderlust" launch event in Cupertino.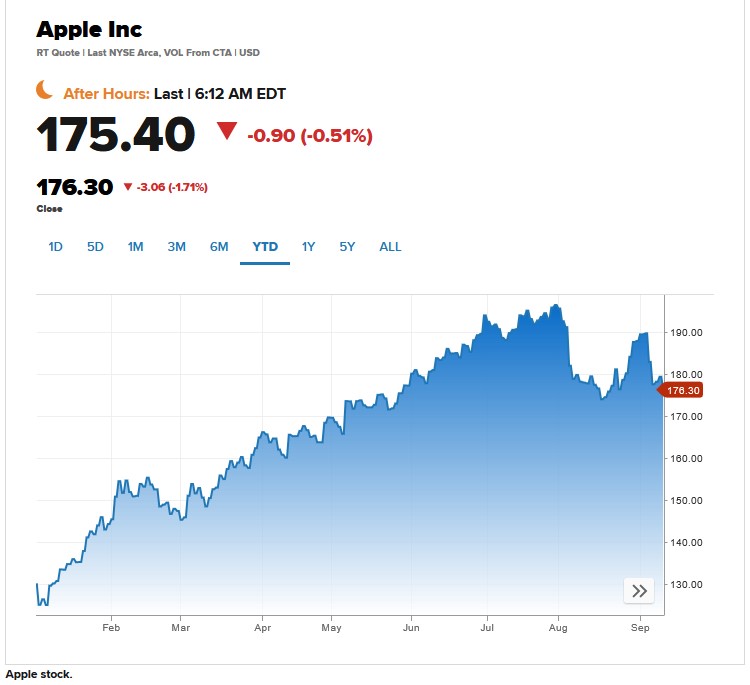 The latest handset in the popular iPhone line of smartphones boasts a 48 megapixel main camera, the A16 Bionic chip and 4K cinematic mode. The iPhone 15 is also made with 75% recycled aluminum and 100% recycled copper. The iPhone 15 will start at $799 for the base model, $999 for the Pro and $1199 for the Pro Max.
— Brian Evans
CNBC Pro: Morgan Stanley names its top stock picks — and its 'least favored' — in a corner of the chip market
A "recovery narrative" has been playing out in a corner of the semiconductor market this year, according to Morgan Stanley.
Pricing and inventory conditions are improving further for this segment, the bank said.
It names its top picks and least favored stocks.
— Weizhen Tan
October WTI crude oil futures reach highest since last November
October West Texas Intermediate crude oil futures climbed as high as $88.45 a barrel (42 gallons) early Tuesday, the highest since Nov. 15, 2022.
WTI hasn't closed above above $90 a barrel since last Nov. 11.
November Brent futures — the global benchmark — also hit a 10-month high Tuesday, reaching $91.50 a barrel.
Permian Resources,Range Resources, EQT, Denbury and other energy plays are all up 1% or more in early trading.
— Scott Schnipper, Gina Francolla
CNBC Pro: A $16 billion lawsuit payout is going to send this stock soaring, analysts say
Shares of U.S. and UK dual-listed stock jumped 20% last week after a U.S. judge ruled in favor of the company.
The share of a $16 billion payout from the lawsuit is expected to take the stock soaring, according to Jefferies and Numis.
— Ganesh Rao
European markets: Here are the opening calls
European markets are expected to open in negative territory Wednesday.
The U.K.'s FTSE 100 index is expected to open 35 points lower at 7,494, Germany's DAX down 99 points at 15,818, France's CAC 37 points lower at 7,212 and Italy's FTSE MIB
down 190 points at 28,389, according to data from IG.
Data releases include euro zone industrial production data for July, U.K. industrial output and gross domestic product figures for July, and U.S. inflation figures for August.
— Holly Ellyatt
Source : cnbc