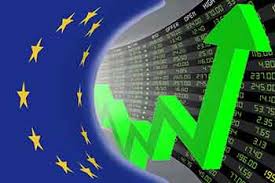 Jenni Reid
European stock markets continued positive momentum in the final session of the week, after a slew of corporate earnings beat expectations.
The pan-European Stoxx 600 index was up 0.3% shortly after the open, with construction stocks up 1.1%. Utilities led losses, down 0.6%.
European markets
| TICKER | COMPANY | PRICE | CHANGE | %CHANGE |
| --- | --- | --- | --- | --- |
| .FTSE | FTSE 100 | 7834.81 | 3.23 | 0.04 |
| .GDAXI | DAX | 15890.63 | 90.18 | 0.57 |
| .FCHI | CAC 40 Index | 7486.95 | 3.11 | 0.04 |
| .FTMIB | FTSE MIB | 27165.79 | 7.79 | 0.03 |
| .IBEX | IBEX 35 Idx | 9301.3 | -13.3 | -0.14 |
The index closed slightly higher on Thursday, picking it up from a two-week low.
Despite nerves over U.S. regional bank First Republic which is seeking a recovery strategy after its stock plunged on news it lost around 40% of its deposits in the first quarter — European bank results have proven more reassuring.
Both Deutsche Bank and Barclays beat profit expectations on Thursday. Deutsche Bank CFO James von Moltke told CNBC investors had probed it for vulnerabilities owing to wider volatility but found a "strong and profitable business model" and a "stable balance sheet and deposit base."
On Friday, British bank NatWest results showed a 37.2% annual increase in income to £1.036 billion ($1.29 billion), while its net interest margin was up 7 basis points on the prior quarter to 3.27%. However, shares in the bank fell 6.2% in early trade.
Mercedes-Benz reported a fall in year-on-year earnings but still beat forecasts. The company raised its sales outlook for vans and said car sales would come in on the high end of guidance.
Companies including AstraZeneca, Unilever and Carlsberg also beat analyst forecasts this week.
U.S. tech stocks rallied on upbeat results from Meta and Alphabet, even as figures showed the U.S. economy grew by 1.1% in the first quarter, below the 2% expected in a Dow Jones economists' survey.
U.S. futures are slightly lower Friday morning as investors pore over results from some of the country's biggest companies, including Amazon and Intel.
In Asia-Pacific, markets rose after the Bank of Japan kept its monetary policy unchanged. It was expected in the first meeting chaired by new governor Kazuo Ueda.
We want to hold our margin levels, Mercedes-Benz CFO says
We want to hold our margin levels, Mercedes-Benz CFO says
Harald Wilhelm, CFO of Mercedes-Benz, discusses its first-quarter earnings and explains the company's pricing strategy for electrical vehicles.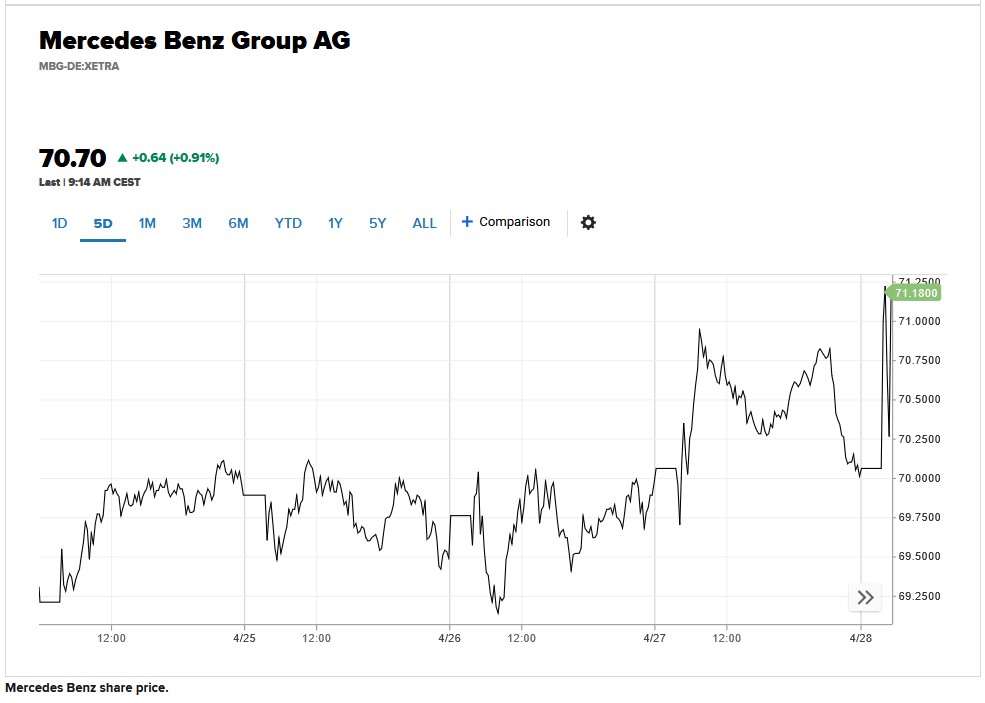 Mercedes Benz share price.
24 Min Ago
France GDP up 0.2% in first quarter
France's economy grew by 0.2% in the first quarter, national statistics showed.
Domestic demand weighed on growth, down 0.1 points, though that improved from a 0.4 point decline in the prior quarter. Household consumption held steady, gross fixed capital formation fell slightly and foreign trade increased.
Euro zone gross domestic product figures are due later in the morning.
— Jenni Reid
Europe markets set to open higher
European stock markets look set for a positive open on Friday.
The U.K.'s FTSE 100 was on course for a 20.7 point rise to 7,850.3, according to ig.com. France's CAC 40 was seen up 32 points to 7,505.8, Germany's DAX up 61.5 points to 15,859 and Italy's MIB up 152.5 points to 27,091.
— Jenni Reid
Bank of Japan maintains negative interest rates, makes no changes to yield curve control
The Bank of Japan left its interest rates unchanged in newly appointed Governor Kazuo Ueda's first policy meeting.
The decision was in line with economist expectations for no changes to the benchmark interest rate, which has been held at minus 0.1% since the central bank took rates below zero in 2016.
The Japanese yen weakened further to 134.6 against the U.S. dollar and the yield on the 10-year Japanese government bonds was at 0.460%.
Ueda has earlier this week emphasized inflation needs to be "quite strong and close to 2%" — the central bank's target — before making any adjustments to the yield curve control policy.
— Jihye Lee
CNBC Pro: This weight-loss drug maker's stock is up 20% this year — and Barclays sees it going higher
The pharma stock behind a popular weight-loss drug is up 137% since the treatment was approved by the U.S. Food and Drug Administration.
Barclays investment bank expects the stock to rise further as the market for obesity treatment drugs could be more than $100 billion, according to Barclays.
— Ganesh Rao
CNBC Pro: Goldman Sachs and Morgan Stanley say these chip stocks have more upside — giving one nearly 50%
Chip stocks have rebounded this year after performing poorly in 2022.
The PHLX Semiconductor Sector Index is up nearly 17% in the year to date, making this sector one of the brightest spots in the market turmoil.
CNBC Pro takes a look at semiconductor stocks that the banks are giving further upside to.
— Weizhen Tan
First Republic shares stabilize
Shares of beleaguered regional bank First Republic were climbing on Thursday, giving the stock a reprieve after two days of heavy selling.
The stock rose 71 cents, or about 12%, but is still trading below $7 per share.
First Republic's stock closed at $16 per share on Monday before the bank released its first quarter results, which showed that deposits shrank by about 40% in the first three months of the year.
First Republic and its advisors are trying convince other banks to buy some of its assets at above market rates to allow First Republic to reshape its balance sheet, CNBC reported Wednesday.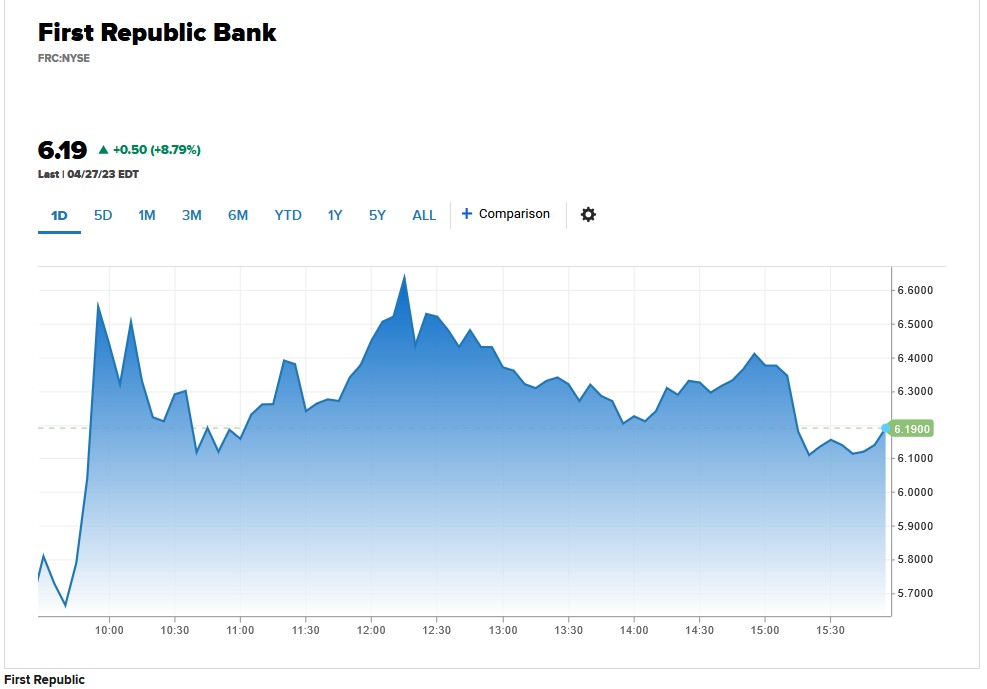 First Republic
— Jesse Pound
U.S. economy grows at slower-than-expected pace in first quarter
The U.S. economy expanded by 1.1% in the first quarter, a much-slower-than-expected pace, the Commerce Department said. Economists had forecast expansion of 2%, per Dow Jones. The report showed stronger inflation with prices increasing 4%, compared with an estimate of 3.7%.
— Jeff Cox
Source : cnbc