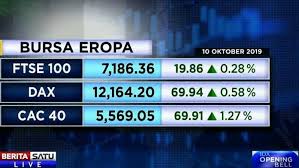 Jenni Reid
European markets were on course to open higher Friday, extending the previous session's gains as investors take stock of the slew of economic data published this week.
Across Europe, inflation data came in hotter than expected. A flash estimate for the euro zone showed headline inflation eased from 8.6% to 8.5%, but this was above a consensus estimate; while core inflation rose from 5.3% to 5.6%.
Price rises unexpectedly rose in Germany, France and Spain.
European Central Bank President Christine Lagarde said Thursday that getting inflation to its 2% target will still take time and that the previously signaled 50 basis point hike in March is still on the cards, Reuters reported.
The euro zone manufacturing PMI out this week showed a fall on the previous month, though S&P Global said it was pulled down by stocks of purchases and that production volumes across the bloc had broadly stabilized.
Global markets were given a boost Thursday by comments from Atlanta Federal Reserve President Raphael Bostic, who said he was "firmly in favor" of quarter-point hikes and that the U.S. central bank should go "slow and steady."
However, in a separate speech, Fed Governor Christopher J. Waller raised the possibility of a higher terminal rate if inflation does not cool, citing January's bumper payrolls report.
A positive signal for the global economy came on Wednesday, when China's National Bureau of Statistics reported its official manufacturing purchasing managers' index rose to 52.6 in February, the highest since April 2012.
Asia-Pacific markets were mostly higher Friday, while U.S. stock futures nudged lower.
Goldman Sachs says these 8 beaten-up stocks will turn profitable this year — and outperform the market
Goldman Sachs has named eight global stocks of companies that will become profitable this year and beat the broader market.
In a new research report, the investment bank found that companies that transition from unprofitable to profitable during a market recovery typically outperform the broader market.
According to Goldman, this phenomenon was observed in 2001 and 2008, with outperformance above 50% in each instance.
— Ganesh Rao
Europe markets set top open higher
The major European stock market indexes were on course for a higher open Friday.
The FTSE 100 was seen opening 23 points higher at 7965.6, according to data from ig.com.
France's CAC 40 was up 28.7 points to 7306.6, Germany's DAX up 51 points to 15,365.2, and Italy's MIB up 142.5 points to 27,576.
— Jenni Reid
'Data is the new oil': Investor picks one stock to play the trend
Artificial intelligence is all the rage right now. And according to tech investor Mark Hawtin, there's a smart way to jump on the trend: playing the data theme.
AI has taken Wall Street by storm since since ChatGPT was launched and went viral — causing a surge in interest among investors in what stocks could benefit from the trend.
Stocks such as tech giant Microsoft, which backed ChatGPT, Alphabet — which developed a chatbot — as well as semiconductor firms like Nvidia have come up as obvious plays on AI. ChatGPT was created by San Francisco-based OpenAI, a private company backed by Microsoft. It can answer questions, write essays and more.
But Hawtin, investment director at Zurich-based GAM Investments, has identified data as another way to get into the game.
— Weizhen Tan
Source : cnbc