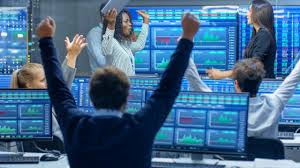 U.S. stocks rose on Tuesday as bank stocks mounted a comeback.
The Dow Jones Industrial Average gained 317 points, or 1%. The S&P 500 added 1.4%, while Nasdaq Composite climbed 1.6%.
Bank stocks rebounded somewhat after getting pummeled during Monday's trading session. The SDPR S&P Regional Banking RTF (KRE) rose more than 9% in premarket trading. Shares of First Republic Bank popped nearly 50% in extended trading, after closing down nearly 62% on Monday. KeyCorp shares added almost 15% in a relief bounce following a 27% decline.
The consumer price index ROSE 0.4% in February from January, matching the consensus estimate of economists polled by Dow Jones. The annualized increase of 6% was also in line with economists' expectations. So-called "core" CPI, which removed volatile food and energy prices, grew from the prior month slightly more than economists expected at 0.5%, while the year-over-year increase of 5.5% came in line with what they anticipated.
"The market is breathing a sigh of relief today on the banking front, with regional banks posting huge gains," said Jon Maier, chief investment officer at Global X. "Today's report was as expected, allowing the market to look toward other factors."
The moves follow a volatile session on Monday, when the Dow and S&P 500 fell after a plan to backstop depositors in Silicon Valley Bank failed to buoy bank stocks,. The Dow lost 90.50 points, or 0.28%, while the broad-market index lost 0.15%. The tech-heavy Nasdaq Composite bucked the trend, rising as some investors bet the collapse at Silicon Valley Bank could mean a pause in future interest rate hikes from the Federal Reserve.
Elsewhere, GitLab shares tumbled 32% in trading after the open-source software firm issued weaker-than-expected first quarter and full-year revenue guidance.
Source: CNBC