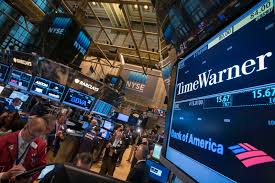 Stocks rose Tuesday, building on Monday's rally. Traders continued to become optimistic following Treasury Secretary Janet Yellen's latest reassurances to contain the banking crisis.
The Dow Jones Industrial Averages gained 301 points, or 0.9%. Meanwhile, S&P 500 rose 1%, while the Nasdaq Composite climbed 0.8%.
Regional banks surged in early trading, led by First Republic. The beaten-down bank jumped 22.8%, a day after losing 47%. The SPDR Regional Banking ETF (KRE) gained almost 6%. Regionals got a boost after Treasury Secretary Janet Yellen said on tuesday morning that the government is ready to provide further guarantees of deposits if the banking crisis worsens.
Wall Street is coming off a strong rally, with the Dow surging more than 380 points Monday, while the S&P 500 gained 0.9%. The action came a day after a forced takeover of Credit Suisse by UBS, which was engineered by the Swiss government. Investors also welcomed news that JPMorgan Chase could be advising embattled First Republic Bank on strategic alternatives.
"Bank selling appears exhausted and it would take the emergence of fresh deposit problems at a new name to bring out incremental supply, although there's very little interest to step in and buy the group, especially the regionals," Adam Crisafulli, founder of Vital Knowledge, said in a note.
Investors now expect a slower pace of tightening from the Federal Reserve in light of the banking crisis. Traders now are pricing in a 83% chance of a quarter-point rate hike when the Fed wraps its two-days policy meeting on Wednesday, according to CME Group FedWatch tools. The probability of a pause is at 16.6%.
"Risks of contagion are rising and could push the Fed to pause the current rate hiking cycle, although this is not our base case," said Jeffrey Roach, chief economist at LPL Financial. "The Fed will likely signal they are near the end of their rate hiking campaign as recession risks increase and inflation pressures decrease."
Source: CNBC