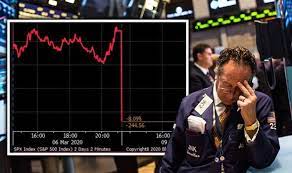 Stock futures fell on Wednesday as pressure on the financial sector increased with shares of Credit Suisse, a Swiss Bank that has large U.S. and global operations, tumbling more than 25%.
Futures tied to the Dow Jones Industrial Averages fell 632 points, or 2%, while Nasdaw-100 futures lost 1.6%. The 2% slide in S&P 500 Futures put the broad index's 2.1% year-to-date gain at risk.
In recent days, a crisis in the financial sector has centered around regional banks as Silicon Valley Bank and Signature Bank collapsed, both casualties of poor management in the face of eight interest rate hikes by the Federal Reserve in the last 12 months. Wednesday morning attention turned to the big banks with shares of Credit Suisse hitting an all-time low.
Saudi National Bank, Credit Suisse's largest investor, said Wednesday it could not provide any more funding, according to a Reuters report. This comes after the Swiss lender said earlier this week it had found"certain material weaknesses in our internal control over financial reporting" for the years 2021 and 2022.
U.S.-traded shares of Credit Suisse dropped more than 27% in the premarket.
As Credit Suisse dragged down the European Banking sector, U.S. big bank shares declined in sympathy. Citigroupand Wells Fargo shed nearly 5% each, while Goldman Sachs and Bank of America fell around 3% and 4%, respectively. The Financial Select Sector SPDR Fund (XLF) lost 3.4% in premarket trading, giving up its 2% pop on Tuesday.
Regional banks, which rebounded Tuesday to lift sentiment for the broader market, fell back into the red again. The SPDR S&P Regional Banking ETF (KRE) was down 4.6% in the premarket, led by losses in Old National Bancorp, Zions Bancorp, First Republic Bank and Fifth Third Bancorp.
Peter Boockvar of Bleakley Financial Group said pressure on the financial sector was growing broadly because the bank failures have changed the mindset of the industry.
"What this is telling us is there's the potential for just a large credit extension contraction that banks are going to embark on [to] focus more on firming up balance sheets and rather than focus on lending," Boockvar said to CNBC's "Squawk Box."
"It's a balance sheet rethink that the market's have" Boockvar added, citing that many banks may have bought longer maturity bonds that have reduced in value since the Fed started raising rates. "Also you have to wonder with a lot of these banks if they're going to have to start going out and raising equity."
The producer price index posted an unexpected decline of 0.1% in February from the prior month, cooling despite economists polled by Dow Jones estimating a 0.3% increase from January.
Source: CNBC