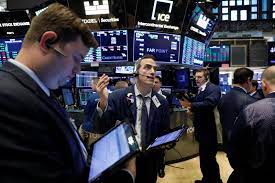 Stock futures slid Friday as traders digested strong U.S. labor data, as well as several high-profile earnings misses.
Dow Jones Industrial Average futures dropped 210 points, or about 0.6%. Futures for the S&P 500 lost 1.2%, while Nasdaq-100 futures fell 2%.
Investors absorbed a much stronger than expected January jobs report. The U.S. economy added 517,000 jobs in January, blowing past Dow Jones estimates of a jobs gain of 187,000 last month.
"Today will truly be the test of whether or not we can view good news in the economic data stream as good news for markets. The first reaction to this much better jobs number is muted. If we were to see an explosive jobs number like this in the middle of the hiking cycle, markets would have collapsed. Now we're near the end of the hiking cycle, good news could start to be perceived as good news," B. Riley Financial's Art Hogan said.
"I think we're finally entering into a place where we can have intuitive reactions to economic data and today might be an example of that," Hogan added.
At the same time, struggles of major tech stocks weighed on the market. Apple and Google-parent Alphabet both missed estimates on the top and bottom lines for their December quarters. Alphabet's stock fell more than 4% in premarket trading, while Apple shares dipped more than 2%. Amazon's stock also declined more than 5% after the e-commerce giant's report.
The earnings picture wasn't much better outside of tech, as Ford and Starbucks also missed estimates. Those stocks fell about 7% and 2%, respectively.
Regardless, the major averages are on track for a positive week. As of Thursday's close, the Nasdaq Composite gained nearly 5%, riding a tech-fueled rally to outperform the other major indexes. It's on pace for its fifth-straight winning week. Meanwhile, the S&P 500 is up about 2.7%.
The Dow, however, is just slightly higher this week, up 0.2%.
Source: CNBC