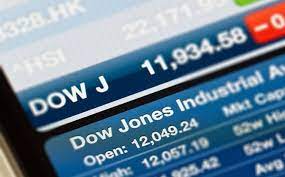 The stock market was set to end a winning week on a sour note Friday, as JPMorgan Chase led a decline in bank shares after it warned a recession was its base case for the year.
The Dow Jones Industrial Average fell 122 points, or 0.3%, while the S&P 500 slid 0.7%. The Nasdaq Composite dropped 0.7%, and was on pace to snap a five-day win streak.
Stocks are still headed for a winning week, with the Nasdaq on pace for their best weekly performance since November. The Nasdaq is up about 3% for the week. The S&P has advanced 1.5%, while the Dow has added 1%.
JPMorgan Chase posted revenue that beat expectations, but the bank warned it was setting aside more money to cover credit losses because a "mild recession" is its "central case." The bank posted a $2.3 billion provision for credit losses in the quarter, a 49% increase from the third quarter. The stock fell more than 3%.
Wells Fargo shares fell nearly 4% after the bank reported its quarterly figures. Bank of America moved slightly lower despite reporting better-than-expected earnings for the fourth quarter.
Delta Air Lines also reported earnings and revenue that beat estimates for the final quarter of 2022. However, the stock slid about 6%.
Investors have been awaiting these results to gain more insight into the health of the economy.
"As the tug-of-war among analysts intensifies around the prospects for a recession — and the depth of a recession — the earnings reports from the banks, coupled with their guidance, should help clarify how businesses and consumers are managing," said Quincy Krosby, LPL Financial's chief global strategist.
Stocks open lower to start the final trading day of the week
Stocks fell at the open on Friday.
The Dow Jones Industrial Average moved lower by 264.13 points, or 0.77%. The S&P 500 also fell 0.77%, and the Nasdaq Composite slid by 0.86%.
Source: CNBC