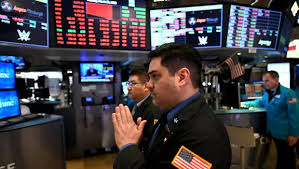 The Dow Jones Industrial Averages fell Friday as investors remained skittish on First Republic and other banks amid the industry's crisis.
The 30-stock index dipped 203 points, or 0.6%. The S&P 500 slid 0.3%, while the Nasdaq Composite lost 0.2%.
First Republic slid 20% despite gaining nearly 10% in Thursday's session, when a group of banks said it would aid First Republic with $30 billion in deposit as a sign of confidence in the banking system. That dip weighed on the SPDR Regional Banking ETF (KRE), which was down 3.7%.
U.S.-listed shares of Credit Suisse were also down 5.8% as traders parsed through the bank's announcement that it would borrow up to $50 billion francs (nearly $54 billion) from the Swiss National Bank. Shares were unchanged when the market closed on Thursday.
Still, the market is on track to post wins this week as investors weighed what the bank crisis could mean for the Federal Reserve's policy meeting next week. The Dow is up 0.6% for the week, while the S&P 500 has advanced 2.4%. The Nasdaq Composite gained 5.3%.
"There's a push-pull in the market right now," said Infrastructure Capital Advisors' CEO Jay Hatfield. "The regional banking crisis is a huge negative for the economy and the market. But the overhang that existed prior to the banking crisis was an overly hawkish and irrational Fed."
"Every Fed tightening cycle does expose a weakness in the economy," he added. "What we have here is a FDIC insurance debacle. We urge people to be a little bit cautious, particularly until we hear what the Fed has to say."
Traders will watch out for the preliminary reading of the consumer sentiment index from the University of Michigan, as well as industrial and manufacturing production to get a better grasp on the economy ahead of the Fed's meeting next week.
Source: CNBC