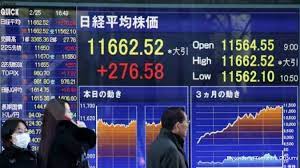 Jihye Lee
Stocks in the Asia-Pacific traded mixed on Monday as mainland Chinese markets jumped on resuming trade after a week-long New Year break.
Chinese onshore equities are headed for a bull market — the CSI 300, which tracks the largest mainland-listed stocks, have gained about 20% from its recent lows seen at the end of October last year.
The Shenzhen Component rose 1.4%, leading gains in the wider region. The Shanghai Composite rose 0.55%while Hong Kong's Hang Seng index traded 0.9% lower.
| TICKER | COMPANY | NAME | PRICE | CHANGE | %CHANGE |
| --- | --- | --- | --- | --- | --- |
| .N225 | Nikkei 225 Index | *NIKKEI | 27473.75 | 91.19 | 0.33 |
| .HSI | Hang Seng Index | *HSI | 22489.96 | -198.94 | -0.88 |
| .AXJO | S&P/ASX 200 | *ASX 200 | 7489.9 | -3.9 | -0.05 |
| .SSEC | Shanghai | *SHANGHAI | 3280.7 | 15.88 | 0.49 |
| .KS11 | KOSPI Index | *KOSPI | 2455.25 | -28.77 | -1.16 |
| .FTFCNBCA | CNBC 100 ASIA IDX | *CNBC 100 | 8809.1 | 1 | 0.01 |
In Japan, the Nikkei 225 rose 0.33% while the Topix also gained 0.14%. South Korea's Kospi fell 1.2% while the Kosdaq shed 0.26%.
The S&P/ASX 200 in Australia was slightly below the flatline. Investors also digested trade data from New Zealand.
Stocks on Wall Street ended the week last Friday higher, fueled by gains in Tesla shares and a better-than-expected GDP report on Thursday. All major averages posted a positive week and are on pace for a month of gains.
— CNBC's Samantha Subin, Carmen Reinicke contributed to this report
China's A shares rise, consumer cyclicals and basic materials lead gains
China's CSI 300 rose 2% at the open, led by consumer cyclicals, basic materials and industrials, according to Refinitiv data.
Mainland-listed shares of BYD jumped by more than 6%, Lens Technology gained more than 15%, and Yunnan Energy New Material rose nearly 10%.
Contemporary Amperex Technology Co. Ltd gained 5.9% and Kweichow Moutai rose 1.65%.
— Jihye Lee
China stocks set to enter bull market on return from New Year holiday
China's CSI 300, which tracks the largest mainland-listed stocks, is poised to enter a bull market as trade resumes later in the day.
The CSI 300 rose 19.18% from its lows seen on Oct. 31, according to Refinitiv data. It ended its last trading session at 4,181.53 on Jan. 20.
A bull market is defined as a market period where stocks have increased at least 20% from its recent lows.
The ChinaAMC CSI 300 Index ETF, which tracks the performance of the index, was last up 23% from its October lows.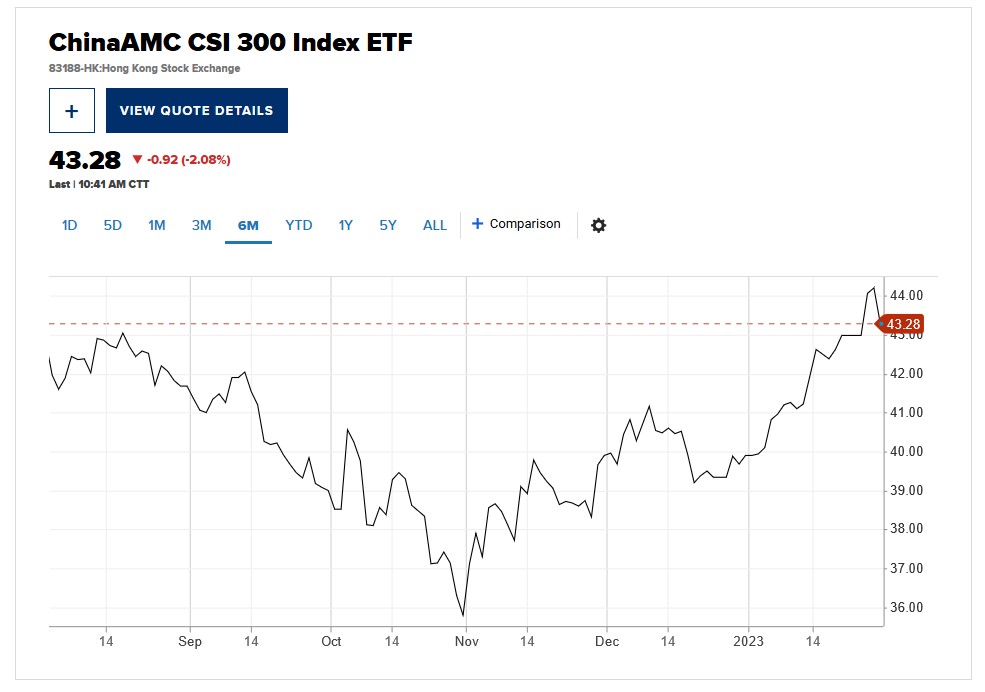 — Jihye Lee
Stock finish higher, post winning week
All the major averages capped off a winning week on Friday.
For the session, the Nasdaq Composite jumped 0.95% to settle at 11,621.71, while the S&P 500 gained 0.25% to close at 4,070.56. The Dow Jones Industrial Average added 28.67 points, or 0.08%, to finish at 33,978.08.
— Samantha Subin
Michigan consumer sentiment index comes in higher than expected
Consumer sentiment data from the University of Michigan for January came in stronger than anticipated.
January's reading came in at 64.9, slightly above the consensus estimate of 64.6 from economists polled by Dow Jones. The index quantifies the view of current and future economic conditions.
— Alex Harring
62% of Friday's 52-week highs in the S&P 500 are also all-time highs
Almost two thirds of the 13 stocks in the S&P 500 that touched 52-week highs in early Friday trading were also trading at all-time highs. The list is broadening out from the energy/materials/resources focus of recent days. One of 13, Caterpillar, is also in the Dow Industrials.
BorgWarner (BWA), highest since Jan. 2022
Las Vegas Sands (LVS), highest since June 2021
Starbucks (SBUX), highest since Jan. 2022
Ulta (ULTA), all-time high back to 2007 IPO
Wynn (WYNN), highest since Sept. 2021
Marathon Petroleum (MPC), all-time high going back to MRO spinoff in June 2011
Arthur J Gallagher (AJG), all-time high back to 1984 IPO
Chubb (CB), all-time high
Caterpillar (CAT), all-time high back to 1929 NYSE listing
General Electric (GE), highest since Nov. 2021
TransDigm Group (TDG), all-time high back to 2006 IPO
United Rentals (URI), all-time high back to 1997 IPO
Steel Dynamics (STLD), all-time high back to 1996 IPO
Other notable highs outside the 500:
Churchill Downs (CHDN), highest since Oct. 2021
Lennar (LEN.B), highest since Jan. 2022
NOV (NOV), highest since Jan. 2020
Axis Capital (AXS), highest since Feb. 2020
HEICO (HEI), all-time back to 1960 IPO
Knight-Swift Transportation (KNX), highest since Jan. 2022
Lincoln Electric Holdings (LECO), all-time high back to 1995 Nasdaq listing
Allegro MicroSystems (ALGM), highest since Jan. 2022
Fair Isaac (FICO), all-time high back to 1986 NYSE listing
Reliance Steel & Aluminum (RS), all-time high
— Scott Schnipper, Christopher Hayes
Tesla on pace for best week since May 2013
Tesla shares have surged more than 33% this week, putting the electric vehicle stock on pace for its best weekly performance since the week ended May 10, 2013, when it surged 40.72%.
If Tesla closes at these levels it would mark the stock's second-best weekly performance ever. As of 12:40 p.m. EST shares traded about 33.8% higher on the week.
The gains in Tesla shares follow the company's latest earnings report, which showed record revenue and an earnings beat. Shares surged more than 11% Friday.
The sharp uptick in Tesla's stock comes after shares plummeted 65% in 2022 and suffered their worst ever month, quarter and year.
Gains in Tesla also boosted the S&P 500′s consumer discretionary sector by more than 2%.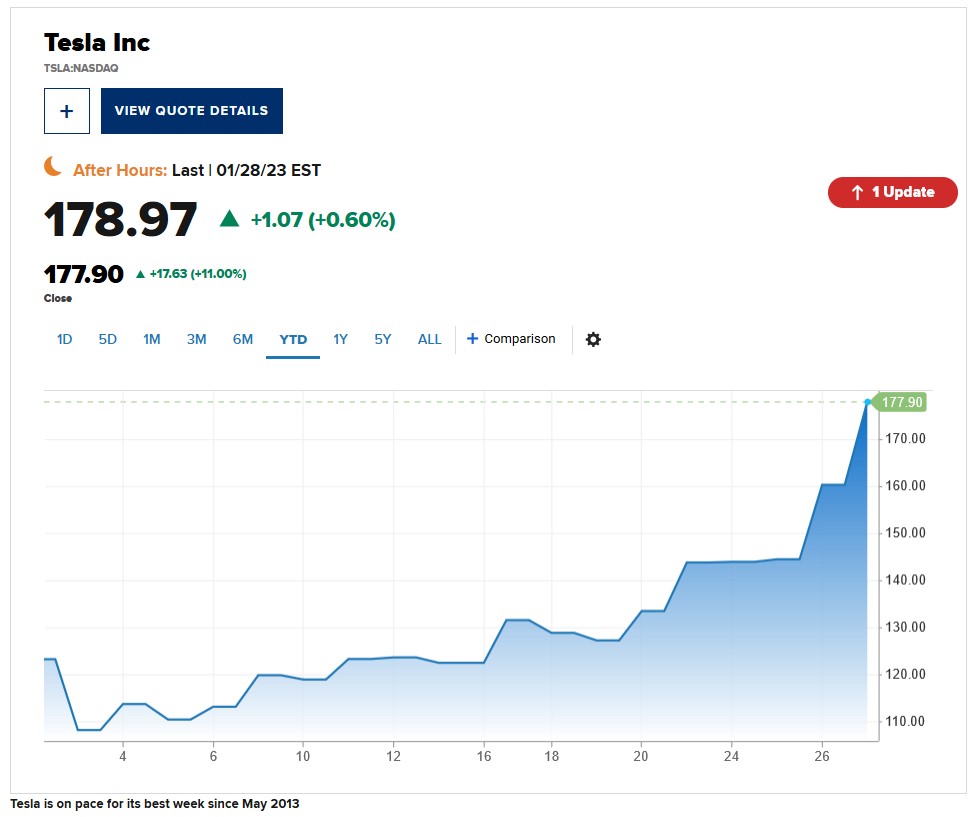 — Samantha Subin
Source : cnbc