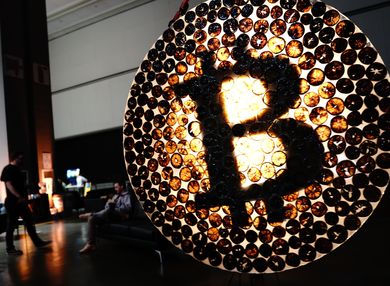 In a calm week for cryptocurrency trading, Bitcoin rose above a key technical level with little fanfare on Wednesday, while a coin tied to the popular Bored Apes NFTs surged to a record.
The world's largest digital currency rose as much as 2% to $42,204 to break its 50-day moving average, before fluctuating between gains and losses. 
"Bitcoin is at very significant technical levels," said Teong Hng, chief executive of Hong Kong-based Statori Research. The $42,000 level "is the 50-day moving average and with a close above, the technical picture could get more bullish."
Also in Wednesday trading, ApeCoin rose to about $17 per coin, according to CoinGecko, a record high following its March inception. Market-watchers tie the move to anticipation of a virtual-land sale, in the latest speculative bet in the booming metaverse industry.
The Federal Reserve is set to aggressively jack up interest rates to tamp down inflation at multi-decade highs. That's seen Bitcoin trade largely in tandem with other risk assets including tech stocks, with its correlation to the sector rising in recent weeks.
All told, Bitcoin's tight trading range, as it fails to meaningfully rally, is leaving some market watchers bored.
"It's so dull — it's like watching grass grow right now. This was supposed to be the exciting asset that was volatile and has a bit of mojo. But no," said Fiona Cincotta, senior market analyst at City Index, by phone. 
Katie Stockton, founder of Fairlead Strategies, a research firm focused on technical analysis, wrote in a note that Bitcoin support holds near the $40,000 level. She's also watching an indicator known as the daily MACD, which currently reflects "improved short-term momentum that supports a move higher toward next resistance" near the $48,100 mark.
The more exciting action can be seen in coins tied to virtual worlds. ApeCoin has soared over speculation that the creators of the BAYC non-fungible token collection, known as Yuga Labs, are planning to roll out virtual land sales through its metaverse project known as Otherside. That would enable ApeCoin holders to buy properties with the token. 
Another potential catalyst for ApeCoin's surge is its listing on the Gemini Earn platform, where ApeCoin holders can earn interest by lending their tokens to institutional investors.   
"The Bored Ape Yacht Club ecosystem is a very vibrant one," Hng said.   
Source: Bloomberg