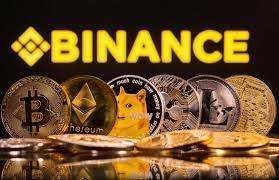 Federal prosecutors unsealed an indictment against a little-known crypto exchange called Bitzlato on Wednesday, alleging that it facilitated the laundering of $700 million in tainted crypto tied to the now-shuttered dark-web market Hydra, and millions more in ransomware proceeds.
Blockchain data shows that tens of millions of dollars that passed through Bitzlato ultimately ended up in Binance deposit wallets, despite the stringent anti-money laundering standards that Binance says it has implemented.
Binance, the largest crypto exchange in the world, has not been connected to any criminal activity, nor have regulators accused it of knowingly accepting illicit funds, although the exchange is reportedly under its own criminal probeby the Department of Justice in relation to its compliance with anti-money laundering, or AML, laws.
The movement of Bitzlato's funds raises questions about the efficacy of Binance's AML practices, especially given that Binance's own outside AML vendor, Chainalysis, issued report in February 2022 estimating that 48% of Bitzlato's 2019-2021 cryptocurrency receipts were "illicit or risky."
Bitzlato's highest crypto balance was valued at a mere $6.6 million, according to Arkham Intelligence. By comparison, Binance's highest balance was valued at over $60 billion. But total flows in and out of Bitzlato were in the hundreds of millions of dollars, suggesting that Bitzlato was a way station for users looking to keep their crypto at more established exchanges.
On a larger exchange like Binance or Coinbase, for example, many customers opt to let the platform custody their crypto tokens. But smaller exchanges can often function as a sort of bridge between the entity looking to transfer their coins and the ultimate destination where the tokens will be custodied. Crypto might sit on one of these interim platforms for mere minutes.
How the money flowed
A FinCEN report from Wednesday noted that Binance was Bitzlato's largest counterparty, but blockchain data reveals rudimentary efforts to conceal where funds came from before they arrived in Binance custody.
Much like in traditional finance, where money moves from bank to bank and between holding companies, moving crypto assets through multiple wallets is an elementary way to obscure the flow of money. But tracing assets through a blockchain is a relatively straightforward process, since every transaction is recorded on a publicly accessible ledger.
For all of 2022, and the brief weeks that Bitzlato operated in 2023, only $9.7 million moved directly from Bitzlato to Binance, according to data from Arkham Intelligence. In the four years that Bitzlato operated, only $52 million moved directly from the exchange to Binance, the same dataset shows.
But a cursory review of some of Bitzlato's largest exchange partners indicates that tens of millions more flowed from Bitzlato through other crypto wallets to Binance, in an apparent effort to conceal the origin of the funds.
CNBC reviewed transaction data for the ten largest recipients of Bitzlato outflows, which collected over $45 million in Bitzlato-originated funds. Those wallets also received millions more in funds from other exchanges, including Huobi, FTX, Poloniex, Nexo, and WhiteBIT, a Ukrainian exchange.
One Bitzlato whale moved a little over $21 million worth of cryptocurrencies, including ether and tether, a dollar-pegged stablecoin, from Bitzlato to an intermediary wallet. From there, over the course of four years, that intermediary wallet deposited around $15 million worth of crypto onto Binance's platform, according to data from Arkham Intelligence.
Overall, the five largest Bitzlato-connected wallets sent more than $30 million directly to Binance. Millions more in smaller transactions ultimately ended up in Binance's wallets.
The on-chain data can't account for any additional funds that moved to Binance from Bitzlato through mixers, services that allow users to obfuscate the origin and endpoint of their crypto. Nor does it offer any information on the kind of enforcement action that Binance might take to defend against nefarious deposits, including seizing those funds once they land in Binance's wallets.
But Binance CEO Changpeng Zhao has often touted his exchange's aggressive efforts to clamp down on illicit funds flowing on the platform. Earlier this week, Binance announced it had seized millions of dollars worth of crypto connected to a North Korean hacking group called Harmony.
CNBC reached out to Binance to ask that the platform share its approach to preventing tainted funds from landing on the platform. We also asked whether Binance was aware that Bitzlato was allegedly used to launder money and, if so, why funds from Bitzlato were custodied on its platform. We did not immediately hear back to our request for comment.
Still, Reuters reported in December that federal prosecutors were mulling bringing charges in a "long-running" criminal investigation regarding Binance and Zhao's compliance with AML laws. The pace of enforcement actions suggests that U.S. regulators already have an eye on tracking the flow of illicit crypto, wherever it occurs.
"Operating offshore or moving your servers out of the continental U.S. will not shield you," Deputy Attorney General Lisa Monaco noted on Wednesday. "Whether you break our laws from China or Europe or abuse our financial system from a tropical island—you can expect to answer for your crimes inside a United States courtroom."
Source: CNBC