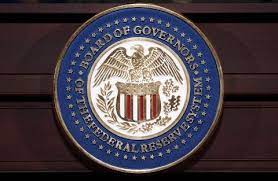 Jihye Lee & Lim Hui Jie
Asia-Pacific markets are set to fall Wednesday as investors look ahead to the U.S Federal Reserve's policy decision due out early Thursday morning in Asia.
A Reuters poll found 94 out of 105 economists said they expect the Fed to hike rates by 25 basis points, with the remainder forecasting a pause.
In Australia, the S&P/ASX 200 opened 0.21% lower, while South Korea's Kospi dropped 0.55% and the Kosdaq saw a larger loss, falling 0.85%.
Hong Kong's Hang Seng index is also set for a lower open, with futures tied to the index standing at 19,624 compared to its last close of 19,933.81.
Markets in Japan and mainland China are closed for a holiday Wednesday.
| TICKER | COMPANY | NAME | PRICE | CHANGE | %CHANGE |
| --- | --- | --- | --- | --- | --- |
| .N225 | Nikkei 225 Index | *NIKKEI | 29157.95 | 34.77 | 0.12 |
| .HSI | Hang Seng Index | *HSI | 19933.81 | 0 | 0 |
| .AXJO | S&P/ASX 200 | *ASX 200 | 7200.6 | -66.8 | -0.92 |
| .SSEC | Shanghai | *SHANGHAI | 3323.27 | 37.39 | 1.14 |
| .KS11 | KOSPI Index | *KOSPI | 2511.26 | -13.13 | -0.52 |
| .FTFCNBCA | CNBC 100 ASIA IDX | *CNBC 100 | 8108.28 | -2.92 | -0.04 |
Overnight in the U.S., all three major indexes fell for a second-straight session as banking fears returned to Wall Street ahead of the Fed rate decision.
The Dow Jones Industrial Average and Nasdaq Composite fell 1.08% each, while the S&P 500 saw a slightly larger loss and slid 1.16%.
— CNBC's Hakyung Kim and Alex Harring contributed to this report
CNBC Pro: This global commercial real-estate stock is set to rise by 60%, Jefferies says
Jefferies expects shares of a global commercial real-estate stock to rise by more than 60% over the next 12 months.
The investment bank's prediction comes at a time when the global commercial real estate market has seen prices fall sharply over the past year.
However, the property firm is expected to escape the downturn as it nearly doubled the rent it charged its tenants, and office-space vacancy in the region it targets fell last year.
— Ganesh Rao
CNBC Pro: As lithium prices bounce, analysts love these stocks — giving one 155% upside
Prices of lithium, a key material used in electric vehicle batteries, have rebounded for the first time in months.
Analysts were generally bullish on the sector in the long term.
For investors looking to play the EV-related sector, CNBC screened for lithium and battery stocks with buy ratings from over 70% of analysts covering them, and average price target upside of at least 15%.
— Weizhen Tan
'March returns in May,' says Goldman Sachs
Goldman Sachs says investors haven't fully moved past March's bank crisis as banking stocks trade lower on Tuesday. The firm's analysts noted that following the failures of Silicon Valley Bank and Signature Bank in March, the market's worries were quickly alleviated by a deposit injection at First Republic Bank.
"Since bottoming out at 3808 on Mar. 13, the S&P 5000 gained almost 10% [as of] Monday night on the back of relaxed banks tensions, as well as a strong earnings season (so far) and a growing consensus that the Fed will soon pause its year-long rate hiking cycle," several Goldman analysts wrote in a Tuesday note.
"But today, we appear to be seeing some return of the March concerns following JPM's announced acquisition of FRC Monday. Regional bank stocks are down 4% to 13%. [Managing director Richard] Ramsden sees the JPM acquisition as accretive and points out that the transaction highlights that G-SIBs will be allowed to bid on FDIC transactions even if they are above the deposit cap," the note continued.
— Hakyung Kim
Former Fed official Rosengren advocates no rate hike
Eric Rosengren thinks his former colleagues at the Federal Reserve will be making a mistake if they raise interest rates again Wednesday.
The former Boston Fed president, who retired from the board in September 2021, told CNBC on Tuesday that turmoil in the banking industry and an economic slowdown should push policymakers to end the rate-hiking campaign that began in March 2022.
"My own view is that the economy is quite likely to slow down in the second half of the year and that it's not necessary at this point to be raising rates until we get a better view of what the second half of the year looks like," Rosengren said on "Squawk Box."
Traders in the futures market are pricing in a 96% chance that the Federal Open Market Committee approves a quarter percentage point rate hike when the two-day meeting ends, according to the CME Group's FedWatch tracker.
—Jeff Cox
WTI Crude Oil settles at lowest levels since March
WTI Crude settled down 5.29% at $71.66, marking its lowest settle since Mar. 24, when it settled at $69.26. WTI Crude has declined 10.7% in 2023.
Brent crude and natural gas also settled lower, falling 5.03% and 4.49%, respectively. Brent crude has shed 12.33% year to date, closing at $75.32 on Tuesday. Meanwhile, natural gas has tumbled more than 50% in 2023.
— Hakyung Kim
Oil prices drop on China factory data, economic outlook
Oil prices fell sharply Tuesday following an unexpected contraction in Chinese factory activity, reported Sunday, and ahead of further interest rate hikes expected from the Federal Reserve and European Central Bank this week.
Brent crude futures dropped 4.3% to $75.87 at 10:53 a.m. ET, while West Texas Intermediate crude
futures were down 4.4% to $72.34 — their lowest levels since late March.
The drops came despite news that OPEC oil output fell in April, according to a Reuters survey.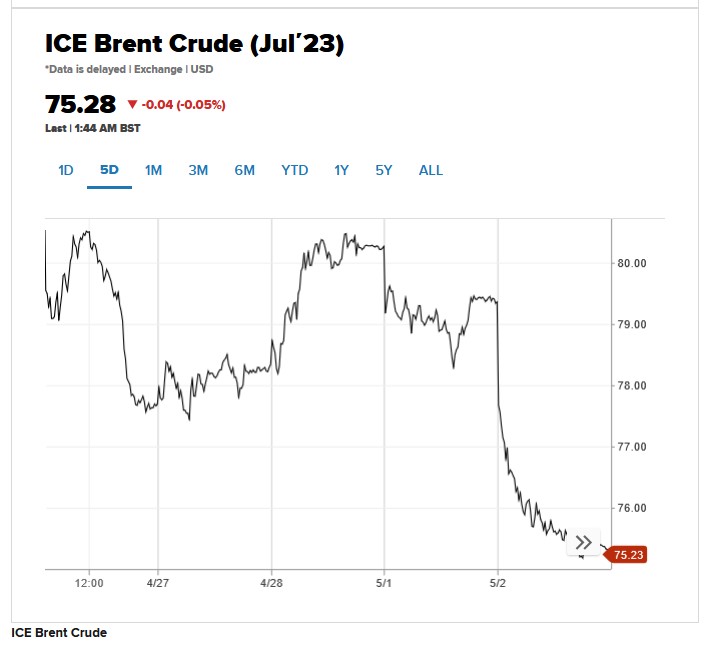 — Jenni Reid
Job openings declined more than expected in March
Employment openings hit a nearly two-year low in March, a sign the jobs market is loosening up, the Labor Department reported Tuesday.
Openings totaled 9.59 million, the lowest since April 2021 and below the FactSet estimate of 9.64 million, according to the Job Openings and Labor Turnover Survey.
The Federal Reserve watches the JOLTS report closely for signs of labor slack. Declining job openings is a positive for inflation as it helps put less pressure on wage increases.
—Jeff Cox
Source : cnbc