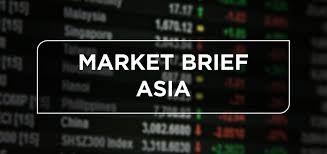 Abigail Ng
Shares in the Asia-Pacific rose Monday on improved risk sentiment.
The Nikkei 225 in Japan gained 1.19% in early trade, while the Topix index advanced 0.7%.
Australia's S&P/ASX 200 also added 1.09%. MSCI's broadest index of Asia-Pacific shares outside Japan ticked 0.52% higher.
Mainland China, Hong Kong and South Korea markets are closed for a holiday. The U.S. is set to release its consumer price index for August later in the week.
| TICKER | COMPANY | NAME | PRICE | CHANGE | %CHANGE |
| --- | --- | --- | --- | --- | --- |
| .N225 | Nikkei 225 Index | *NIKKEI | 28528.9 | 314.15 | 1.11 |
| .HSI | Hang Seng Index | *HSI | 19362.25 | 507.63 | 2.69 |
| .AXJO | S&P/ASX 200 | *ASX 200 | 6970.3 | 76.1 | 1.1 |
| .SSEC | Shanghai | *SHANGHAI | 3262.05 | 26.47 | 0.82 |
| .KS11 | KOSPI Index | *KOSPI | 2384.28 | 7.82 | 0.33 |
| .FTFCNBCA | CNBC 100 ASIA IDX | *CNBC 100 | 7781.52 | 31.87 | 0.41 |
U.S. to broaden curbs on chip and tool exports to China, Reuters reports
The U.S. Department of Commerce plans to publish new regulations related to restricting exports of chipmaking equipment to Chinese factories that produce advanced semiconductors, Reuters reported, citing people familiar with the matter.
The rules will be based on letters sent to KLA, Lam Research and Applied Materials
earlier this year, when they were informed that government-issued licenses would be needed to sell such equipment to buyers that make chips with sub-14 nanometer processes.
The new regulations would likely include additional actions against China, sources told Reuters, adding they could be changed and published later than expected.
—Jihye Lee
Economic consultancy downgrades growth forecasts for New Zealand
Economists at the New Zealand Institute for Economic Research downgraded the growth outlook for the country, citing continued high inflation and interest rates.
They now expect the annual gross domestic product for 2022-2023 to grow 2.5%, lower than its previous forecast of 2.9%.
GDP for 2023-2024 is now expected to grow 1%, a steep downgrade from its earlier prediction of a 1.9% increase published in June, while the 2024-2025 forecast was revised to 1.5% from 2.1%.
—Jihye Lee
CNBC Pro: Sterling has been tanking versus the dollar. Here's how low it could go, according to the pros
The British pound has slid against the U.S. dollar over the past year, hitting a 37-year low against the greenback last week — and it could weaken even further, according to analysts.
DZ Bank's Sonja Marten warned that GBP/USD is a currency pair that tends toward large swings, and gave a pretty bearish forecast.
— Zavier Ong
Yen intervention likely won't be effective: National Australia Bank
A unilateral intervention on the Japanese yen from the government is unlikely to be effective, according to National Australia Bank — after officials over the weekend said the government needs to take steps to address the excessive declines in the yen.
"If the [Bank of Japan] really wants to stop JPY's decline, then they need to make changes to their ultra-easy policy, the pressure is building," he wrote in a Monday note. a currency strategist at National Australia Bank
The yen last traded at 142.55 against the dollar.
—Abigail Ng
CNBC Pro: Goldman reveals the 'sweet spot' for its favorite oil stocks — and gives one 35% upside
As fears over the global energy supply came back into focus last week, Goldman highlighted six oil and gas themes which it said looked attractive into the year end.
The investment bank sees total returns of 15% for large-cap stocks under its oil and gas coverage and names six themes to watch into the year end.
— Weizhen Tan
Source : CNBC