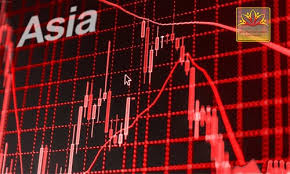 Lee Ying Shan
Shares in the Asia-Pacific traded lower on Thursday after tracking losses on Wall Street overnight.
Australia's S&P/ASX 200 dipped 0.11%. In Japan, the Nikkei 225 and Topix traded down 0.96% and 0.88% respectively after Japan recorded another trade deficit for December, one day after the Bank of Japan surprised markets by keeping its yield curve tolerance band unchanged. The yen currently stands at at 128.73 against the U.S. dollar.
South Korea's Kospi fell 0.66%, while the Kosdaq shed 0.32% in its first hour of trade.
| TICKER | COMPANY | NAME | PRICE | CHANGE | %CHANGE |
| --- | --- | --- | --- | --- | --- |
| .N225 | Nikkei 225 Index | *NIKKEI | 26591.71 | -199.41 | -0.74 |
| .HSI | Hang Seng Index | *HSI | 21678 | 0 | 0 |
| .AXJO | S&P/ASX 200 | *ASX 200 | 7395.3 | 1.9 | 0.03 |
| .SSEC | Shanghai | *SHANGHAI | 3224.41 | 0 | 0 |
| .KS11 | KOSPI Index | *KOSPI | 2366.55 | -1.77 | -0.07 |
| .FTFCNBCA | CNBC 100 ASIA IDX | *CNBC 100 | 8570.23 | -18.63 | -0.22 |
Hong Kong and Australia are slated to post its unemployment rate reading for December and October to December respectively.
Overnight on Wall Street, major stock indexes stumbled, with the S&P 500 recording its worst day in more than a month.
Japan reports trade deficit for December
Japan recorded a trade deficit of 1.45 trillion yen ($11.27 billion) for the month of December, according to official data.
Japan's imports in December climbed 20.6% compared to a year ago, slightly lower than Reuters' expectations of 22.4%. Its exports rose 11.5% year-on-year, compared against an estimate of 10.1%.
The reading would cap off an entire year of trade deficits for Japan.
—Lee Ying Shan
Stocks finish lower on Wednesday
All of the major averages ended the day lower on Wednesday.
The Dow Jones Industrial Average fell 613.89 points, or 1.81%. The S&P 500 lost 1.56% and the Nasdaq Composite slid 1.24%.
— Tanaya Macheel
Fed's Mester says 'we need to keep going' with rate hikes
Cleveland Federal Reserve President Loretta Mester said Wednesday that interest rates have to keep moving higher even with recent inflation readings softening.
In an interview with the Associated Press, the policymaker said the Fed likely will have to take its benchmark interest rate above 5% in order to get inflation moving consistently down to the central bank's 2% goal. She noted that markets and the economy absorbed the half-point December rate hike without a problem.
"I just think we need to keep going, and we'll discuss at the [Jan. 31-Feb. 1] meeting how much to do at any one particular meeting," Mester said. "But my projections and my view of the economy is that we need to do more, we need to get above 5% and then hold it there for some time until we get inflation expectations very well anchored at 2% … and inflation on that downward path."
The fed funds rate is currently targeted in a range between 4.25%-4.5%.
—Jeff Cox
Holiday sales data misses expectations
Holiday sales numbers came in lighter than expected for 2022, according to data from the National Retail Federation.
The industry group said sales in November and December were up 5.3% year over year. The NRF had projected growth between 6% and 8%.
The data does not include spending at automobile dealerships, gasoline stations and restaurants. The sales numbers are not adjusted for inflation.
— Jesse Pound, Melissa Repko
Source : cnbc