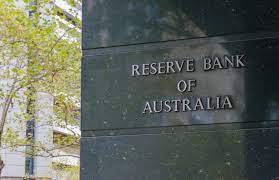 Lee Ying Shan
Asia-Pacific shares mostly fell on Tuesday as investors await Reserve Bank of Australia's rate decision, as well as a slew of economic data across the region.
In Australia, the S&P/ASX 200 was down 0.22%. The RBA is expected to hike its overnight cash rate by 25 basis points to 3.6%, which would mark the highest rate since June 2012.
Japan's Nikkei 225′s traded slightly below the flatline, while the Topix dipped fractionally. South Korea's Kospi dropped 0.03% and the Kosdaq slipped 0.1% in its first hour of trade.
The Hang Seng futures was at 20,653, which is higher compared to the Hang Seng index's last close at 20,603.19.
| TICKER | COMPANY | NAME | PRICE | CHANGE | %CHANGE |
| --- | --- | --- | --- | --- | --- |
| .N225 | Nikkei 225 Index | *NIKKEI | 28241.7 | 3.92 | 0.01 |
| .HSI | Hang Seng Index | *HSI | 20603.19 | 0 | 0 |
| .AXJO | S&P/ASX 200 | *ASX 200 | 7314.4 | -14.2 | -0.19 |
| .SSEC | Shanghai | *SHANGHAI | 3322.03 | 0 | 0 |
| .KS11 | KOSPI Index | *KOSPI | 2463 | 0.38 | 0.02 |
| .FTFCNBCA | CNBC 100 ASIA IDX | *CNBC 100 | 8250.25 | 1.03 | 0.01 |
Both China and Australia are posting their trade data for February and January respectively. Inflation data for Philippines and Thailand are also slated for release.
Overnight in the U.S., stocks largely held onto gains as the Dow notched a four-day win streak. Investors are also awaiting Federal Reserve Chair Jerome Powell's congressional testimony on Tuesday and Wednesday, which will inform the central bank's next moves on its rate-hiking campaign.
Reserve Bank of Australia expected to hike 25 basis points Tuesday
The Reserve Bank of Australia is expected to hike its overnight cash rate by 25 basis points to 3.6%, according to economists surveyed by Reuters.
That would mark the highest rate since June 2012, when Australia's cash rate stood at 3.75%.
Matt Simpson, senior market analyst at City Index, noted the tone of the central bank's statement could determine how much further the RBA would hike rates to tame inflation.
Pointing to the RBA's statement of needing further increases in rates "over the months ahead," Simpson said, "Any adjustments to the wording of this sentence could be the difference between one or two more hikes from here."
"A further increase over the months ahead would suggests one more hike is to follow, with a terminal rate at 3.85%," he said.
— Jihye Lee
Apple extends 3-day rally to as much as $11 or 7.6%
Apple is having an outsized influence on the S&P 500 Monday because, well, — Apple is outsized (with a $2.47 trillion market value, Apple is the single largest stock and accounts for 6.82% of the entire index.)
In late morning trading Monday, Apple alone added about a point to the S&P 500′s advance. Together with Microsoft and Amazon and Alphabet, the four combined to add almost two points.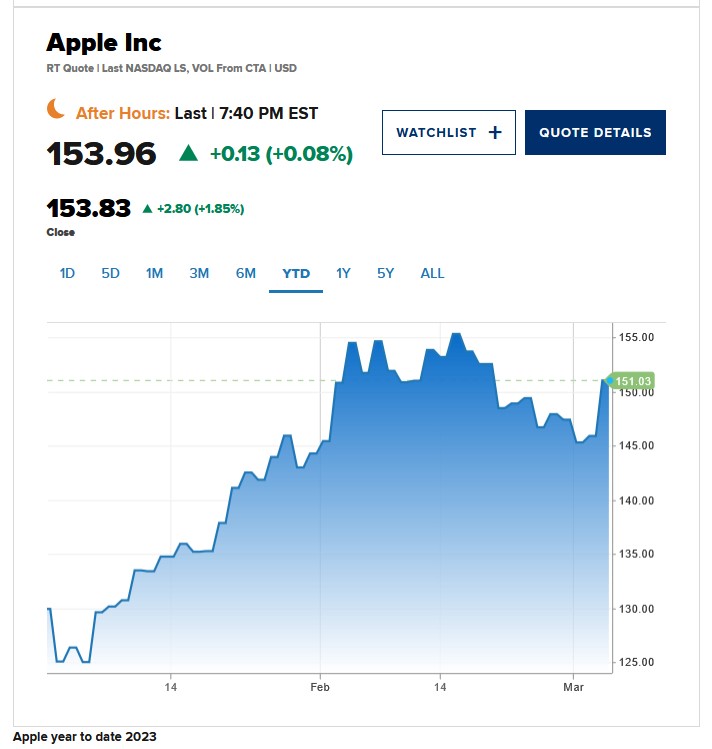 Apple extended its latest advance to three days, during which it's climbed about $11 per share or 7.6%, just since the market close on Wednesday March 1.
A new analyst at Goldman Sachs on Monday began research coverage of Apple with a buy rating and a $199 price target, saying Apple could get a big boost from its services business.
According to FactSet data, Apple is 13% below its 52-week high reached last March 30, 2022, but 26% above the 52-week low that it touched last January 3, 2023.
Month-to-date, Apple is about 5.8% higher, bringing the year-to-date gain to a shade above 20%. The iPhone maker is trading about 10% above its 50-day moving average, and sports a consensus price target among analysts of $169 — representing potential upside of almost 9%.
— Scott Schnipper
Morgan Stanley names Ferrari its top pick, replacing Tesla
Morgan Stanley replaced Tesla as its firm-wide top pick with Ferrari.
Analyst Adam Jonas increased Ferrari's price target by $30 to $310, implying the stock could rally 14.2% over the next year. He said the carmaker's defensiveness and hard-to-replicate luxury brand would be assets in amid a changing economic backdrop.
"We believe RACE is the best positioned company in our coverage in a highly uncertain macroeconomic and geopolitical tape," he said in a note to clients Monday. "In addition to its strong fundamentals, we believe RACE has levers to pull for both growth or downside protection, within a wide dispersion of macro outcomes."
He also said the stock "avoids much of the EV hype and EV risk." Still, he said the company had an underappreciated opportunity in the space as it could move away from internal combustion engines without losing the core of the brand.
Ferrari shares gained about 1%, while Tesla dipped about 1%.
— Alex Harring
Tesla shares fall following vehicle price cuts
Tesla's stock slipped 1% after the electric vehicle maker implemented price cuts on its two most expensive models in the U.S. to improve demand.
Following the price cuts, the Tesla Model S now starts at $89,990, according to Tesla's website. That's about 5% below its previous price. The Model X, meanwhile, begins at $99,990, representing a 9% reduction in cost.
— Ryan Browne, Samantha Subin
Source : cnbc