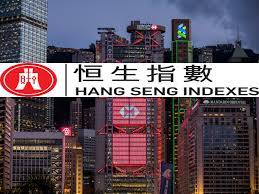 Jihye Lee
Asia-Pacific markets traded mixed Tuesday as investors await a slew of Chinese economic data. Economists are expecting a quarterly contraction of 0.8% in the nation's gross domestic product and 1.8% annualized growth, according to a poll by Reuters.
China's retail sales are estimated to contract by 8.6% and industrial output is expected to expand 0.2% on an annualized basis, according to economists polled by Reuters.
The Shenzhen Component rose 0.2% and the Shanghai Composite was slightly below the flatline. Hong Kong's Hang Seng index fell 0.24% while the Hang Seng Tech index rose 0.45%.
The Nikkei 225 rose 1.05%, leading gains in the region, and the Topix gained 0.73%. As the Bank of Japan kicks off its two-day monetary policy meeting, 10-year Japanese government bond yields
will be in focus as it continues to test the upper ceiling of the central bank's tolerance range.
| TICKER | COMPANY | NAME | PRICE | CHANGE | %CHANGE |
| --- | --- | --- | --- | --- | --- |
| .N225 | Nikkei 225 Index | *NIKKEI | 26140.51 | 318.19 | 1.23 |
| .HSI | Hang Seng Index | *HSI | 21552.11 | -194.61 | -0.89 |
| .AXJO | S&P/ASX 200 | *ASX 200 | 7375.9 | -12.3 | -0.17 |
| .SSEC | Shanghai | *SHANGHAI | 3225.01 | -2.59 | -0.08 |
| .KS11 | KOSPI Index | *KOSPI | 2385.24 | -14.62 | -0.61 |
| .FTFCNBCA | CNBC 100 ASIA IDX | *CNBC 100 | 8503.95 | -26.32 | -0.31 |
The Japanese yen weakened 0.25% against the U.S. dollar to 128.84, while still hovering around the strongest levels since May, 2022.
In Australia, the S&P/ASX 200 inched up 0.06% as the nation's Westpac consumer confidence rose 5% in December from 3% in November, Refinitiv data showed. South Korea's Kospi 0.26% and the Kosdaq shed 0.2%.
China's Liu He to meet with U.S. Treasury Secretary Janet Yellen
U.S. Treasury Secretary Janet Yellen is scheduled to hold a meeting with Chinese Vice Premier Liu He on the sidelines of the World Economic Forum, China's commerce ministry said in a statement.
The two will hold a meeting to "strengthen macroeconomic and financial policy coordination," the ministry said.
The meeting will take place in Zurich on Jan. 18, according to the statement, adding that the two will discuss the implementation of the agreements reached between U.S. President Joe Biden and Chinese President Xi Jinping late last year in Bali, Indonesia.
The sit-down will mark the first face-to-face meeting between Yellen and Liu.
Separately, Politico reported U.S. Secretary of State Antony Blinken will meet newly appointed Chinese foreign minister Qin Gang in Beijing on Feb. 5-6, citing Washington-based diplomats familiar with the matter.
– Jihye Lee
Singapore's non-oil domestic exports fall by more than 20% in December
Singapore's non-oil domestic exports fell 20.6% in December on an annualized basis, a further drop from a decline of 14.7% seen in November.
The steep decline was driven mainly by exports to China, Indonesia and Hong Kong, according to the government release. Exports to South Korea and Japan rose, it said.
The nation's total trade declined 7.7% in the month of December compared with a year ago – with exports dropping 7.1% and imports also dropping 8.2%.
– Jihye Lee
CNBC Pro: This under-the-radar global carbon capture stock could soar by 65%, investment banks say
Shares of an under-the-radar carbon capture company are expected to rise by 65% due to increasing global demand for emissions reduction technology, according to investment banks analyzing the stock.
The company's latest innovation, revealed last week, could cut the energy needed to capture carbon and improve the company's profitability in the future, according to analysts at a German investment bank.
— Ganesh Rao
Where the major indexes stand coming off the first two weeks of 2023 trading
With the first two weeks of 2023 trading done, the three major indexes are up so far for the year.
The Nasdaq Composite is leading the way, adding 5.9% as investors bought beaten-down technology stocks on rising hopes of an improving landscape for growth holdings. The S&P 500 and Dow
followed, gaining 4.2% and 3.5%, respectively.
— Alex Harring
Stock futures open lower
Stock futures were lower despite the market coming off a winning week.
Futures tied to the Dow dipped 0.1%. S&P 500 and Nasdaq-100 futures fell 0.2% and 0.4%, respectively.
— Alex Harring
Source : cnbc