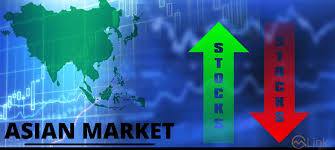 Jihye Lee
Asia-Pacific markets traded mixed on Friday, following moves on Wall Street and ahead of China's inflation data. Economists polled by Reuters are expecting to see core prices in China rise by 2.2% on an annualized basis.
In Australia, the S&P/ASX 200 fell 0.68% in its first hour of trade as investors await the Reserve Bank of Australia's statement on monetary policy. Earlier this week, the central bank raised its benchmark interest rates by 25 basis points to 3.25%.
The Nikkei 225 rose 0.1% while the Topix shed 0.23%. The Kospi in South Korea fell 0.76% and the Kosdaq also inched 0.43% lower.
| TICKER | COMPANY | NAME | PRICE | CHANGE | %CHANGE |
| --- | --- | --- | --- | --- | --- |
| .N225 | Nikkei 225 Index | *NIKKEI | 27693.48 | 109.13 | 0.4 |
| .HSI | Hang Seng Index | *HSI | 21624.36 | 0 | 0 |
| .AXJO | S&P/ASX 200 | *ASX 200 | 7444.5 | -45.8 | -0.61 |
| .SSEC | Shanghai | *SHANGHAI | 3270.38 | 0 | 0 |
| .KS11 | KOSPI Index | *KOSPI | 2470.67 | -10.85 | -0.44 |
| .FTFCNBCA | CNBC 100 ASIA IDX | *CNBC 100 | 8640.06 | -24.95 | -0.29 |
In corporate earnings, Taiwan Semiconductor Manufacturing Company, or TSMC, will release its monthly sales report later in the day. Japan's Honda, Shiseido and Olympus will also report quarterly results, as well as Kakao Corp in South Korea.
Overnight in the U.S., stocks closed lower Thursday. All three major indexes hit session lows in the final hour of trading — after giving up earlier gains as concerns over the Federal Reserve's future moves on monetary policy offset excitement around the latest batch of corporate earnings.
— CNBC's Alex Harring, Tanaya Macheel contributed to this report.
K-pop stocks rally at open
Shares tied to the K-pop industry popped at open, following Hybe's announcement to acquire shares of SM Entertainment.
SM Entertainment jumped more than 16%, Hybe rose 6% in Seoul's first hour of trade. JYP Entertainment rose 2.5% and YG Entertainment also rose 3.8% at the open.
– Jihye Lee
K-pop agency Hybe acquires stake in SM Entertainment making it largest shareholder
Hybe, the K-pop agency behind boy band BTS, announced in a filing to acquire 3.5 million shares of rival SM Entertainment worth 422.8 billion won ($334.2 million).
The filing said Hybe acquired the shares held by SM's founder Lee Soo-man – to hold a 14.65% stake in the company, making Hybe the largest shareholder of SM Entertainment.
Hybe said the deal is targeted at "raising [Hybe's] competitiveness in the K-pop industry."
– Jihye Lee
Bank of Japan nominations expected Feb. 14: Kyodo
The Japanese government is looking to present nominations for the next Bank of Japan's governor on Feb. 14, Kyodo reported, citing government sources.
The ruling Liberal Democratic Party is expected to discuss the timeline of the nomination with the opposition party later on Friday, the report said.
The move is seen to be a delayed process following previous reports the nomination may be announced as early as today.
– Jihye Lee
Stocks notch session lows with less than an hour left of trading
The sell-off intensified with less than an hour left in the trading day.
All three indexes reached session lows. The Dow was down more than 250 points, or 0.8%, while the S&P 500 traded just under 1% down. The Nasdaq Composite, the worst performer of the three, was more than 1.1% down at its new low.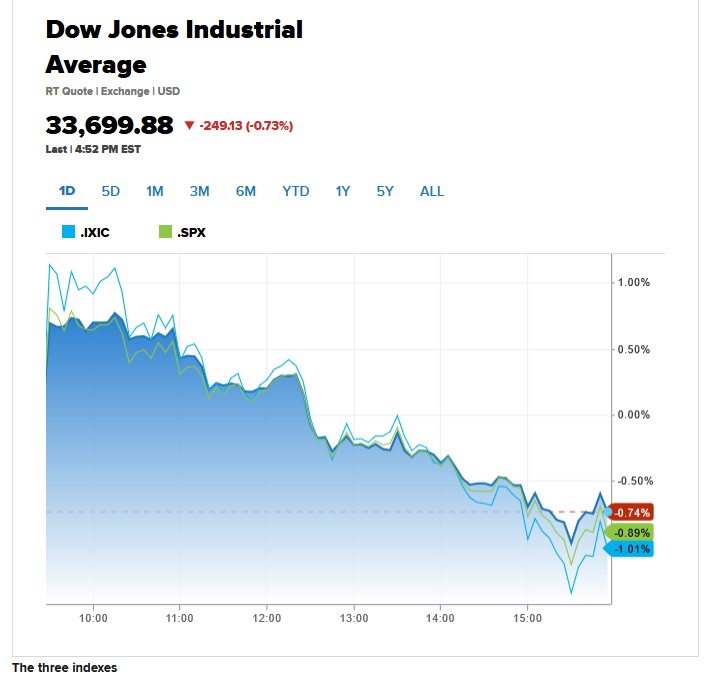 Wynn and MGM results show Vegas is starting to sizzle, analysts say
Fourth-quarter results for both Wynn Resorts and MGM Resort International show that Las Vegas is heating up, according to Wall Street analysts.
Both casino operators reported revenue that beat expectations, with Wynn's $1 billion coming above Refinitiv's estimate of $958 million and MGM's $3.59 billion topping estimates of $3.35 billion.
Several analysts cheered the results, with Jeffries titling its report on Wynn's earnings, "Las Vegas Is Starting to Sizzle."
"The strength in Las Vegas coupled with the early stage recovery in Macau are supportive of the strong momentum of late. The commentary supports further positive progression in estimates for both markets, which we believe should drive a positive reaction in the shares," analyst David Katz wrote in a note Tuesday.
Meanwhile, Deutsche Bank hiked its price target on Wynn to $128 per share from $106, as well as its price target on MGM to $53 from $49 per share.
"We believe the 2023 outlook for Las Vegas remains solid, with near-term strength evident in bookings. We see the return of capital story as compelling and differentiated, with the equity value creation from Macau accelerating," analyst Carlo Santarelli said in a note Thursday.
Shares of Wynn were up more than 6%, while MGM rose nearly 8%.
— Michelle Fox
Toyota Motor shares up more than 1% after earnings announcement
Toyota shares were up more than 1% on Thursday after the company's third-quarter earnings, revenue, and operating profit beat analyst expectations.
The Japanese automaker announced earnings of 53.40 yen, topping the consensus estimate of 49.55 yen from analysts polled by FactSet. The company's posted 9.755 trillion yen in revenue versus the 9.257 trillion yen anticipated by analysts.
Operating income in the third quarter jumped 22% year-on-year, coming in at ¥956.65 billion.
Meanwhile, Toyota's net profit fell to 745 million yen, from the 819 million yen reported in the same period in the previous year.
Toyota said that a weak Japanese Yen and higher sales volume offset rising prices of materials.
— Hakyung Kim
Jobless claims rose last week more than expected
First-time filings for unemployment benefits rose more than expected last week but held at comparatively low levels.
Jobless claims for the week ended Feb. 4 totaled 196,000, an increase of 13,000 from the previous period and above the Dow Jones estimate for 190,000. It was the fourth week in a row that claims were under 200,000 after the most recent peak of 241,000 in mid-November.
Continuing claims also rose, up 38,000 to 1.688 million, a number that has trended higher since the beginning of the year.
Markets showed little initial reaction to the claims data.
—Jeff Cox
Source : cnbc