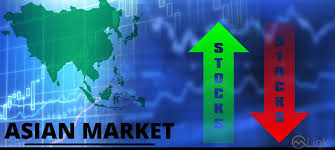 Jihye Lee
Asia-Pacific markets traded mixed after the Nasdaq Composite extended gains for a second day on Wall Street. Technology stocks helped the index skirt losses Monday as traders added to bets that inflation may be easing.
The Nikkei 225 rose 0.7% and the Topix gained 0.3% as consumer prices in Japan's capital city rose 4% in December on an annualized basis, beating expectations for a 3.8% rise. The Japanese yen slightly strengthened to last trade at 131.75 against the U.S. dollar, which reached a seven-month low earlier in the week.
| TICKER | COMPANY | NAME | PRICE | CHANGE | %CHANGE |
| --- | --- | --- | --- | --- | --- |
| .N225 | Nikkei 225 Index | *NIKKEI | 26175.56 | 201.71 | 0.78 |
| .HSI | Hang Seng Index | *HSI | 21278.28 | -110.06 | -0.51 |
| .AXJO | S&P/ASX 200 | *ASX 200 | 7131 | -20.3 | -0.28 |
| .SSEC | Shanghai | *SHANGHAI | 3169.23 | -6.85 | -0.22 |
| .KS11 | KOSPI Index | *KOSPI | 2351.31 | 1.12 | 0.05 |
| .FTFCNBCA | CNBC 100 ASIA IDX | *CNBC 100 | 8281.54 | -4.45 | -0.05 |
The S&P/ASX 200 fell 0.31% in Australia. The Kospi struggled for direction and last traded 0.35% higher while the the Kosdaq fell 0.3%. Investors digested South Korea's latest current account balance data from November, which shifted from a surplus to a deficit for the first time since August.
The Hang Seng index in Hong Kong fell 0.47%. In mainland China, the Shanghai Composite also fell 0.32% and the Shenzhen Component was fractionally lower.
CNBC Pro: This global lithium stock is up 15% since its IPO — and one bank says it could jump almost 600%
Shares of a U.K.-based lithium exploration and development firm could soar by nearly 600%, according to investment bank Canaccord Genuity.
Analysts at the bank say the stock has been "flying under the radar" since its 2022 IPO despite prices of battery-grade lithium carbonate soaring in 2022.
— Ganesh Rao
Chinese authorities in contact with Moderna, Pfizer about vaccine and treatment pill
Moderna CEO Stephane Bancel said the company is discussing its vaccine with Chinese authorities.
"We are in discussion with the Chinese government and we have been for quite a while," Bancel said.
"We are actively in discussion. I'm hoping that something will happen. But, of course, it's a decision of the Chinese government of where this lands in the end," he said in an interview with CNBC's Sara Eisen and Meg Tirrell.
He added that there were no further developments to announce at this stage.
In a separate interview, Pfizer CEO Albert Bourla said the company is working with the Chinese government "a lot" and sending its Covid pill, Paxlovid, as the nation faces a wave of infections.
"We are trying to understand what is their policy and their needs," Bourla told Tirrell. "So far, they have shown tremendous interest in Paxlovid."
The CEO said Pfizer had been sending "very low quantities" to China since the drug was registered there months ago, but is now sending more as cases surge.
Bourla added, "We are sending as much Paxlovid as we can. Our manufacturing machines are working so to be able to supply them at this stage."
— Jihye Lee, Sara Eisen, Meg Tirrell
South Korea budget shifts from surplus to deficit for first time since August
South Korea's current account balance fell from a surplus into deficit territory for the first time since August, government data showed.
The nation's balance of payments registered a deficit of $620 million for November, according to statistics from the Bank of Korea. South Korea recorded a surplus in current account balance for the previous two months after marking a deficit of more than $3 billion in August.
The goods account recorded a deficit of $1.57 billion, a steep decline from the $6.07 billion surplus a year earlier. The services account recorded a deficit of $270 million, a slight rise from a further deficit of $340 million seen a year ago.
— Jihye Lee
CNBC Pro: China's reopening has gotten Wall Street excited. Here's how the pros are playing it
Beijing's sudden and rapid dismantling of its stringent Covid-19 controls after nearly three years has raised hopes that its battered economy could follow a similarly rapid pace of recovery.
From hotels and airlines, to "less obvious beneficiaries," Wall Street analysts name their top Chinese and global stocks to play the reopening.
— Zavier Ong
Tokyo's consumer price index rises 4%, faster than expected
Japan saw core consumer prices in its capital rise 4% in December on an annualized basis, faster than expected and above the Bank of Japan's inflation target of 2%, government data showed.
Economists polled by Reuters had expected to see a 3.8% rise in prices for core items, excluding fresh food and including fuel.
Tokyo's inflation is seen as a gauge for the nationwide inflation print, which is scheduled to be released later this month on Jan. 20.
— Jihye Lee
Consumers see inflation, spending sliding over next year, according to New York Fed Survey
Consumers see the inflation burden easing while they expect to pull back considerably on their spending, according to a closely watched survey the New York Federal Reserve released Monday.
The central bank district's monthly Survey of Consumer Expectations for December showed that the one-year inflation outlook declined to 5%, down 0.2 percentage points from the previous month and the lowest level since July 2021.
— Jeff Cox
CNBC Pro: Platinum prices are soaring. These buy-rated stocks with upside could be a way to cash in
Prices of platinum, which is used in everything from jewelry to fuel cells, are soaring.
CNBC Pro screened for platinum-related stocks with buy-ratings from analysts and serious potential upside.
Platinum prices Chart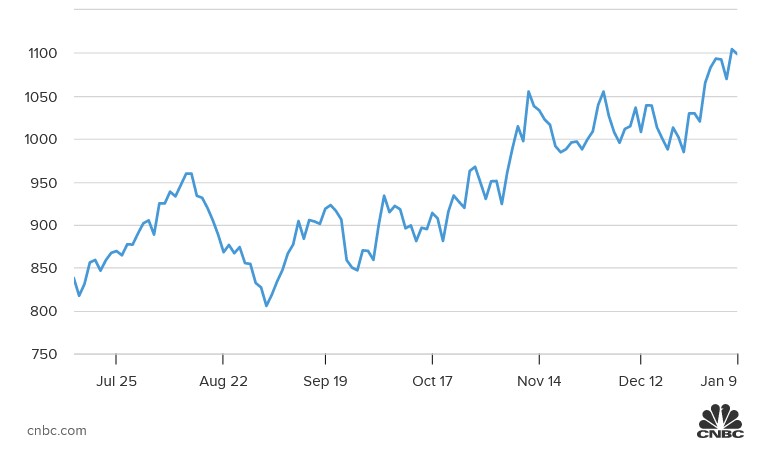 — Weizhen Tan
Dow, S&P 500 close down while Nasdaq posts second day of gains
At market close Monday, the Dow and S&P 500 traded down despite both trading up earlier in the day.
The S&P 500 whipsawed around the flatline in the afternoon, closing down just 0.1%. The Dow ended down 0.3% as investors focused on growth names as hopes grew over cooling inflation.
But the Nasdaq Composite ended up 0.6%, helped by a nearly 6% rally in Tesla and jumps in other tech names.
Losses were concentrated in recent winners, like health care, energy and aerospace and defense.
— Alex Harring, Scott Schnipper
Tesla jumps 7% as electric vehicle stock rallies off 2-and-a-half year low
Tesla rose more than 7% as investors pulled the electric vehicle maker off prior lows not seen in two-and-a-half years.
The stock is up more than 12% in 2022. That means the first few trading days have offered a respite after plummeting 65% in 2022.
Tesla has struggled in recent months amid CEO Elon Musk's chaotic purchase of Twitter. Investors are watching Tesla and Apple for insights into how some of the biggest technology names will fare after the industry was beat down last year.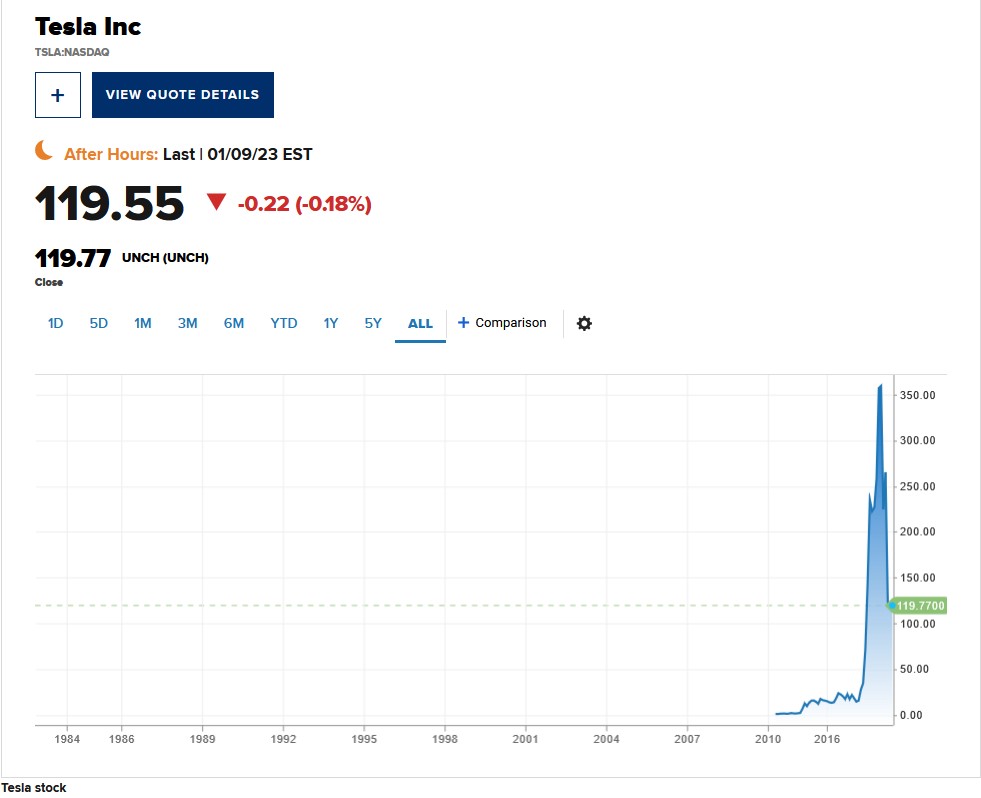 — Alex Harring
Source : cnbc