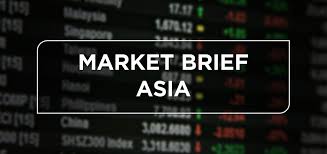 Asia-Pacific markets opened lower across the board after the latest Wall Street rally cooled overnight and July minutes from the U.S. Federal Open Market Committee pointed to "little evidence inflation pressures were subsiding" at the time of the meeting.
The S&P/ASX 200 in Australia fell 0.38%. Japan's Nikkei 225 dipped about 1% while the Topix index dropped 0.79%. In South Korea, the Kospi was down 0.52%.
Mainland China markets also took a dive. The Shanghai Composite slipped 0.26% and the Shenzhen Component lowered by 0.41%.
Hong Kong's Hang Seng index fell 0.53%
Losses were felt across all industries. Australian coal producer Whitehaven Coal, however, continued to stand out, posting just under 4% gains in early trade. The company benefitted from surging coal prices that have been on the rise since last year as the global economy opened for business.
MSCI broadest index of Asia-Pacific shares outside Japan was down 0.17%.
After hiking rates by 50 basis points Wednesday, Reserve Bank of New Zealand Governor Adrian Orr said on Thursday he was confident inflation was falling.
"We are not saying we are out of the woods, we got still some work to do, but we have time on our side," he told CNBC's "Squawk Box Asia."
After the market closed Wednesday, Tencent posted its first ever quarterly sales fall. The company said its earnings were hurt by a lack of game approvals and regulations that limit playing time, pandemic lockdowns and a weak economy that hurt ad sales.
| TICKER | COMPANY | NAME | PRICE | CHANGE | %CHANGE |
| --- | --- | --- | --- | --- | --- |
| .N225 | Nikkei 225 Index | *NIKKEI | 28982.35 | -240.42 | -0.82 |
| .HSI | Hang Seng Index | *HSI | 19773.95 | -148.5 | -0.75 |
| .AXJO | S&P/ASX 200 | *ASX 200 | 7111.5 | -16.2 | -0.23 |
| .SSEC | Shanghai | *SHANGHAI | 3276.38 | -16.15 | -0.49 |
| .KS11 | KOSPI Index | *KOSPI | 2502.71 | -13.76 | -0.55 |
| .FTFCNBCA | CNBC 100 ASIA IDX | *CNBC 100 | 8183.92 | -46.68 | -0.57 |
Nomura, Goldman slash forecasts for China's 2022 GDP even further
Nomura cut its forecast for China's 2022 GDP even further, from 3.3% to 2.8%, citing latest economic data out of the country.
The latest move continues the bank's streak of having one of the lowest calls among its peers, echoing pessimism over Beijing's growth target of around 5.5%. In July, Chinese officials indicated the country might miss its GDP goal for the year.
Nomura credits worsening downswings in the current business cycle as well as China facing its worst heatwave in many years, which could dent growth in the third quarter.
Goldman Sachs also downgraded its forecast to 3% from 3.3% — citing latest data showing a slump in demand and sluggish credit growth. The report also emphasized the drag from the slump in the property sector.
The forecast reductions come after the People's Bank of China unexpectedly cut two interest rates on Monday — its medium-term policy loans and a short-term liquidity tool — for the second time this year.
— Jihye Lee
Australian unemployment rate falls again, to a 48-year low
Australia's unemployment rate has fallen to 3.4% in July, the lowest since 1974, according to the latest data released by the Australian Bureau of Statistics. It fell from 3.5% in June.
"The fall in unemployment in July reflects an increasingly tight labor market, including high job vacancies and ongoing labor shortages, resulting in the lowest unemployment rate since August 1974," Bjorn Jarvis said.
"In July, there were fewer unemployed people (474,000) than there were job vacancies (480,000 in May)."
A tighter employment market could prompt further demand and inflation as well as further rate increases.
In the Reserve Bank of Australia's meeting minutes this week, the bank said "employment growth could be stronger than expected, and strong household balance sheet positions could support household consumption by more than anticipated".
—Su-Lin Tan
CNBC Pro: Top tech investor Paul Meeks reveals why he thinks PayPal is a buy
PayPall has lost nearly half its market cap this year — and that's despite a strong rally over the past month.
But top tech investor Paul Meeks is still a fan of the online payments giant. He tells CNBC Pro Talks why he thinks the stock is a buying opportunity.
— Zavier Ong
CNBC Pro: Goldman says planned energy transition is driving valuations, picks stocks that are 'best-in-class'
The energy efficiency improvements that companies carry out will be increasingly important to investors, according to Goldman Sachs.
"Carbon is increasingly becoming a factor that impacts stock selection and equity valuation, driven by growing regulatory pressure and net zero investment strategies," the investment bank wrote in a recent August report.
Goldman identified buy-rated companies which rank well on their reductions in energy usage, and where it says energy efficiency will play a key role in the companies' competitive positioning in the long term.
— Weizhen Tan
Chinese blackouts continue in Sichuan, Yangtze
China is battling a power outage in the Yangtze river area, which is experiencing a record-breaking heatwave.
Top temperatures have disrupted crop growth and threatened livestock.
China's southwestern province Sichuan is also rationing power amid blackouts that has swept across homes and businesses.
The latest blackouts were reminiscent of the major blackout last year that enveloped many of China's key manufacturing hubs particularly in the south such as Guangdong.
The power outage had contributed to a slowdown in GDP growth in the third quarter of the year, China's National Bureau of Statistics said at the time. It said power rationings in parts of China had impacted "normal production."
Chinese vice premier Han Zheng visited the State Grid Corporation on Wednesday and called for more efforts to shore up power supply for residents and key industries, a state media report said.
— Su-Lin Tan
Fed plans to hike rates to a 'restrictive' level, minutes show
The minutes from the Federal Reserve's July meeting shows that central bankers plan to continue rate hikes in order to bring down inflation.
"With inflation remaining well above the Committee's objective, participants judged that moving to a restrictive stance of policy was required to meet the Committee's legislative mandate to promote maximum employment and price stability," the minutes said.
The Fed has hiked by three quarters of a percentage point at each of its last two meetings. However, the central bank signaled that it could slow that pace in the coming months as those historically large moves take full effect.
"Participants judged that, as the stance of monetary policy tightened further, it likely would become appropriate at some point to slow the pace of policy rate increases while assessing the effects of cumulative policy adjustments on economic activity and inflation," the minutes said.
Some of the meeting participants indicated that the Fed should keep rates at a restrictive level "for some time" even after slowing the hikes.
The minutes also showed that Fed is worried about inflation and the economic environment possibly worsening from here.
"Uncertainty about the medium-term course of inflation remained high, and the balance of inflation risks remained skewed to the upside, with several participants highlighting the possibility of further supply shocks arising from commodity markets," the minutes said. "Participants saw the risks to the outlook for real GDP growth as primarily being to the downside."
— Jesse Pound
Source : CNBC