Abigail Ng
Shares in the Asia-Pacific traded higher on Wednesday after U.S. stocks rallied for a second day.
The Nikkei 225 in Japan rose 0.66% in early morning trade, going back above the 27,000 level, while the Topix added 0.72%.
In South Korea, the Kospi advanced 1.48% and the Kosdaq gained 1.36% Australia's S&P/ASX 200
was up 1.62%. On the economic front, inflation in South Korea slowed slightly in September, according to official data released Wednesday.
Mainland China markets remain closed for the Golden Week holiday, and India's market is also closed for a holiday.
| TICKER | COMPANY | NAME | PRICE | CHANGE | %CHANGE |
| --- | --- | --- | --- | --- | --- |
| .N225 | Nikkei 225 Index | *NIKKEI | 27090.25 | 98.04 | 0.36 |
| .HSI | Hang Seng Index | *HSI | 17079.51 | 0 | 0 |
| .AXJO | S&P/ASX 200 | *ASX 200 | 6804.5 | 105.2 | 1.57 |
| .SSEC | Shanghai | *SHANGHAI | 3024.39 | -16.81 | -0.55 |
| .KS11 | KOSPI Index | *KOSPI | 2216.8 | 7.42 | 0.34 |
| .FTFCNBCA | CNBC 100 ASIA IDX | *CNBC 100 | 7154.36 | 89.17 | 1.26 |
On Wall Street overnight, stocks soared overnight in the U.S. for a second session. The Dow Jones Industrial Average jumped 825.43 points, or 2.8%, to 30,316.32. The S&P 500 advanced nearly 3.1% to close at 3,790.93, and the Nasdaq Composite was 3.3% higher to end at 11,176.41.
"There is no denying incoming U.S. economic data is having a hand in equity, bond and currency moves so far this week," wrote Ray Attrill, head of FX strategy at National Australia Bank.
The U.S. Job Openings and Labor Turnover report sprang a "big downside surprise" that couldn't be ignored, he wrote. It's the "first meaningful sign of some cracks" in the labor market, though it is still very tight, he added.
— CNBC's Tanaya Macheel and Alex Harring contributed to this report.
CNBC Pro: This isn't the market bottom, Morgan Stanley says, naming 3 things that have to happen first
There's unlikely to be a sustainable market bottom unless three conditions are met, according to Morgan Stanley. "We … remind readers that the last few innings of every bear market are very challenging to trade as volatility becomes extreme," they wrote. "None of the conditions we have been looking for to call an end to this bear market are in place."
— Weizhen Tan
South Korea inflation eased slightly in September
Consumer prices in South Korea rose less than expected in September from a year ago, official data showed. The CPI print came in at 5.6%, compared with 5.7% that economists polled by Reuters predicted. Prices rose 5.7% in August. September's reading marks a second month of softening in inflation, and the slowest growth in four months.
— Abigail Ng
Dollar index falls back to 110
One factor helping equity markets on Tuesday could be a slightly weaker dollar, which is falling for the fifth-straight day. The DXY US Dollar Currency Index was down 1.5% in afternoon trading at 110.06. The index was trading as high as 114.78 last week, when there was concern about a failure of the UK government bond market.
Dollar index retreats from highs Chart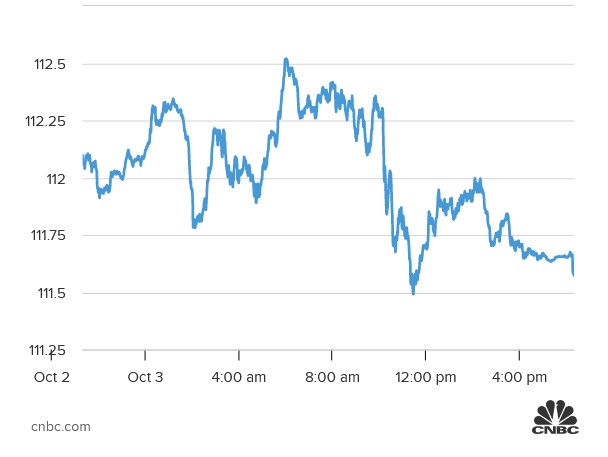 The British pound and the euro were each more than 1% against the dollar on Tuesday. The greenback was also down against the Japanese yen.
—Jesse Pound, Gina Francolla
Source : CNBC