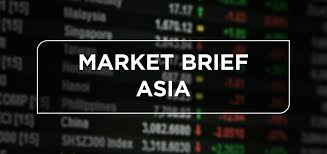 Jihye Lee & Lim Hui Jie
Asia-Pacific markets are set to rise after markets on Wall Street staged a relief rally on the hopes that the banking crisis is easing, following the $3.2 billion takeover of Swiss bank Credit Suisse by rival UBS.
U.S. Federal Reserve's Federal Open Market Committee meeting kicks off later today stateside, with the central bank expected to approve a quarter-percentage-point interest rate increase, according to market pricing and many Wall Street experts.
In Australia, the S&P/ASX 200 rose 1.07% higher, while South Korea's Kospi  was up 0.73% and the Kosdaq gained 0.78%. Markets in Japan are closed for a holiday.
Stocks in Hong Kong are poised to rise, with Hang Seng futures at 19,166 – compared to the index's last close at 19,000.
| TICKER | COMPANY | NAME | PRICE | CHANGE | %CHANGE |
| --- | --- | --- | --- | --- | --- |
| .N225 | Nikkei 225 Index | *NIKKEI | 26945.67 | -388.12 | -1.42 |
| .HSI | Hang Seng Index | *HSI | 19000.71 | 0 | 0 |
| .AXJO | S&P/ASX 200 | *ASX 200 | 6974.2 | 75.7 | 1.1 |
| .SSEC | Shanghai | *SHANGHAI | 3234.91 | 0 | 0 |
| .KS11 | KOSPI Index | *KOSPI | 2394.84 | 15.64 | 0.66 |
| .FTFCNBCA | CNBC 100 ASIA IDX | *CNBC 100 | 7878.86 | 19.31 | 0.25 |
Overnight in the US, stocks rose on Monday night as regional bank rebounded. The Dow Jones Industrial Average closed 1.20% higher, the S&P 500 rose 0.89% and the Nasdaq Composite
gained 0.39% at the end of the trading day.
— CNBC's Hakyung Kim contributed to this report.
Bill Ackman suggests Fed should pause on rate hikes on Wednesday
Billionaire investor and Pershing Square CEO Bill Ackman said the U.S. Federal Reserve should pause its interest rate hikes, as the Federal Open Market Committee meeting kicks off Tuesday.
Noting that markets have seen "major shocks" with the closures of U.S. banks, Ackman said the banking crisis "remain unresolved" and that higher rates will not help with the situation.
"This is not an environment into which the @federalreserve should be raising rates and adding additional pressure on the system as financial stability is the Fed's first responsibility," he said in his tweet
– Jihye Lee
Regional bank stocks rebound from steep losses
U.S. regional bank stocks clawed back into the green on Monday after facing steep losses in the market last week.
PacWest Bancorp rose 18.6% and Fifth Third Bancorp rose 7.6%, while Zions Bancorp and KeyCorp gained 4.7% and 4.3%, respectively. The SPDR S&P Regional Banking ETF recently gained 4.3% and the KBW Nasdaq Regional Banking Index was up 3.9%.
While its rivals are bouncing back, shares of First Republic Bank slid on Monday after Standard & Poor's cut the credit rating of the San Francisco-based firm on Sunday. The stock is down nearly 14.5%.
— Pia Singh
Oil prices drop amid global banking turmoil
The front-month April WTI Nymex was lower by 1.45% on Monday, trading at $65.75 per barrel. That level is still above Friday's low of $65.17, which was the lowest level since December 2, 2021 when WTI traded as low as 62.43
Brent oil prices also dipped into the red, recently down 0.7%, or at $72.47 per barrel.
— Pia Singh
Bitcoin surges to nine-month high as Treasury yields touch six-month low
Bitcoin climbed to $28,551.73 in early trading, the highest level since June 12, 2022, when bitcoin traded as high as $28,647.91.
Ether reached $1,846.25, the highest level since Aug. 19, 2022, when ether traded as high as $1,879. Coinbase is on pace for its 6th straight daily advance.
The moves came as 2- and 10-year Treasury yields fell to their lowest levels in six months. The U.S. 2-year yield fell to 3.635%, the lowest since Sept. 13, while the U.S. 10-year yield touched 3.291%, the lowest since Sept 12.
— Scott Schnipper, Gina Francolla
Stocks making the biggest midday moves
Here are some of the names making the biggest moves in midday trading:
UBS, Credit Suisse — U.S.-listed shares of Credit Suisse dove nearly 52% after UBS agreed to buy Credit Suisse for 3 billion Swiss francs, or $3.2 billion. UBS shares gained about 5%.
US Bancorp — The stock rallied nearly 6% after being upgraded to outperform from neutral by Baird. The Wall Street firm said US Bancorp could benefit as the bank crisis pushes depositors to move holdings to larger regional banks.
Virgin Orbit— Shares tumbled more than 35% as the company scrambled to secure funding and avoid bankruptcy, which could come as early as this week without a deal, according to people familiar with the matter.
— Michelle Fox
Source : cnbc