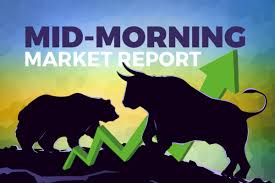 Abigail Ng
Shares in the Asia-Pacific rose on Thursday following a rebound on Wall Street overnight. The rally in the U.S. came after the Bank of England said it would intervene in the bond market to stabilize conditions.
Hong Kong's Hang Seng index jumped 1.33% in early trade. In South Korea, the Kospi added 1.31% and the Kosdaq was 2.38% higher.
The Nikkei 225 in Japan advanced around 1% and the Topix index gained 0.37%. Australia's S&P/ASX 200 jumped 1.53%.
In mainland China, the Shanghai Composite rose 0.88% and the Shenzhen Component
added around 1%. MSCI's broadest index of Asia-Pacific shares outside Japan rose 1.06%.
Overnight in the U.S., the Dow Jones Industrial Average popped 548.75 points, or 1.88%, to 29,683.74. The S&P 500 gained 1.97% to 3,719.04,  staging a comeback after notching a new bear market low the previous session. The Nasdaq Composite was 2.05% higher at 11,051.64 at the close.
| TICKER | COMPANY | NAME | PRICE | CHANGE | %CHANGE |
| --- | --- | --- | --- | --- | --- |
| .N225 | Nikkei 225 Index | *NIKKEI | 26296.27 | 122.29 | 0.47 |
| .HSI | Hang Seng Index | *HSI | 17424.55 | 173.67 | 1.01 |
| .AXJO | S&P/ASX 200 | *ASX 200 | 6576.5 | 114.5 | 1.77 |
| .SSEC | Shanghai | *SHANGHAI | 3053.33 | 8.27 | 0.27 |
| .KS11 | KOSPI Index | *KOSPI | 2189.07 | 19.78 | 0.91 |
| .FTFCNBCA | CNBC 100 ASIA IDX | *CNBC 100 | 7019.47 | 69.21 | 1 |
— CNBC's Sarah Min, Jesse Pound and Elliot Smith contributed to this report.
EV maker Leapmotor's shares plunge in Hong Kong debut
Chinese electric vehicle maker Leapmotor's shares tumbled more than 32% from its offer price of 48 Hong Kong dollars ($6.29) per share on its first day of trade in the city.
Onewo, a subsidiary of property developer China Vanke, also started trading in Hong Kong. It fell as much as 7.9% from its offer price of 48 Hong Kong dollars, but recovered slightly and was last down around 5%.
— Abigail Ng
CNBC Pro: Analyst says this FAANG stock is an evergreen winner — and investors should buy the dip
Tech stocks have had a difficult year so far but a Rosenblatt Securities analyst thinks the sell-off is an opportunity for long-term investors to buy the dip.
"Stay away from the losers," he said, recommending "winners in the various secular battles and evolutionary battles" in tech.
— Zavier Ong
China's central bank warns against yuan bets
The People's Bank of China has warned against betting on the yuan in either direction, after its rapid decline against the U.S. dollar this week.
"Do not bet on a one-sided appreciation or deprecation of the renminbi exchange rate," the central bank said in a Chinese statement on its website late Wednesday, according to a CNBC translation.
That's based on a readout of a speech by vice governor Liu Guoqiang at a video conference meeting on foreign exchange that day.
— Evelyn Cheng
Two of Hong Kong's largest IPOs for 2022 to debut on the stock market
China Vanke's subsidiary Onewo and EV maker Zhejiang Leapmotor Technology are set to start trading on the Hong Kong market.
Both companies have each raised more than $700 million in initial public offerings that were undersubscribed by retail investors.
Reuters reported that Onewo and Leapmotor's shares fell in grey market trading on Wednesday.
— Abigail Ng
Stocks may continue this 'oversold bounce' over the next few days, Wells Fargo's Harvey says
Wells Fargo's Chris Harvey expects stocks to continue their upward move.
"The spike in short interest, retail selling skew, and BOE's action all suggest stocks will continue their oversold bounce for the next few days," he said in a note to clients Wednesday.
Stocks hit fresh lows earlier in the week, with the S&P 500 notching a new bear market. The sell-off was triggered by the Fed's latest rate decision last week, which some investors believe steered the market into oversold conditions.
As the cost of capital rises and prices hover near record highs, the consensus is increasingly coming to believe that a Fed-induced recession is unavoidable, Harvey said.
"We look at a recession like a car crash," he wrote. "You never know how bad it will be, but there is almost no 'better-than-expected' outcome — so policymakers need to be careful what they wish for."
— Samantha Subin
10-year Treasury yield drops the most since 2020
The yield on the benchmark 10-year Treasury note dropped the most since 2020 on Wednesday, despite briefly topping 4% earlier in the session, after the Bank of England announced a bond-buying plan to stabilize the British pound.
The 10-year Treasury yield last dropped 23 basis points to 3.733%, or the most it's dropped since 2020.
It hit a high of about 4.019%, a key level that was the highest since October 2008, earlier in the day before erasing those gains.
Yields and prices move in opposite directions. One basis point is equal to 0.01%.
10-year Treasury yield drops Chart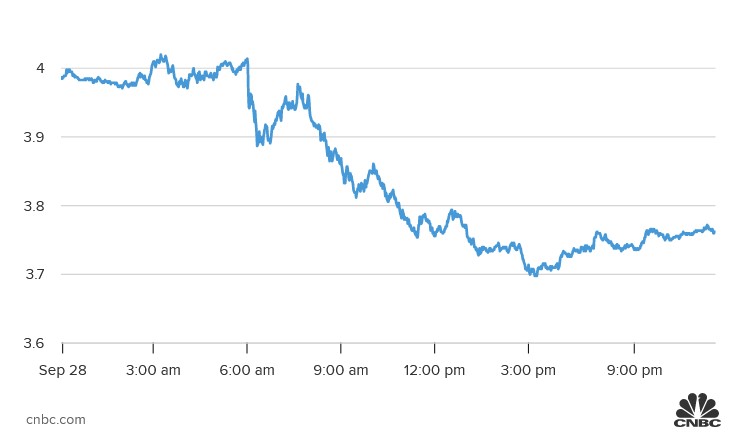 — Sarah Min
Source : CNBC