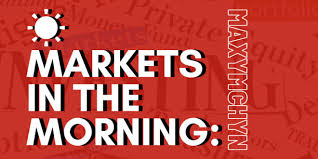 Jihye Lee
Markets in Asia-Pacific traded lower on Wednesday as investors anticipate the Federal Reserve to give its summary on current economic conditions, also known as the Beige Book.
The Nikkei 225 in Japan traded 0.95% lower and the Topix was also 0.77% lower. In mainland China, the Shanghai Composite pared earlier losses to gain 0.18% and the Shenzhen Component also traded 0.79% higher. The Hang Seng index was 1.25% lower and the Hand Seng Tech Index was down 1.79%.
In South Korea, the Kospi traded 1.61% lower, and the S&P/ASX 200 in Australia was 1.28% lower.
U.S. bond yields surged overnight, with the 10-year U.S. Treasury yield jumping to its highest level since June. The rate on the 30-year Treasury closed at its highest level since 2014. Bond yields move inversely to prices.
| TICKER | COMPANY | NAME | PRICE | CHANGE | %CHANGE |
| --- | --- | --- | --- | --- | --- |
| .N225 | Nikkei 225 Index | *NIKKEI | 27362.83 | -263.68 | -0.95 |
| .HSI | Hang Seng Index | *HSI | 18872.44 | -330.29 | -1.72 |
| .AXJO | S&P/ASX 200 | *ASX 200 | 6728.5 | -98 | -1.44 |
| .SSEC | Shanghai | *SHANGHAI | 3241.87 | -1.58 | -0.05 |
| .KS11 | KOSPI Index | *KOSPI | 2372.43 | -37.59 | -1.56 |
| .FTFCNBCA | CNBC 100 ASIA IDX | *CNBC 100 | 7530.86 | -165.56 | -2.15 |
China will release its trade data for the month of August. Economists estimate exports rose 12.8% from a year earlier, according to a Reuters poll, after growing 18% in July.
The Japanese yen stood at 143.5 against the greenback, while the Korean won was 1,386.38. The offshore Chinese yuan was 6.98.
Oil prices fall on expectations of further rate hikes and lower demand growth
Oil prices fell on Wednesday following more Covid curbs in China and expectations of more interest rate hikes globally.
The U.S. West Texas Intermediate futures fell 1.45% to stand at $85.62 per barrel, while Brent crude futures slid 1.14% to $91.77 per barrel, erasing earlier gains following the latest OPEC+ meeting and its decision to pare output.
A Reuters forecast expects WTI to extend its downtrend to reach $83.17 per barrel.
—Lee Ying Shan
CNBC Pro: Russia-Europe tensions could spur a 'bullish shock' to oil markets
Oil and gas stocks are set to get a boost from heightened tensions surrounding Russian gas supplies to Europe, according to one analyst.
Kenny Polcari, chief market strategist at SlateStone Wealth, told CNBC's "Street Signs Asia" that investors should zoom in on big U.S. energy names which are also good dividend payers.
One stock he named is up 125% this year, and he says there's more "room to run."
— Weizhen Tan
Australia's economy grows 0.9% in second quarter
Australia's real GDP grew 0.9% in the second quarter after rising 0.7% in the previous period, official data showed.
The Australian Bureau of Statistics said the continued growth was backed by the first full quarter of reopened borders.
The data also showed the Australian economy grew 3.6% over the past year. The ABS said strong domestic demand as well as an increase in travel supported overall growth.
— Jihye Lee
CNBC Pro: This chip stock has convincingly beaten its peers this year – and analysts think it can go higher
After years of market beating returns, semiconductor stocks have sold off heavily this year. But one stock has emerged relatively unscathed from the market carnage. Not only has it outperformed its peers, it has beaten the S&P 500 by a country mile.
And analysts think the stock can still go higher.
— Zavier Ong
US Treasury yields hit highest levels since mid-June
A bond selloff has boosted U.S. Treasury yields to their highest levels since mid-June as investors weigh what strong economic data means for the Federal Reserve's future rate hikes.
The U.S. 10-year Treasury yield rose as much as 3.353%, the highest level since June 16, when the yield hit 3.495%. Yields are inverse to prices.
The yield on the U.S. 30-year Treasury hit a high of 3.484% and the U.S. 5-year Treasury yield hit 3.334%, also both the top levels seen since mid-June.
The 2-year yield also rose to a daily high of 3.535%, but it is only the highest yield for the note since Friday.
– Carmen Reinicke
Source : CNBC