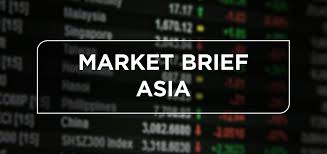 Abigail Ng
Shares in the Asia-Pacific were mixed on Tuesday after sharp falls on Monday.
The Nikkei 225 in Japan rose 0.68%, and the Topix index gained 0.8%. In Australia, the S&P/ASX 200 added 0.23%.
South Korea's Kospi struggled for direction and last lost 0.39%, while the Kosdaq gained 0.08%.
In Hong Kong, the Hang Seng index lost 0.17%, while the Shanghai Composite in mainland China rose 0.33% and the Shenzhen Component was 0.317% higher. MSCI's broadest index of Asia-Pacific shares outside Japan was down 0.13%. China's industrial profits for January to August fell 2.1% from the same period a year ago, official data showed.
| TICKER | COMPANY | NAME | PRICE | CHANGE | %CHANGE |
| --- | --- | --- | --- | --- | --- |
| .N225 | Nikkei 225 Index | *NIKKEI | 26596.33 | 164.78 | 0.62 |
| .HSI | Hang Seng Index | *HSI | 17850.21 | -4.93 | -0.03 |
| .AXJO | S&P/ASX 200 | *ASX 200 | 6480.9 | 11.5 | 0.18 |
| .SSEC | Shanghai | *SHANGHAI | 3062.6 | 11.38 | 0.37 |
| .KS11 | KOSPI Index | *KOSPI | 2206.38 | -14.56 | -0.66 |
| .FTFCNBCA | CNBC 100 ASIA IDX | *CNBC 100 | 7103.08 | 12.94 | 0.18 |
Overnight in the U.S., major stock indexes dropped. The S&P 500 slipped 1.03% to 3,655.04, a new closing low for 2022. The Dow Jones Industrial Average fell into a bear market after it lost 329.60 points, or 1.11%, to 29,260.81. The Nasdaq Composite shed 0.6% to 10,802.92.
"The sell-off in bonds and equities continued as sterling's weakness highlighted the fragility of markets to policy uncertainty," ANZ Research analysts wrote in a Tuesday note, a day after the pound hit a record low.
— CNBC's Sarah Min and Tanaya Macheel contributed to this report.
CNBC Pro: Analysts like Nvidia once again, with Citi giving it almost 100% upside
Analysts are once again starting to get bullish on Nvidia, after the semiconductor giant lost favor amid geopolitical tensions and a slowdown in the chip sector.
Citi and JPMorgan both said last week that solid demand in PC gaming, as well as cloud adoption in data centers, were set to be tailwinds for Nvidia.
So how much upside did they each give Nvidia shares?
— Weizhen Tan
Oil, U.S. dollar diverge
For the first half of 2022, the price of oil and the U.S. dollar both rose sharply. However, that has changed in recent weeks, with notable moves for both on Monday.
The Dollar Index rose as high as 114.527 on Monday, hitting its highest level since 2002.
Meanwhile, futures for West Texas Intermediate crude fell 2.58% to $76.08 per barrel. That is the U.S. benchmark's lowest settle since Jan. 3, meaning nearly all of oil's year to day gains have been erased.
— Jesse Pound, Christopher Hayes
Treasury yields rising at rapid clip
Treasury yields are rising at a rapid clip, as global rates jump and investors anticipate a more aggressive Federal Reserve.
The benchmark U.S. 10-year yield rose above 3.9% for the first time since 2010. It was at about 3.75% on Friday. The 2-year yield Monday rose by about 13 basis points to 4.33%. A basis point equals 0.01 of a percentage point.
The U.K. 10-year gilt yield was at 4.24%. It was at 3.15% just a week ago.
Bond yields move opposite price. A sharp sell-off in U.K. bonds led the selling, as investors weigh the Bank of England's potential response to a U.K. government plan to cut taxes and raise spending. The pound fell to an all-time low against the dollar, as U.K. rates jumped Monday.
The Fed sent shockwaves across global rates markets Wednesday with a more aggressive forecast for interest rate hikes. "I think there's three things" moving the market, said AmeriVet's Greg Faranello. "It's the repricing of the Fed. It's the global rates story, and it's a function of liquidity," he said.
Andy Brenner of National Alliance said he sees no signs of support in the chart of the 10-year yield until 4%.
"This could also be the bond vigilantes seeing nothing to stop them," said Brenner.
–Patti Domm
Source : CNBC