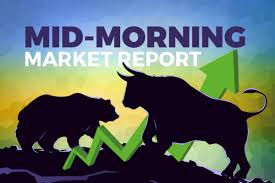 Lee Ying Shan
Asia-Pacific shares were mixed on Thursday as Bank of Japan kicks off its two-day monetary policy meeting, with investors eyeing any policy changes that could accompany BOJ governor Haruhiko Kuroda's final meeting.
Japan's Nikkei 225′s was up 0.63% and the Topix climbed 0.94%. The Kospi slipped 0.15% while the Kosdaq lost 1.16%. Australia's S&P/ASX 200 added 0.1%.
Hong Kong's Hang Seng index inched up fractionally in its first hour of trade. In mainland China, the Shanghai Composite was up 0.081% and the Shenzhen Component lost 0.11%.
| TICKER | COMPANY | NAME | PRICE | CHANGE | %CHANGE |
| --- | --- | --- | --- | --- | --- |
| .N225 | Nikkei 225 Index | *NIKKEI | 28604.56 | 160.37 | 0.56 |
| .HSI | Hang Seng Index | *HSI | 20072.27 | 21.02 | 0.1 |
| .AXJO | S&P/ASX 200 | *ASX 200 | 7309.8 | 2 | 0.03 |
| .SSEC | Shanghai | *SHANGHAI | 3277.04 | -6.2 | -0.19 |
| .KS11 | KOSPI Index | *KOSPI | 2426.01 | -5.9 | -0.24 |
| .FTFCNBCA | CNBC 100 ASIA IDX | *CNBC 100 | 8139.63 | 14.91 | 0.18 |
China's consumer price index grew 1% year on year, lower than a 1.9% increase as expected by Reuters.
Overnight in the U.S., major stock indexes were mixed as traders parsed stronger than expected economic data, sparking concerns of bigger rate increases following Fed Chairman Jerome Powell's congressional speech.
China's consumer inflation eases in February
China's consumer price index for February came in at 1% year on year, coming off from an annual increase of 2.1% in January.
The figure is lower than Reuters' forecast of a 1.9% increase. Prices of food, alcohol and tobacco increased by 2.1% year on year.
China's producer price index for February declined 1.4% compared to a year ago, deepening a contraction of 0.8% in January.
Japan's economy posts weaker 0.1% annualized growth for fourth quarter
Japan's GDP grew slower at 0.1% on an annualized for the October-December quarter, bogged down by weak private consumption according to official data.
The reading is weaker compared with preliminary estimates of a 0.6% growth, and also comes in lower than a 0.8% expansion. according to analysts polled by Reuters.
Private consumption, which accounts for around 57% of Japan's GDP, inched up by only 0.3%, lower than forecasts of a 0.5% growth.
—Lee Ying Shan
EU and U.S. to begin critical minerals trade negotiations: WSJ
The European and U.S. are crafting a trade agreement on critical minerals in a move to reduce their reliance on China, Wall Street Journal reported, citing sources familiar with the matter.
Both parties are laying out the foundations of what would be a focus on environmental and labor standards for obtaining nickel and lithium, the sources were quoted saying.
The move would mark a step towards the Critical-Minerals Pact between the U.S., Japan and UK, which aimed to shift energy transition supply chains away from China.
Negotiations on the terms of the deal will be tabled during the White House meeting on Friday.
—Lee Ying Shan
CNBC Pro: Bonds yields are soaring. But this strategist says she's still a fan of these 'compelling' stocks
Higher bond yields are usually bad news for stock investors. But that's not the case for these stocks, given their innovative business models, strategist Amy Kong says.
"We continue to be constructive on stocks relative to bonds and cash but recognize risks have escalated," Kong, who is chief investment officer at CI Barrett Private Wealth, told CNBC's "Street Signs Asia" on Wednesday.
— Zavier Ong
Major cryptos drop 2% following Silvergate shutdown
Major cryptocurrencies bitcoin and ether sank in early Asia trade after the central lender to the crypto industry, Silvergate Capital, said it will shutdown its operations.
"In light of recent industry and regulatory developments, Silvergate believes that an orderly wind down of Bank operations and a voluntary liquidation of the Bank is the best path forward," the company said in a statement. Bankrupt crypto exchange FTX was a major Silvergate customer.
Bitcoin was down 2.31% to trade at $21,711.8 while Ether fell 2.15% to $1,532.98 according to CoinDesk data.
— Lee Ying Shan
CNBC Pro: Investors share strategies to beat interest rate fears — including one that trumped the 60/40 model
Markets are jittery now that fears that interest rates will stay higher for longer have been reignited.
Stocks tumbled on Tuesday and the 2-year Treasury yield jumped to its highest level since 2007 as Federal Reserve Chair Jerome Powell suggested that rates may need to go higher for longer.
How should investors trade in such an uncertain market? Here's what BlackRock and other pros say.
— Weizhen Tan
China's inflation expected to have eased in February: Reuters
China's consumer price index is expected to have slowed in February to 1.9%, economists surveyed by Reuters show.
This would follow an annualized inflation print of 2.1% seen in January and 1.8% seen in December.
A lower print would somewhat ease investors' worries that the rise of prices in China from a reopened economy would have a spillover effect to global markets, causing central banks around the world to continue hiking rates further.
On a monthly basis, inflation is expected to inch 0.2% higher from January. China's producer price index is forecast to rather decline 1.3% year-on-year, falling further from January's drop of 0.8%.
 — Jihye Lee
Dow finishes lower, S&P and Nasdaq edge higher
The Dow dipped 58.06 points on Wednesday, or 0.18%, to end at 32,798.40, while the S&P 500 edged 0.14% higher to settle at 3,992.01. The Nasdaq Composite rose 0.4% to finish at 11,576.00.
— Samantha Subin
Powell says no decision yet on March Fed meeting
Federal Reserve Chairman Jerome Powell said Wednesday that he hasn't made up his mind about what the central bank will do regarding interest rates when it meets later in March.
Speaking to the House Financial Services Committee, Powell said he and his colleagues will be assessing a raft of incoming inflation data, including reports next week on consumer and producer prices.
"They're going to be important in our assessment of the higher readings that we very recently have received and the overall direction of the economy and of our progress in bringing inflation down," the Fed leader said.
"We have not made any decision about the March meeting," he added. "We're not going to do that until we see additional data. The larger point, though, is we are not on a preset path and we will be guided by the incoming data and the evolving outlook."
Powell shook markets Wednesday when he said he anticipates that if the inflation data remain hot, he expects rates will go higher than expected and at a faster pace. Markets now expect the Fed to raise its benchmark borrowing rate by 0.5 percentage point when the Federal Open Market Committee meets March 21-22.
— Jeff Cox
Job openings decline in January but labor market still tight
Job openings fell in January but remained elevated and still outnumber available workers by a nearly 2 to 1 margin, the Labor Department reported Thursday.
Available positions totaled 10.824 million for the month, a decline of about 410,000 but still above the FactSet estimate for 10.58 million.
The numbers indicate a historically tight labor market in which open jobs outnumber those considered unemployed by a 1.9 to 1 margin, according to January data from the Bureau of Labor Statistics.
— Jeff Cox
Source : cnbc