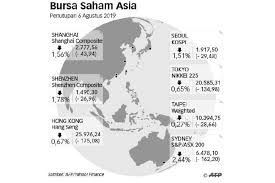 Key Points
Asia-Pacific stocks were mixed in Thursday trade.
The U.S. consumer price index surged 8.3% in April as compared with a year ago, official data showed Wednesday, near the highest level in more than 40 years.
Shares on Wall Street declined on the back of the U.S. inflation report, with the tech-heavy Nasdaq Composite falling more than 3%.
watch nowVIDEO01:53Malaysia's central bank believes economy in strong enough position to hike rates
SINGAPORE — Shares in Asia-Pacific were mixed in Thursday trade following overnight losses on Wall Street — after data showed the consumer price index stateside in April remaining near the highest level in more than 40 years.
Mainland Chinese stocks outperformed the broader markets, with the Shanghai Composite up 0.17% and the Shenzhen Component advancing 0.329%.
"We're not very … pessimistic on China equities at this point," Selina Sia, head of greater China equity research at Credit Suisse Wealth Management, told CNBC's "Street Signs Asia" on Thursday.
"We have seen that cases in Shanghai have already peaked, and hopefully omicron can come under control sooner rather than later, but we are seeing positive signs there," said Sia. "Besides, policymakers have made statements after the Politburo meeting at the end of April in order to support infrastructure investment, platform economies and also the property market."
Markets elsewhere in the region largely declined, with Hong Kong's Hang Seng index sitting around 1% lower by the afternoon.
The Nikkei 225 in Japan fell 1.08% as shares of Fast Retailing dropped 4%. The Topix index shed 0.53%.
In South Korea, the Kospi fell 0.52%. Australian stocks also declined as the S&P/ASX 200 dipped 1.23%.
MSCI's broadest index of Asia-Pacific shares outside Japan traded 1.48% lower.
"We think in the equity space, Europe and U.S. face bigger tightening central bank and growth headwinds than arguably Japan and Asia," said Gareth Nicholson, chief investment officer for international wealth management at Nomura. "Asia has China supporting them, Japan has a very dovish central bank."
"Also, with the valuation perspective, we think there's more upside this part of the world in equity than the other side," Nicholson told CNBC's "Squawk Box Asia" on Thursday.
Stock picks and investing trends from CNBC Pro:
As the U.S. dollar trades at a 20-year high, Bernstein says these global stocks could benefit
Cathie Wood says economic indicators 'will start screaming' at the Fed as it hikes rates
Morgan Stanley sees stocks lower from here one year out, recommends staying defensive
The U.S. consumer price index surged 8.3% in April as compared with a year ago — near the highest level in more than 40 years, official data showed Wednesday, . The April reading, which represented a slight ease from March's peak, was also above the Dow Jones estimate for a 8.1% gain.
Shares on Wall Street dropped following the release of the U.S. consumer inflation data. The tech-heavy Nasdaq Composite lagged as it fell 3.18% to 11,364.24 while the broader S&P 500 shed 1.65% to 3,935.18. The Dow Jones Industrial Average declined 326.63 points, or 1.02%, to 31,834.11.
| TICKER | COMPANY | NAME | PRICE | CHANGE | %CHANGE |
| --- | --- | --- | --- | --- | --- |
| .N225 | Nikkei 225 Index | *NIKKEI | 25935.12 | -278.52 | -1.06 |
| .HSI | Hang Seng Index | *HSI | 19615.77 | -208.8 | -1.05 |
| .AXJO | S&P/ASX 200 | *ASX 200 | 6977.9 | -86.8 | -1.23 |
| .SSEC | Shanghai | *SHANGHAI | 3063.78 | 5.08 | 0.17 |
| .KS11 | KOSPI Index | *KOSPI | 2578.22 | -14.05 | -0.54 |
| .FTFCNBCA | CNBC 100 ASIA IDX | *CNBC 100 | 8058.79 | -113.98 | -1.39 |
Bitcoin falls below $29,000
The price of bitcoin fell below $29,000, continuing a recent sell-off in the cryptocurrency space against a backdrop of broader risk-off sentiment among investors. As of 12:04 a.m. ET Thursday, bitcoin's price sat at $28,183.29.
The U.S. dollar index, which tracks the greenback against a basket of its peers, was at 103.954 as it continues to hold above the 103.8 level that it fell below at certain points earlier this week.
The Japanese yen traded at 129.83 per dollar, stronger as compared with levels above 130.5 seen against the greenback earlier this week. The Australian dollar was at $0.6921 after a recent decline from levels above $0.70.
Oil prices were lower during Asia trading hours, with international benchmark Brent crude futures down 1.14% to $106.28 per barrel. U.S. crude futures shed 1.13% to $104.52 per barrel.
Source : CNBC