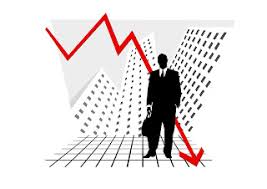 Jihye Lee
Stocks in the Asia-Pacific were set to fall on Monday as investors look ahead to a week of crucial economic data releases, including the U.S. consumer price index that will determine the Federal Reserve's path forward. Economists polled by Dow Jones expect to see a 6.2% gain in January on an annualized basis, after posting a 5.7% increase in December.
In Australia, the S&P/ASX 200 fell 0.24% in its first hour of trade. The S&P/NZX 50 fell 0.21% as New Zealand braced for further impact from tropical cyclone Gabrielle.
The Japanese yen stood at 131.61 against the U.S. dollar, continuing to remain volatile after a Nikkei report that Japan's government will nominate Kazuo Ueda as the Bank of Japan's next governor to succeed Haruhiko Kuroda.
The Nikkei futures contract in Chicago was at 27,545 while its counterpart in Osaka was at 27,590, lower than the Nikkei 225′s last close at 27,670.98. The yield on the 10-year Japanese government bond stood at 0.498%, hovering around the BOJ's upper ceiling of its tolerance range.
| TICKER | COMPANY | NAME | PRICE | CHANGE | %CHANGE |
| --- | --- | --- | --- | --- | --- |
| .N225 | Nikkei 225 Index | *NIKKEI | 27670.98 | 0 | 0 |
| .HSI | Hang Seng Index | *HSI | 21190.42 | 0 | 0 |
| .AXJO | S&P/ASX 200 | *ASX 200 | 7418.8 | -14.9 | -0.2 |
| .SSEC | Shanghai | *SHANGHAI | 3260.67 | 0 | 0 |
| .KS11 | KOSPI Index | *KOSPI | 2469.73 | 0 | 0 |
| .FTFCNBCA | CNBC 100 ASIA IDX | *CNBC 100 | 8577.37 | -87.64 | -1.01 |
Singapore is slated to release its gross domestic product for the fourth quarter of 2022 later in the day. Economists polled by Reuters expect to see a 2.3% growth compared to a year ago, and a 0.3% expansion from the last quarter. The Singapore dollar stood at $1.33 against the greenback.
Stocks on Wall Street ended the week on Friday with the S&P 500 up 0.2% and the Nasdaq Composite
down 0.61% — both indexes posting the worst week since December after a slew of corporate earnings and Federal Reserve speakers reiterated their hawkish messages that there is more work to be done to tame inflation. The Dow closed nearly 170 points higher.
— CNBC's Alex Harring, Hakyung Kim contributed to this report
All eyes are on inflation data next week
Looking ahead to next week, investors are already readying for the latest consumer price index reading to see if inflation once again cooled.
The January reading for the index, which follows the prices of a wide basket of goods as a gauge of inflation, is due Tuesday. Economists polled by Dow Jones forecast a 0.4% increase in headline CPI on a monthly basis and a 6.2% gain from the prior year.
"Next week is really all about one thing, and that one thing is CPI," said Scott Ladner, chief investment officer at Horizon Investments.
Market observers also expect the CPI reading to help dictate the Federal Reserve's next move on interest rates. The central bank last implement a 25 basis point interest rate hike, while Fed Chair Jerome Powell noted inflation was starting to come down but had a ways to go.
Emmanuel Cau, an analyst at Barclays, said inflation data will likely be a market catalyst going forward.
"More than the central banks' rhetoric, we think it is the inflation data that will dictate the direction of travel for markets from here," he said in a note to clients Friday.
— Alex Harring
Alphabet loses roughly $165 billion in market cap over two days
It's been a tough week for Google-parent Alphabet, as the company's recent moves in AI fail to impress investors. The stock is down about 9% week to date, on pace for its biggest weekly drop since November.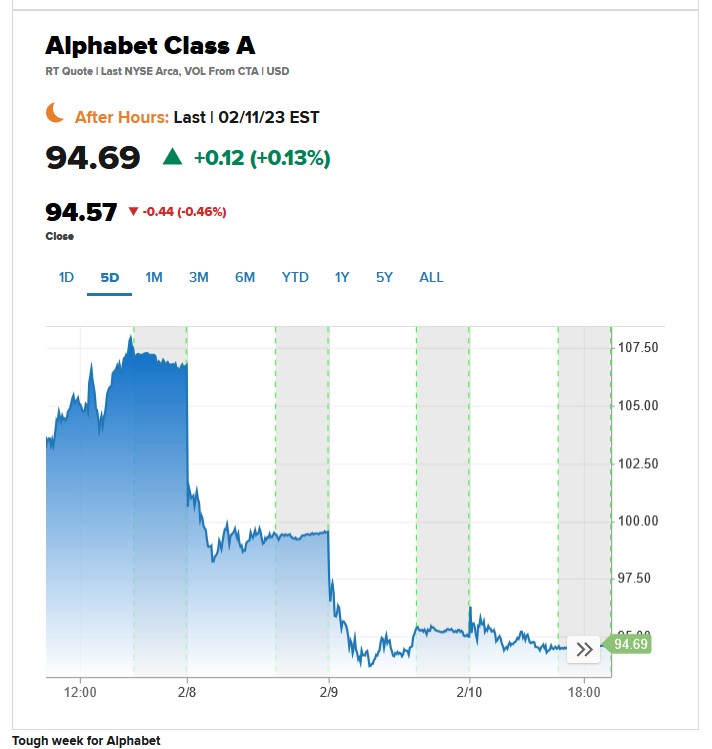 In the last two days, the company lost roughly $165 billion in market cap.
"While the near-term move may be overdone and Alphabet will have a very strong foothold in the A.I. race (stock ticking up in the pre' market), it is harder to imagine this overhang goes away anytime soon as Chatbots & A.I. do open up some hard to answer questions," Goldman Sachs traders said in a note Friday.
— Fred Imbert, Michael Bloom
Consumer outlook improves in February, though inflation outlook up as well
Consumer sentiment has risen in February but so have short-term inflation expectations, according to a closely watched gauge.
The University of Michigan Index of Consumer Sentiment's preliminary reading was 66.4 for the month, up from 64.9 in January and ahead of the Dow Jones expectation for 65.1. The current conditions index jumped to 72.6 from 68.4 in January, while the future expectations index edged lower to 62.3, down from 62.7.
On the inflation side, the one-year inflation expectations gauge increased to 4.2%, up from 3.9% in January. However, the five-year outlook was unchanged at 2.9%.
—Jeff Cox
WTI had its strongest week since October
WTI closed on Friday with its best week since October. It rose 8.63% this week, marking its strongest week since Oct. 7, when WTI gained 16.54%. This was also its first positive week in three weeks.
WTI settled up 2.13% at $79.72 and hit a session high of $80.33. This was the highest level since Jan. 30, when it traded as high as $80.49.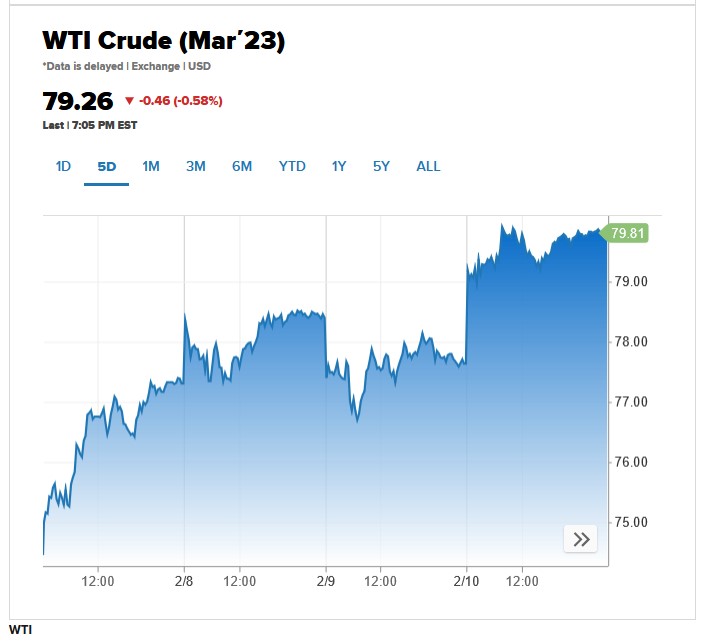 WTI
— Gina Francolla, Hakyung Kim
Source : cnbc