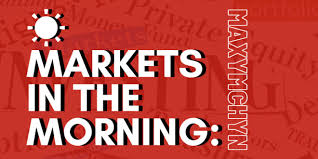 Jihye Lee
Stocks in the Asia-Pacific traded higher on Friday as Wall Street's major indexes gained after the U.S. economy grew more than expected. Government data showed the economy expanded at an annualized rate of 2.9% during the fourth quarter, higher than expectations.
Traders also digested Tokyo's core consumer prices that rose 4.3%, also faster than estimates.
The Nikkei 225 rose 0.11% in its first hour of trade and the Topix gained 0.18%. The yield on the 10 year Japanese government bond rose more than 3% to trade at 0.476%, inching close to the central bank's upper ceiling of its yield curve tolerance range.
In Australia, the S&P/ASX 200 traded 0.23% higher. In South Korea, the Kospi was flat while the Kosdaq rose 0.18%.
| TICKER | COMPANY | NAME | PRICE | CHANGE | %CHANGE |
| --- | --- | --- | --- | --- | --- |
| .N225 | Nikkei 225 Index | *NIKKEI | 27417.72 | 54.97 | 0.2 |
| .HSI | Hang Seng Index | *HSI | 22566.78 | 0 | 0 |
| .AXJO | S&P/ASX 200 | *ASX 200 | 7498.4 | 30.1 | 0.4 |
| .SSEC | Shanghai | *SHANGHAI | 3264.81 | 24.53 | 0.76 |
| .KS11 | KOSPI Index | *KOSPI | 2468.84 | 0.19 | 0.01 |
| .FTFCNBCA | CNBC 100 ASIA IDX | *CNBC 100 | 8815.43 | 24.45 | 0.28 |
Singapore's Urban Redevelopment Authority is also slated to release its fourth quarter price index for private residential property.
On Wall Street, stocks rose as traders saw the latest batch of corporate earnings, with a Tesla-led tech rally. The Nasdaq Composite jumped 1.76%, the Dow Jones Industrial Average rose 0.61%, while the S&P 500 gained 1.10%.
— CNBC's Samantha Subin, Alex Harring contributed to this report
Tokyo's inflation stays above Bank of Japan's target
Consumer prices in Japan's capital Tokyo rose by 4.3% in January, higher than expected by economists polled by Reuters.
The reading also maintained levels higher than the Bank of Japan's target of 2% inflation for an eighth consecutive month after rising 2.1% in June 2022.
The Japanese yen strengthened 0.3% after the data release and last traded at 129.82 against the US dollar.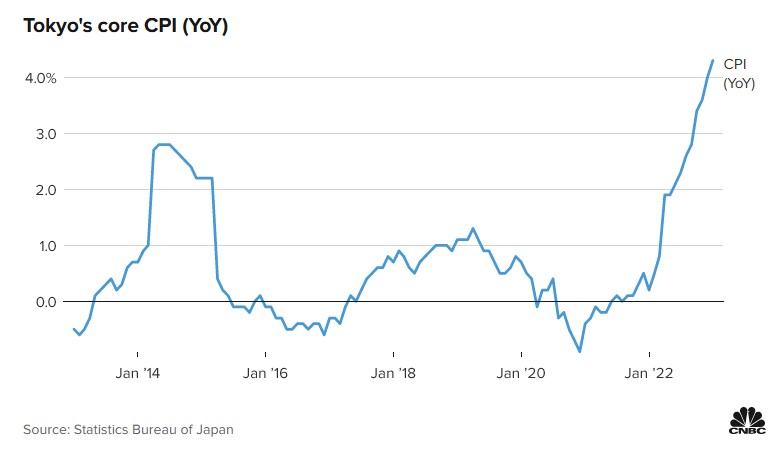 — Jihye Lee
Tesla's strong orders and weak margins have Wall Street analysts conflicted
Wall Street analysts are divided on Tesla after the electric car company's latest quarterly results.
Tesla reported a beat on both earnings and revenue for the fourth quarter, and assuaged investor fears of weaker growth at the company after recently issuing a round of price cuts. While the move triggered a drop in used Tesla prices, they also supported demand for the vehicles.
"Thus far in January we've seen the strongest orders year to date than ever in our history. We're currently seeing orders of almost twice the rate of production," Musk said during a call with analysts.
For Goldman Sachs' Mark Delaney, that was the "most important takeaway from the call."
"Importantly, Tesla commented that since it lowered prices it has seen the strongest orders year-to-date in its history, with orders running about 2X production. While we believe this rate of orders may not be sustained in light of the weak macroeconomic environment, it would suggest the company is tracking well to our 1.8 mn delivery estimate," Delaney wrote.
Other analysts were more negative on the stock outlook, however, saying that Tesla's automotive gross margins, which was the lowest figure in the last five quarters, spelled trouble ahead.
AllianceBernstein's Toni Sacconaghi reiterated an underperform rating on Tesla, saying the automaker's latest results and earnings call had "something for bulls and bears," adding he remains "torn" on the company. While the strong orders are promising, the analyst said the auto gross margins were too weak to overlook.
"Despite raising our energy storage forecast materially, our FY EPS declines from $3.80 to $3.54 amid lower margins. Moreover, while no one (including Tesla) knows what demand elasticity is, we believe it is uncertain whether surging demand will be sustained, particularly in China, where we believe more price cuts will likely be needed before year end," Sacconaghi wrote.
— Sarah Min
GDP, other fourth-quarter data shows economic challenges are 'beginning to clear,' economist says
Thursday's GDP data adds to a broadening picture of economic growth in the fourth quarter, according to Curt Long, chief economist at the National Association of Federally-Insured Credit Unions. And that signals to him the economic outlook is improving.
"The big picture view of economic growth in the fourth quarter is a positive one. Much of that growth was concentrated in inventory build, which is unlikely to grow at a similar pace in 2023," Long said. "Nevertheless, with resilient consumer spending, low unemployment claims, and receding inflation, some of the clouds that were forming over the economy several months ago are beginning to clear."
— Alex Harring
U.S. GDP rose slightly more than expected in the fourth quarter
The U.S. economy expanded at an annualized pace of 2.9% in the fourth quarter, slightly outperforming a Dow Jones estimate of 2.8%. The Commerce Department's report comes even as inflation persists and the Federal Reserve continues to raise rates.
Consumer spending rose 2.1% for the period, down slightly from 2.3% in the previous period but still positive.
— Jeff Cox
Bitcoin heading toward best month since 2020
Bitcoin's remains in rally mode despite pulling back the past two days and the cryptocurrency is on pace for its best month since 2020. Some investors see crypto prices as a leading indicator of investors' risk appetite.
So far this month and year, bitcoin has risen almost 40% and is poised to post its best monthly performance since December 2020, when it gained 49.47% for the month.
Meanwhile, the S&P 500 has risen about 5% this month.
— Tanaya Macheel
Source : cnbc