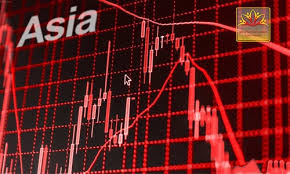 Jihye Lee & Lim Hui Jie
Asia-Pacific markets rose on Tuesday, tracking moves on Wall Street as U.S. markets snapped a three-day losing streak.
In Australia, the S&P/ASX 200 climbed 1.23% and Japan's Nikkei 225 fell fractionally, while the Topix saw a decline of 0.23%.
South Korea's Kospi rose 1.35% as investors looked ahead to the Bank of Korea's rate decision later in the week, while the Kosdaq was up 1.72%.
Hong Kong's Hang Seng index extended its gains from Monday, rising 1.75%, while mainland Chinese markets were also all up. The Shanghai Composite gained 0.5% and the Shenzhen Component was up 0.65%.
| TICKER | COMPANY | NAME | PRICE | CHANGE | %CHANGE |
| --- | --- | --- | --- | --- | --- |
| .N225 | Nikkei 225 Index | *NIKKEI | 32245.97 | 56.24 | 0.17 |
| .HSI | Hang Seng Index | *HSI | 18761.03 | 281.31 | 1.52 |
| .AXJO | S&P/ASX 200 | *ASX 200 | 7087 | 83 | 1.19 |
| .SSEC | Shanghai | *SHANGHAI | 3215.14 | 11.45 | 0.36 |
| .KS11 | KOSPI Index | *KOSPI | 2553.47 | 32.77 | 1.3 |
| .FTFCNBCA | CNBC 100 ASIA IDX | *CNBC 100 | 8417.53 | 115.79 | 1.39 |
Investors are bracing for a slew of inflation data later in the week, including June inflation numbers from the U.S., which will give clues to the Federal Reserve's hiking path.
Fed officials overnight including San Francisco Fed President Mary Daly and Cleveland's Loretta Mester voiced the need for more rate hikes to bring down inflation to the central bank's target.
Overnight in the U.S., the Dow Jones Industrial Average led gains and added 0.62%, while the S&P 500 rose 0.24% and the Nasdaq Composite gained 0.18%.
— CNBC's Sarah Min contributed to this report
Central banks in Asia could soon diverge from the Fed: Nomura
Major economies in the region could start "decoupling" from a global tightening cycle led by the Fed due to different macroeconomic conditions in Asia, Nomura economists said.
"Our view of Asian central banks cutting policy rates ahead of the Fed in this cycle is based on the fundamental divergences between Asian and U.S. economies," Nomura economists wrote in a Friday note.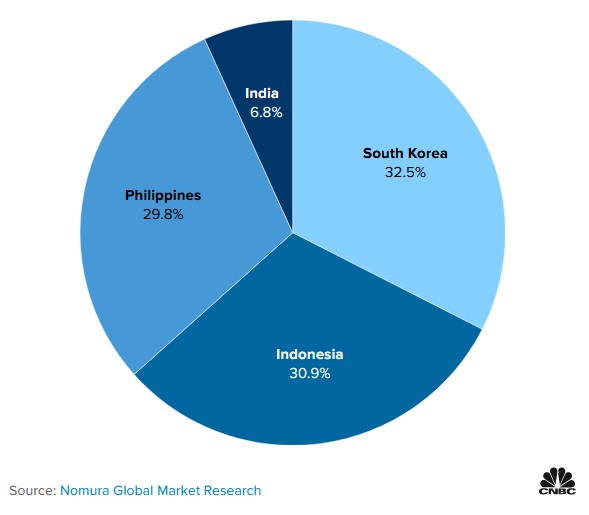 According to a real-time survey conducted by Nomura's research team, more than 32% of respondents said they expect South Korea's central bank to be the first to cut rates after China, followed by Indonesia, the Philippines, then India.
— Jihye Lee
Shares of India's Vedanta fall after Foxconn pulls out of $19.5 billion India chip project
Shares of Indian mining firm Vedanta opened more than 2% lower after Apple supplier Foxconn
announced that it has pulled out of a $19.5 billion joint venture.
The announcement comes amid bullish sentiment on India as more U.S. companies look to diversify their supply chains away from China.
The Foxconn-Vedanta venture was intended to bring semiconductor and display manufacturing to the Indian state of Gujarat, and would have been one of Foxconn's largest factories.
Shares of Hon Hai Precision Industry, as Foxconn is formally known, were about 0.5% higher.
— Charmaine Jacob, Rohan Goswami
China to extend support to real estate sector: Xinhua
China will extend two financial policies supporting its real estate market to the end of 2024.
In a notice, the People's Bank of China referred to a 16-step guideline last November that was released to beef up policy support for the housing sector. The country will now extend relevant policies to the end of the year.
Xinhua reported that the purpose of the move is to "guide financial institutions to continue deferring loan payments for real estate enterprises, while propping up financial support for the real estate enterprises to ensure the delivery of housing projects."
— Lim Hui Jie
Australia's consumer sentiment rose 2.7% in July
Australia's Westpac-Melbourne Institute consumer sentiment rose by 2.7% to 81.3 from June's reading of 79.2, according to a Tuesday release.
The reading fell 17% over the first half of 2022 and maintained between 78 and 86 since, the release said.
"The main drags on sentiment throughout this period of depressingly low consumer sentiment have been the surging cost of living and sharply higher interest rates," Westpac Chief Economist Bill Evans said in the release.
The Australian dollar traded 0.6683 against the U.S. dollar in Tuesday's morning trade.
— Jihye Lee
Philippines trade deficit falls in May, external trade decreases
The Philippines' trade deficit has fallen by over 20% year on year to come in at $4.4 billion for May, compared to the $5.57 billion recorded in the same month a year ago.
In May, the country's total external trade amounted to $17.28 billion, 5.1% lower from the $18.20 billion in the same period of the previous year.
Exports grew 1.9% year-on-year in May to $6.44 billion, up from $6.32 billion in the same month of the previous year and a reversal from the 20.2% decline seen in April.
Imports to the Philippines came in at $10.84 billion, down 8.8% year-on-year from the $11.88 billion in May 2022.
— Lim Hui Jie
Japan snaps up foreign debt at highest pace since 2010: Nikkei
Japanese investors purchased 14.6 trillion yen ($103 billion) worth of foreign debt on a net basis during the first half of this year, according to Nikkei.
This is the highest amount for a six-month period in 13 years, and topped the previous high of 13.47 trillion yen in the second half of 2010.
Citing data from the country's ministry of finance, Nikkei said the investors bought medium- to long-term overseas debt, with Japanese banks the main buyers.
American bonds made up much of the purchases, Nikkei reported, with over 11 trillion yen in net purchases of medium- to long-term U.S. debt from January to May.
— Lim Hui Jie
CNBC Pro: 15 strategists predict where the S&P 500 will end 2023 — and how to position for it
Stocks have rallied hard so far this year. But the impressive returns have also made some investors nervous about the market's ability to hold on to the gains for the rest of 2023.
CNBC Pro surveyed 15 market strategists at investment banks and asset managers between July 3-7, asking them to lay out what they expect from stock markets in the second half of this year. The respondents also shared their views on how investors should be positioned and the most significant market risks.
While some said they expected stocks to keep rallying, others were more skeptical and suggested investors prepare for the S&P 500 to decline by 10% by the end of the year.
— Ganesh Rao
Industrials sector outperforms Monday
Industrials led the S&P 500′s sector gains on Monday.
The Industrial Select Sector SPDR Fund rose 1.2%. Paycom Software, Quanta Services and Stanley Black & Decker all rallied by more than 3%. The health care sector was the second-biggest gained, with the Health Care Select Sector SPDR Fund posting an 0.8% increase.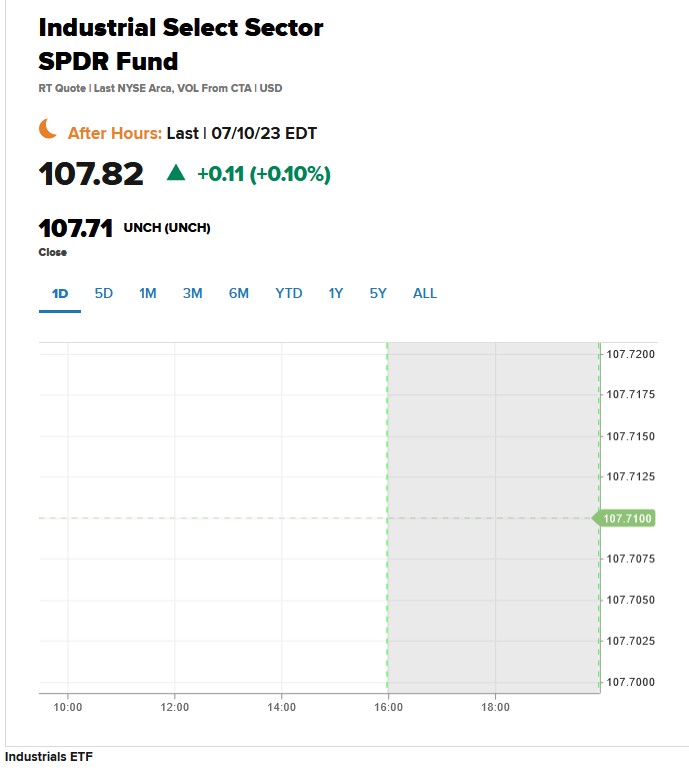 — Hakyung Kim
Meta Platforms, consumer discretionary stocks among S&P 500 name hitting new highs
Meta Platforms shares rose on Monday to trade near levels last seen in February 2022. A slew of consumer discretionary stocks also notched new highs, including Norwegian Cruise Line, last trading near levels not seen since April 2022.
Here are some of the other companies hitting fresh 52-week highs:
Lowe's trading at levels not seen since March 2022
Marriott International trading at levels not seen since April 2022
Ralph Lauren trading at levels not seen since March 2022
Baker Hughes trading at levels not seen since June 2022
Fiserv trading at levels not seen since April 2021
FleetCor Technologies trading at levels not seen since April 2022
DaVita Inc. trading at levels not seen since May 2022
American Airlines Group trading at levels not seen since May 2022
Alaska Air Group trading at levels not seen since April 2022
Carrier Global trading at levels not seen since January 2022
Rockwell Automation trading at levels not seen since January 2022
Verisk Analytics trading at levels not seen since December 2021
Westinghouse Air Brake Tech trading at levels not seen since September 2018
NXP Semiconductor trading at levels not seen since February 2022
TE Connectivity trading at levels not seen since March 2022
Howmet Aerospace trading at all-time highs back to its Alcoa spinoff in November 2016
Ingersoll-Rand trading at all-time high levels back through our history to 1972
Quanta Services trading at all-time highs back to its IPO in February 1998Fortinet
trading at all-time highs back to its IPO in November 2009
These names hit fresh lows:
Bristol-Myers Squibb
trading at lows not seen since January 2022
Humana trading at lows not seen since June 2022
Amcor trading at lows not seen since June 2020FMC Corp
trading at lows not seen since November 2021
— Chris Hayes, Samantha Subin
Source : cnbc