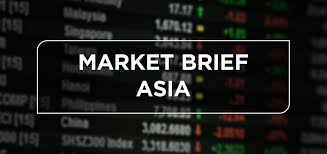 Jihye Lee & Lim Hui Jie
Asia-Pacific markets were mostly higher Friday after major Wall Street banks pledged a deposit of $30 billion in First Republic Bank in an attempt to bolster confidence in the banking system. The group of 11 banks, included Bank of America,  WellsFargo,  Citigroup  and  JPMorgan Chase.
Hong Kong's Hang Seng index climbed 1.4% and the Hang Seng Tech jumped 3.6%. In mainland China, the Shenzhen Component was 0.88% higher, with the Shanghai Composite up 0.96%.
Japanese markets were higher with the Nikkei 225 up 0.65% and the Topix higher at 0.73%.
South Korea's Kospi was also up 0.63%, while the Kosdaq saw a larger gain at 1.76%. In Australia, the S&P/ASX 200 inched up 0.15% with banks seeing minor gains reversing Thursday's losses.
| TICKER | COMPANY | NAME | PRICE | CHANGE | %CHANGE |
| --- | --- | --- | --- | --- | --- |
| .N225 | Nikkei 225 Index | *NIKKEI | 27193.7 | 183.09 | 0.68 |
| .HSI | Hang Seng Index | *HSI | 19457.56 | 253.65 | 1.32 |
| .AXJO | S&P/ASX 200 | *ASX 200 | 6982.9 | 17.4 | 0.25 |
| .SSEC | Shanghai | *SHANGHAI | 3249.14 | 22.24 | 0.69 |
| .KS11 | KOSPI Index | *KOSPI | 2392.06 | 14.15 | 0.6 |
| .FTFCNBCA | CNBC 100 ASIA IDX | *CNBC 100 | 7921.92 | 91.92 | 1.17 |
Overnight in the U.S., stocks rallied in late in the trading day after news of the banking rescue deal, with all three major indexes closing up.
The Nasdaq Composite made the largest gains, advancing 2.48% as investors bought technology stocks on hopes that the crisis could push the Federal Reserve to shift its outlook on monetary policy at its meeting next week.
— CNBC's Alex Harring, Hakyung Kim and Jesse Pound contributed to this report
New Zealand to ban TikTok for devices with access to parliamentary network
New Zealand will ban TikTok for devices with access to the parliamentary network, Reuters reported, citing Parliamentary Service Chief Executive Rafael Gonzalez-Montero.
Gonzalez-Montero told Reuters in an email that the decision was made after consultation with experts in cybersecurity and discussions within the government.
The move comes after CNBC confirmed reports of the U.S. asking TikTok's Chinese parent company Bytedance to divest its stake in the app or face a possible ban in the U.S. The United Kingdom also announced plans to ban the video app on government devices.
— Arjun Kharpal, Jihye Lee
Indonesia's central bank keeps interest rates unchanged at 6.5%
Indonesia's central bank has maintained its 7 day reverse repurchase rate at 5.75% and its lending rate at 6.5%.
In a release, the bank explained that the decision is "consistent" with its monetary policy stance to ensure lower inflation expectations and inflation. 
The central bank has a target to return core inflation rate to a ±1% range from 3% in the first half of 2023, and headline inflation to the same range in the second half of the year.
The Indonesian rupiah traded flat against the U.S. dollar at 15,375 on Friday, after the announcement.
— Lim Hui Jie
CNBC Pro: Short sellers are doubling down on these European banks — and Credit Suisse isn't their top target
Short-sellers are sitting on nearly $2 billion in profit from bets against the European banking sector this month so far. And, perhaps surprisingly, Credit Suisse wasn't the most profitable short.
Short-sellers profit when a stock falls. They borrow shares to immediately sell them with plans to repurchase them later when the price is lower, making a profit from the difference.
— Ganesh Rao
Forecasts for Japan's 2023 wage growth lifted past 3%, research shows
The Japan Center for Economic Research said that the consensus forecast for the economy's wage growth in 2023 was raised to 3.05% in March from an expected rise of 2.85% seen in January.
This would mark the strongest growth seen in Japan since 1994, Nikkei reported.
In the research survey, most of the respondents revised their estimates upwards on overall wages and base pay component, the release showed.
Japan's shunto wage negotiations concluded Wednesday, Reuters reported – marking the biggest pay rises not seen in decades as inflation levels rise.
– Jihye Lee
Baidu shares climb in U.S. trade after releasing ChatGPT rival
Chinese tech company Baidu revealed Thursday its ChatGPT rival, called Ernie bot in English.
Shares closed 3.8% higher in the U.S., in contrast to a steep drop of nearly 6.4% in Hong Kong trading on Thursday.
Baidu's Ernie bot primarily operates in Chinese, although the chatbot can also understand English. The company's business partners received priority in initial access to Ernie bot.
China's home prices rise on monthly basis at fastest pace since July 2021
Home prices in China rose 0.3% in February compared to January, but fell 1.2% compared to a year ago, according to Refinitiv data of 70 cities from the National Bureau of Statistics.
Month-on-month, home prices rose at the fastest pace since July 2021, as investors look ahead to more accommodative policies from the government. In January, prices rose 0.1% on a monthly basis.
Data of 55 cities reported rises in new home prices in February compared to 36 cities reporting a rise in January.
– Jihye Lee
Singapore's non-oil domestic exports continue to fall
Singapore's non-oil domestic exports fell 15.6% in February compared to a year ago – less than expectations to see a drop of 16%. In January, the reading fell 25% on an annualized basis.
Compared to a month ago, non-oil domestic exports fell 8%, further than expectations to see a decline of 0.5%. The monthly reading slightly rose in the previous month by 0.9%.
Non-oil domestic exports for Singapore's top 10 markets as a whole declined in February 2023, based on government data – particularly to the European Union, Hong Kong and Taiwan, while exports to the U.S., Japan and Thailand rose.
– Jihye Lee
CNBC Pro: Tesla vs BYD: Market pros pick their favorite electric vehicle giant
Tesla has long been an investor favorite for exposure to the electric vehicle transition, but not everyone is convinced. Berkshire Hathaway-backed BYD, for example, is often touted as a better bet than Tesla.
Ray Wang of Constellation Research believes Tesla versus BYD is "really going to be a story for the ages."
— Zavier Ong
South Korea says Japan agreed to lift export restrictions on chips materials
South Korea said Japan has agreed to lift export restrictions on three semiconductor materials to Seoul, the Ministry of Trade, Industry and Energy said in a statement.
Seoul also said it will drop its dispute against Tokyo with the World Trade Organization once the lift takes place, the ministry said.
Japan in 2019 removed South Korea from its "white list" of favored trade partners, after South Korea's court rulings ordered Japanese firms to compensate for wartime forced laborers.
– Jihye Lee
European Central Bank hikes by 50 basis points despite banking turmoil
The European Central Bank followed through with the 50 basis point rate hike it flagged at its prior meeting, despite ongoing volatility in the banking sector.
Markets had pared back bets on the rise after severe sell-offs in European bank stocks over the last week. It takes the bank's main rate to 3%.
Euro zone headline inflation is running at 8.5%, well above the central bank's target of 2%.
"The elevated level of uncertainty reinforces the importance of a data-dependent approach to the Governing Council's policy rate decisions, which will be determined by its assessment of the inflation outlook in light of the incoming economic and financial data, the dynamics of underlying inflation, and the strength of monetary policy transmission," the ECB said in its decision.
— Jenni Reid
Bank of America, Wells Fargo among biggest contributors for $30 billion First Republic deposit plan
The potential deposit at First Republic being discussed by major U.S. banks has grown to $30 billion, CNBC's David Faber reports.
The biggest contributions would come from Bank of America, Wells Fargo, Citigroup and JPMorgan Chase at about $5 billion apiece. Morgan Stanley and Goldman Sachs will deposit around $2.5 billion each, the sources said. Truist, PNC, U.S. Bancorp, State Street and Bank of New York will deposit about $1 billion each.
— Jesse Pound
Big Tech stocks lift market higher
Big Tech shares climbed higher Thursday, shrugging off fears of the spreading banking crisis. Amazon shares rallied 3.3%, while Google parent Alphabet jumped 3%. Apple, Meta and Netflix also traded higher.
The strength in technology heavyweights pushed the major stock averages in the green in morning trading. Investors could be flocking to Big Tech to embrace their megacap safety, while betting that the current turmoil will keep the Fed from raising rates, benefitting growth names.
— Yun Li
Goldman says trouble in banks is increasing chances of a recession
Banking industry tumult is placing the U.S. economy in greater danger of a recession, according to Goldman Sachs.
The Wall Street firm upped its probability of a contraction in the 12 months ahead to 35%, a 10 percentage point increase, "reflecting increased near-term uncertainty around the economic effects of small bank stress," Goldman economist Manuel Abecasis said in a client note Wednesday evening.
Regional bank stocks were taking a beating against Thursday. The SPDR S&P Regional Banking ETF slumped 3.7% in early trading.
—Jeff Cox
Group of institutions in talks to deposit roughly $20 billion in First Republic, sources say
Sources told CNBC's David Faber that a group of financial institutions — including Goldman Sachs, Citigroup and JPMorgan Chase — is in talks to deposit about $20 billion in First Republic.
The news comes after First Republic's stock has been pummeled in recent days, sparked by the collapse of Silicon Valley Bank last Friday and Signature Bank over the weekend. 
Shares of First Republic were down more than 30% earlier in the day. In early afternoon trading, however, the stock was only down 3.3% before being halted for volatility.
— Jesse Pound, Fred Imbert
Source : cnbc