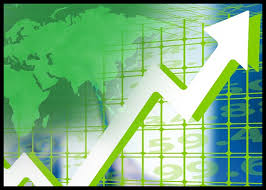 Jihye Lee & Lim Hui Jie
Asia-Pacific markets were higher on Tuesday as investors digested key economic data across the region.
In Japan, the Nikkei 225 was up 0.54%, while the Topix opened 0.37% higher as retail sales for January beat expectations, with a 6.3% rise compared to the same period a year ago.
In Australia, the S&P/ASX 200 rose 0.57% ahead of its January retail sales data release. Economists expect retail sales to come in at 1.5% higher compared to December.
South Korea's Kospi gained 0.71%, while the Kosdaq rose 0.49%.
India will release its gross domestic product for the fourth quarter of 2022 later today, forecasted to show a 4.6% rise.
| TICKER | COMPANY | NAME | PRICE | CHANGE | %CHANGE |
| --- | --- | --- | --- | --- | --- |
| .N225 | Nikkei 225 Index | *NIKKEI | 27551 | 127.04 | 0.46 |
| .HSI | Hang Seng Index | *HSI | 19943.51 | 0 | 0 |
| .AXJO | S&P/ASX 200 | *ASX 200 | 7266.4 | 41.6 | 0.58 |
| .SSEC | Shanghai | *SHANGHAI | 3258.03 | 0 | 0 |
| .KS11 | KOSPI Index | *KOSPI | 2418.14 | 15.5 | 0.65 |
| .FTFCNBCA | CNBC 100 ASIA IDX | *CNBC 100 | 8058.82 | 32 | 0.4 |
Overnight in the US, stocks rose on Monday night as traders tried to recover some ground following the worst week of the year on Wall Street. All three major US indexes closed higher, with the Nasdaq Composite leading gains.
— CNBC's Tanaya Macheel contributed to this report
Japan industrial production falls more than expected, worst in eight months
Japan's industrial production fell 4.6% compared to a month ago in January, the biggest decline the economy has seen in eight months, according to Japan's Ministry of Economy, Trade and Industry.
The reading fell further than expectations of a 2.9% decline and follows a rise of 0.3% in the previous month. Core capital goods saw sharp falls, the release said. Autos, semiconductor-making equipment, tech parts and devices led the decline overall. Shipments moderately fell and leaving inventories lower for the second straight month.
– Jihye Lee
China releases draft plan to improve lending for renting property
The People's Bank of China and the China Banking and Insurance Regulatory Commission released a draft of measures to enhance financial institutions' capacity in lending to firms that lease residential properties.
The measures are aimed at broadening bond financing channels for rental housing firms, support issuance of operating loans for leasing, and strengthen credit support for construction of rental housing, the draft showed.
— Jihye Lee
Interest rates are driving the recent stock market performance, chart analysts say
Investors wondering what's pushing equity market moves should look at interest rates.
Chart analysts say last week's sell-off can be tied with the advances in bond yields. The three major stock market indexes posted their worst weeks of the year last week.
"The recent reset by the equity market feels more of a byproduct of rates higher, rather than a [simple] reset out of overbought territory for stocks," said JC O'Hara, chief market technician at Roth MKM, in a note to clients Sunday.
"Overall, we believe this pullback has been orderly for stocks," he added in his note. "However higher rates are becoming a large factor once again."
And analysts said fixed income moves could be a driver of the stock market going forward.
—Alex Harring
The bear market could resume in March, says Morgan Stanley's Wilson
The stock market's recent attempt to pull out of a downtrend could soon come to an end, according to Morgan Stanley.
Mike Wilson, the firm's chief U.S. equity strategist, said in a note to clients Monday that the S&P 500 is on the verge of falling back into a bear market.
"With the equity market showing signs of exhaustion after the last Fed meeting, the S&P 500 is at critical technical support. Given our view on earnings, March is a high risk month for the bear market to resume," Wilson said.
—Jesse Pound, Tanaya Macheel
2-year yield reached highest level since 2007
The 2-year yield added to its February gains Monday, reaching 4.8% on the day. That's its highest level since July 2007. Short-term rates have been moving higher this month as traders fret over the possibility of tighter monetary policy for longer than anticipated.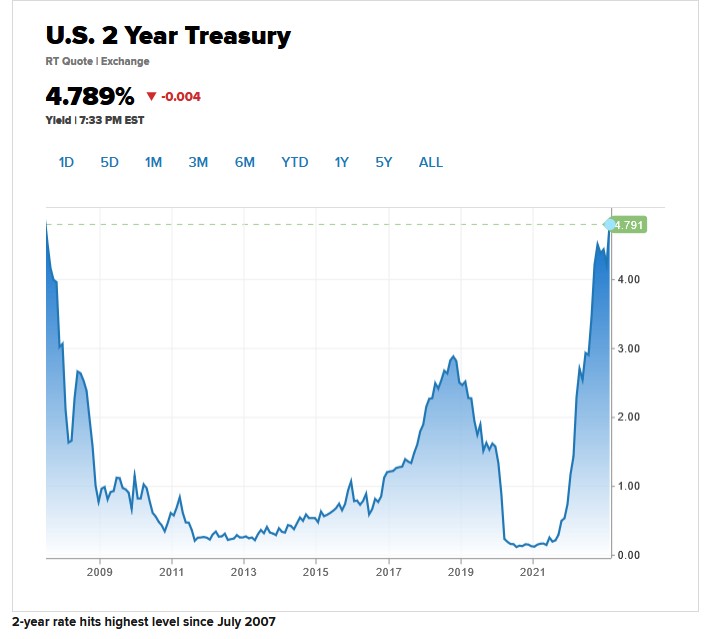 — Fred Imbert
Source : cnbc