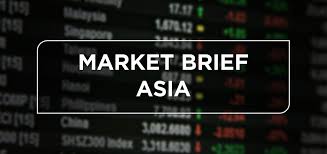 Lim Hui Jie
Asia-Pacific markets rose on Monday as China's factory activity for July remained in contraction territory for the fourth straight month.
The official manufacturing purchasing managers index came in at 49.3, higher than June's figure of 49.0, according to the national bureau of statistics.
The PMI for non-manufacturing activity came in at 51.5, a slower rate of expansion compared to the 53.2 in June.
Hong Kong's Hang Seng index rose 0.83% in its final hour of trade, while the Hang Seng Tech index saw a larger climb of 1.87%. At current levels, this would be the first time that the HSI breached the 20,000 mark in over a month.
Mainland Chinese markets were all higher as well but pared earlier gains, with the Shanghai Composite up 0.46% to finish at 3,291.04 and the Shenzhen Component 0.75% higher to end at 11,183.91.
| TICKER | COMPANY | NAME | PRICE | CHANGE | %CHANGE |
| --- | --- | --- | --- | --- | --- |
| .N225 | Nikkei 225 Index | *NIKKEI | 33418.53 | 246.31 | 0.74 |
| .HSI | Hang Seng Index | *HSI | 20126.48 | 47.54 | 0.24 |
| .AXJO | S&P/ASX 200 | *ASX 200 | 7442.9 | 32.5 | 0.44 |
| .SSEC | Shanghai | *SHANGHAI | 3294.98 | 3.94 | 0.12 |
| .KS11 | KOSPI Index | *KOSPI | 2665.19 | 32.61 | 1.24 |
| .FTFCNBCA | CNBC 100 ASIA IDX | *CNBC 100 | 8798.8 | 23.86 | 0.27 |
Japan's Nikkei 225 gained 1.26% to close at 33,172, while the Topix saw a larger rise of 1.39% to end the day at 2,322.56, setting a new 33-year record. The country's industrial output for June came in lower than expected, registering a 2% growth month on month compared to the 2.4% expected by economists.
South Korea's Kospi advanced 0.93% to end at 2,632.58 and recorded a third straight day of gains. The Kosdaq climbed 2.25% to close at 935.97, near its 16-month high.
Australia's S&P/ASX 200 climbed marginally and closed at 7,410.4, as investors prepare for the Reserve Bank of Australia's rate decision on Tuesday. Economists polled by Reuters were expecting a 25 basis points hike in its benchmark policy rate to 4.35%.
On Friday in the U.S., all three major indexes gained as June data for the personal consumption expenditures price index continued to show easing inflation. Core PCE gained 0.2% month-over-month, and core PCE rose 4.1% from the year-ago period, lower than the anticipated 4.2%
The Dow rose 0.5%, while the S&P 500 added and the Nasdaq Composite advanced 1.90%.
— CNBC's Sarah Min and Alex Harring contributed to this report
Bank of Japan raises inflation forecast for 2023
The Bank of Japan raised its inflation forecasts for 2023 in its latest quarterly outlook report, expecting that its core inflation rate for its fiscal year 2023 will come in at 2.4% to 2.7%.
Japan's financial year runs from March to March the next year.
This is higher than the 1.7% to 2% forecast in the April quarterly outlook report. The core inflation rate strips out the price for fresh food in the consumer price index.
The so called "core-core" inflation rate, which strips out prices of fresh food and energy and that the BOJ uses as a reference, is now expected to come in at 3.1% to 3.3%, compared to 2.5% to 2.7% in its April forecast.
The central bank explained that the projected core inflation in 2023 is "significantly higher", mainly as cost increases led by the past rise in import prices have been passed on to consumer prices to a greater extent than expected
— Lim Hui Jie
India's growing commodity demand can make up for the global gap left by China: ANZ
China's growth slowdown is set to hurt global demand for commodities, but India could make up for some of that shortfall, ANZ bank's analysts said in a note.
India's economic growth is likely to outpace China's, and that means India's demand for commodities will likely surge to cover more than half of China's demand shortfall. According to ANZ, energy commodities will see the most significant pick-up.
India's annual demand for major commodities — like oil, coal, gas, copper, aluminum and steel — is expected to rise collectively by more than 5% from now till 2030, the bank estimated. In contrast, China's demand for these same commodities will slow to between 1% to 3%,
—Lee Ying Shan
China's factory activity contracts for fourth straight month
China's factory activity remained in contraction territory for the fourth straight month, with the purchasing manager's index coming in at 49.3 compared to the 49.2 expected by economists polled by Reuters.
According to the country's national bureau of statistics, the PMI level is also higher than the 49.0 recorded in June.
The PMI for the non-manufacturing sector in July came in at 51.3, compared to June's figure of 53.2.
— Lim Hui Jie
Japan's industrial production in June lower than expected
Japan's industrial output climbed 2% in June compared to the month before, lower than the 2.4% expected by economists polled by Reuters.
The preliminary report also showed that on a year on year basis, industrial output fell 0.4%, a sharp reversal from the 3.1% rise seen in May.
Japan's ministry of economy, trade, and industry said that the production of motor vehicles, electronic parts and devices, as well as machinery mainly contributed to the increase in June.
— Lim Hui Jie
CNBC Pro: China's electric car game amps up. One stock has doubled this year
Just as Chinese electric car companies may need cash, foreign automakers need the market — not only in China but globally.
Xpeng's cash and cash equivalents nearly halved in the first quarter from the end of 2022, and its deliveries have stagnated at several thousand a month.
Volkswagen isn't faring much better in China's electric car market, with an average of just over 10,000 vehicles delivered each month in the first half of the year. But the German automaker has far more cash.
— Evelyn Cheng
CNBC Pro: Analysts love these cheaper stocks from the U.S. and beyond — giving one nearly 100% upside
The market rally has been strong this year, but there are still some relatively cheap stocks.
CNBC Pro screened for stocks that are cheaper than those in the broader S&P 500 and MSCI World indexes, with at least 20% upside.
— Weizhen Tan
CNBC Pro: Morgan Stanley's Slimmon names top tech picks to buy after earnings season
Stocks are flying high this year. The Nasdaq is up 35% with S&P 500 trailing not far behind despite a relentless rise in interest rates by the Fed.
However, according to Andrew Slimmon, a lead senior portfolio manager at Morgan Stanley Investment Management, those are all reasons to be a "little cautious" coming out of the busiest week for earnings.
Slimmon also shared some of the tech picks to buy after earnings season.
— Ganesh Rao
Technology stocks rally, lift Nasdaq
Technology stocks climbed on Friday, boosting the Nasdaq Composite by more than 2% midday Friday.
Major gainers included technology giants and semiconductor stocks. Alphabet, Amazon and Netflix rose about 3% each, while Meta Platforms jumped more than 4%, bringing its weekly gains to nearly 11%. Nvidia added 2%, while Applied Materials and KLA Corp gained more than 4% each. Tesla surged 4%.
Lucid Group jumped nearly 8%, while Intel rallied nearly 7% on better-than-expected earnings and a return to profitability. Other gainers included Chinese technology stocks JD.com and PDD, last up about 5% and 7%, respectively.
— Samantha Subin
Communication services sector outperforms in S&P 500
Communication services outpaced the S&P 500 on Friday. The sector was higher by 1.8%.
Major advancers included Meta Platforms, which was up more than 2.8%. Warner Bros. Discovery gained 2.5%. Alphabet added 2.4%.
— Sarah Min
Employment cost index rose less than expected in Q2
The employment cost index, a measure the Federal Reserve considers an important indicator of underlying inflation, increased less than expected in the second quarter.
The index rose 1% for the three-month period ending in June, slightly below the 1.1% estimate, the Labor Department reported Friday.
On an annual basis, compensation costs increased 4.5%, slightly ahead of the 4.1% increase for core inflation as reported Friday by the Commerce Department. That annual ECI level was below the 5.1% pace from the previous year.
—Jeff Cox
Key Fed inflation rate falls to lowest annual rate in nearly 2 years
Inflation showed further signs of cooling in June, according to a gauge released Friday that the Federal Reserve follows closely.
The personal consumption expenditures price index excluding food and energy increased just 0.2% from the previous month, in line with the Dow Jones estimate, the Commerce Department said.
So-called core PCE rose 4.1% from a year ago, compared to the estimate for 4.2%. The annual rate was the lowest since September 2021.
— Jeff Cox
Source : cnbc