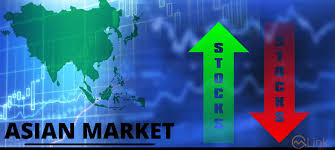 Jihye Lee
Markets in the Asia-Pacific traded mostly higher on Friday as investors digested Japan's inflation data. The nationwide core consumer price index rose 4% in December on an annualized basis, the fastest pace since 1981.
The Nikkei 225 gained 0.02% and the Topix traded 0.15% higher. The yield on the 10-year Japanese Government Bond
rose to stand at 0.41%, slightly below the central bank's upper ceiling of its tolerance range.
The Kospi in South Korea fell 0.21%, bucking the regional trend while the Kosdaq gained 0.14%. In Australia the S&P/ASX 200 pared earlier losses to gain 0.13%.
Hong Kong's Hang Seng index rose 0.85%. Mainland China's Shanghai Composite climbed 0.27% and the Shenzhen Component was up 0.6% as China's 1-year and 5-year loan prime rates were left unchanged.
Stocks on Wall Street fell Thursday as investors grew increasingly concerned the Federal Reserve will keep raising rates despite signs of slowing inflation. The Dow Jones Industrial Average posted saw the third straight negative session, giving up gains from a short-lived new year's rally.
| TICKER | COMPANY | NAME | PRICE | CHANGE | %CHANGE |
| --- | --- | --- | --- | --- | --- |
| .N225 | Nikkei 225 Index | *NIKKEI | 26411.94 | 6.71 | 0.03 |
| .HSI | Hang Seng Index | *HSI | 21812.84 | 161.86 | 0.75 |
| .AXJO | S&P/ASX 200 | *ASX 200 | 7436.4 | 1.1 | 0.01 |
| .SSEC | Shanghai | *SHANGHAI | 3256.65 | 16.37 | 0.51 |
| .KS11 | KOSPI Index | *KOSPI | 2377.7 | -2.64 | -0.11 |
| .FTFCNBCA | CNBC 100 ASIA IDX | *CNBC 100 | 8575.1 | 32.57 | 0.38 |
— CNBC's Tanaya Macheel, Samantha Subin contributed to this report
China leaves 1-year, 5-year loan prime rates unchanged
The People's Bank of China left the loan prime rates for 1-year and 5-year unchanged, widely in line with expectations.
The 1-year LPR stayed at 3.65% while the 5-year LPR remained at 4.3%, both unchanged since August, 2022.
The offshore and onshore Chinese yuan was flat and last stood at 6.7679 and 6.7738 against the U.S. dollar.
— Jihye Lee
Japan's core inflation rises 4% in December, highest since 1981
Japan's core inflation rose to 4% in December last year on an annualized basis, the highest since December, 1981 and in line with expectations.
The reading climbed from the inflation print of 3.7% seen in November.
On a monthly basis, consumer prices rose 0.2% in December, remaining flat from the previous month.
The Japanese yen traded 0.16% weaker against the U.S. dollar to stand at 128.63.
— Jihye Lee
Fewer Americans submit jobless claims than expected
There were about 190,000 initial claims for unemployment in the U.S. for the week ending on Jan. 14, which is smaller than expected and underscores the continued resiliency of the labor market.
That's below the 215,000 initial claims expected for the week by analysts polled by Dow Jones. It also marks a decrease from the prior week's 205,000 claims.
Market participants have watched labor data for signs of the job market cooling. Labor is an area of the economy that has stayed robust even as other areas showed contraction following the Federal Reserve's series of interest rate hikes.
— Alex Harring
Brainard sees rates remaining elevated despite cooling inflation
Federal Reserve Governor Lael Brainard said Thursday she expects interest rates to remain high despite recent signs that inflation is weakening.
In a speech delivered at the Chicago Booth School of Business, the central bank official vowed to "stay the course" until inflation shows more signs that it's moving closer to the Fed's 2% goal.
″"Even with the recent moderation, inflation remains high, and policy will need to be sufficiently restrictive for some time to make sure inflation returns to 2% on a sustained basis," she said.
—Jeff Cox
CNBC Pro: A weaker dollar is great news for copper, asset manager says — and names 3 stocks to buy
The U.S. dollar has been sliding in recent months and that's good news for commodities, said Steven Glass of Pella Funds Management.
He's especially bullish on copper, naming three stocks to buy.
— Weizhen Tan
Fed's Collins says future rate hikes can be 'more measured'
Boston Federal Reserve President Susan Collins said Thursday that she thinks the central bank can enact smaller interest rate hikes after a series of aggressive moves last year.
"More measured rate adjustments in the current phase will better enable us to address the competing risks monetary policy now faces – the risk that our actions may be insufficient to restore price stability, versus the risk that our actions may cause unnecessary losses in real activity and employment," she said in prepared remarks.
Collins did not specify where she thinks policy should head next. But the Fed at its December meeting approved a 0.5 percentage point increase after four straight 0.75-point moves.
While most economists expect at least a mild recession this year, Collins said he is "reasonably optimistic that there is a pathway to reducing inflation without a significant economic downturn."
—Jeff Cox
CNBC Pro: Morgan Stanley says China's market will be the biggest winner in 2023 and these stocks stand out
Wall Street is bullish about China's reopening. But Morgan Stanley is going even further: It's predicting that Chinese stocks will beat global markets this year.
The investment bank named its top stock picks, including one tech giant it gives around 30% upside potential.
— Zavier Ong
Source : cnbc