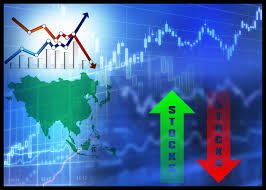 Jihye Lee
Stocks in Asia-Pacific traded mixed on Monday as investors further digested China's growth target set in its parliamentary sessions and looked ahead to a week of economic data.
In Australia, the S&P/ASX 200 rose 0.6% ahead of the Reserve Bank of Australia's decision Tuesday, with economists surveyed by Reuters expecting to see a 25 basis point hike in its cash rate.
The Nikkei 225 rose 1.21% and the Topix climbed 0.9%. In South Korea, the Kospi gained 0.4% and the Kosdaq climbed 1.01% as the nation's inflation showed further easing in February.
In mainland China, the Shanghai Composite fell 0.2% and then Shenzhen Component inched 0.32% lower after Chinese Premier Li Keqiang released the nation's government work report on Sunday. The Hang Seng index fell 0.35% in Hong Kong.
| TICKER | COMPANY | NAME | PRICE | CHANGE | %CHANGE |
| --- | --- | --- | --- | --- | --- |
| .N225 | Nikkei 225 Index | *NIKKEI | 28259.97 | 332.5 | 1.19 |
| .HSI | Hang Seng Index | *HSI | 20594.65 | 27.11 | 0.13 |
| .AXJO | S&P/ASX 200 | *ASX 200 | 7341.6 | 58 | 0.8 |
| .SSEC | Shanghai | *SHANGHAI | 3318.26 | -10.14 | -0.3 |
| .KS11 | KOSPI Index | *KOSPI | 2454.96 | 22.89 | 0.9 |
| .FTFCNBCA | CNBC 100 ASIA IDX | *CNBC 100 | 8269.29 | 73.22 | 0.89 |
The U.S. non-farm payroll will be a key focus this week with expectations to see cooled hiring, prompting the Federal Reserve to maintain a smaller rate hike pace.
Stocks on Wall Street ended the week higher as Treasury yields eased from their recent highs and investors weighed the cumulative impact from Fed hikes already implemented and digested this week's comments from the central bank.
The Dow Jones Industrial Average rose 1.17%, the S&P 500 climbed 1.61%, and the Nasdaq Composite gained 1.97%. The yield on benchmark 10-year Treasury note dipped below the 4% threshold.
— CNBC's Tanaya Macheel, Hakyung Kim contributed to this report
UBS raises its China growth forecast for 2023 from 4.9% to 5.4%
UBS raised its growth forecast for China in 2023 from 4.9% to 5.4%, the firm said in a Monday report.
"Economic re-opening is proceeding better than we had expected earlier – the feared "second-wave" of Covid did not materialize and there was little sign of supply disruptions," it said, adding that the global economy has been more resilient than earlier predicted.
UBS also raised its 2024 growth forecast for the country to 5.2% from a previous estimate of 4.8%, while lowering its inflation forecast for 2023 from 3% to 2.5%.
— Jihye Lee
South Korea's economy sees inflation ease in February
South Korea's consumer price index rose 4.8% on an annualized basis in February, at a slower pace from January's 5.2%, according to Statistics Korea.
Compared to a month ago, prices increased 0.3% alongside falling food prices while utilities rising 28.4%.
This marks the economy's inflation levels below 5% for the first time in ten months, Refinitiv data showed.
The Korean won weakened 0.23% to 1,298.72 against the U.S. dollar after the inflation report.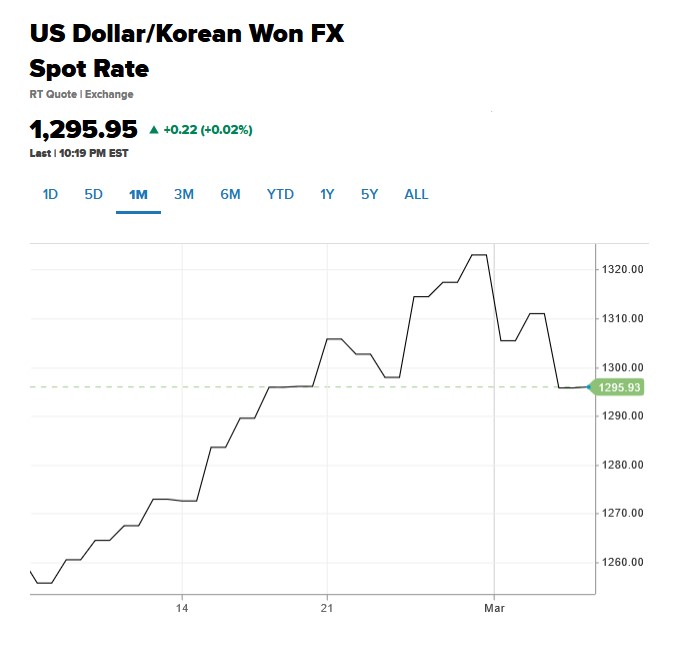 — Jihye Lee
Japan's labor unions demand biggest wage hike since 1990
A survey by the Japanese Trade Union Confederation showed the nation's labor unions by average demanded a wage hike of 4.49% for 2023, according to a Friday release.
This marks an average higher than 4% for the first time since 1998, the organization said in its release, and a sharp increase from 2.97% in 2022.
— Jihye Lee
CNBC Pro: Wall Street pros name the biggest risk to stock markets — and reveal how to trade it
Stock markets are broadly in the green this year, but there is an uneasiness about the rally, with several risk factors still afflicting the market.
How should investors trade the market? Wall Street pros weigh in with their top ideas.
— Zavier Ong
CNBC Pro: Goldman Sachs has added 3 stocks to its conviction buy list, giving one 100% upside
Goldman Sachs has this year added a number of stocks to its conviction list. These are buy-rated stocks it expects to outperform, and it gave them further share price upside.
— Weizhen Tan
The major averages close higher
Stocks closed higher on Friday, pushing the major averages to a winning week.
The Dow Jones Industrial Average rose 387.40 points, or 1.17%, to 33,390.97. The S&P 500 climbed 1.61% to 4,045.64, and the Nasdaq Composite gained 1.97% to close at 11,689.01.
For the week, the Dow ended up 1.75%. The S&P added 1.9% and the Nasdaq jumped 2.58%.
— Tanaya Macheel
Weaker jobs market could lead to risk-on trade, David Rosenberg says
David Rosenberg, chief economist and strategist of Rosenberg Research, believes the stock market would see a sustained rally when the labor market starts to contract in three to four months.
"Right now you've got a situation where the stock markets and the credit markets seem to think that they have more time that they can buy before the boom really gets lowered on the economy," Rosenberg said on CNBC's "Fast Money" Thursday.
"There's no doubt the economy is not strong, but it has to weaken precipitously. Unemployment has to start contracting… I think that's where you're going to find the risk on trade," he added.
The employment picture started off 2023 on a stunningly strong note, with nonfarm payrolls posting their biggest gain since July 2022. The Federal Reserve could reverse its tightening policy when the jobs market shows weakness.
— Yun Li
Brent oil prices fall on reports UAE is considering an OPEC departure
Relations between Saudi Arabia and the United Arab Emirates growing more tense, according to a report by the Wall Street Journal. Citing Emirati officials, the report said the UAE is debating whether it should depart OPEC.
The news of the potential rupture in the oil cartel put a chill on Brent crude prices. At one point in Friday trading, prices had fallen nearly 3%, before recovering. Recently, the global benchmark was down 0.85% at $84.03.
The two oil producing nations have been jockeying for influence and disagree over the direction of the Yemen war, according to the report.
—Christina Cheddar Berk
Source : cnbc