Lim Hui Jie
Asia-Pacific markets were mixed ahead of key inflation data out of India and the U.S on Wednesday.
Economists expect the U.S. inflation rate for June to fall slightly to 5%, down from 5.3% in May, based on a Reuters poll. The inflation print, along with producer prices data on Thursday, will give clues to the Federal Reserve's path for rate hikes.
In Japan, the Nikkei 225 slid 1.16%, while the Topix was down 0.87%. The country saw wholesale inflation slow to its lowest pace in six months, with the corporate goods price index rising just 4.1% year on year, official data showed.
South Korea's Kospi fell 0.15% lower, while the Kosdaq saw a smaller loss of 0.07% as the country saw its unemployment rate climb slightly to 2.6% in June.
Hong Kong's Hang Seng index opened 1% up, while mainland Chinese indexes were all in negative territory. The Shanghai Composite fell 0.2%, while the Shenzhen Component was down marginally.
Australia's S&P/ASX 200 gained 0.47%, leading benchmark indexes in the region.
| TICKER | COMPANY | NAME | PRICE | CHANGE | %CHANGE |
| --- | --- | --- | --- | --- | --- |
| .N225 | Nikkei 225 Index | *NIKKEI | 31957.86 | -245.71 | -0.76 |
| .HSI | Hang Seng Index | *HSI | 18904.53 | 244.7 | 1.31 |
| .AXJO | S&P/ASX 200 | *ASX 200 | 7135.1 | 26.2 | 0.37 |
| .SSEC | Shanghai | *SHANGHAI | 3217.99 | -3.37 | -0.1 |
| .KS11 | KOSPI Index | *KOSPI | 2566.14 | 3.65 | 0.14 |
| .FTFCNBCA | CNBC 100 ASIA IDX | *CNBC 100 | 8462.62 | 47.55 | 0.57 |
Overnight in the U.S., all three major indexes advanced higher, with the Dow Jones Industrial Average gaining the most at 0.93%. The tech-focused Nasdaq Composite climbed 0.55% and the S&P 500 gained 0.67%.
— CNBC's Sarah Min and Alex Harring contributed to this report
New Zealand holds interest rate at 5.5%, first pause since October 2021
New Zealand's central bank has held its benchmark interest rate at 5.5%, marking the first pause for the Reserve Bank of New Zealand since October 2021.
The RBNZ said the current level of interest rates are "constraining spending and inflation pressure as anticipated and required."
However, the central bank said interest rates still need to "remain at a restrictive level for the foreseeable future," to ensure that consumer inflation returns to its target range of 1-3%.
— Lim Hui Jie
Japan's wholesale inflation slows for sixth straight month to 4.1%
Japan's corporate goods price index rose at a slower pace of 4.1% year-on-year in June, the sixth straight month that growth has slowed.
Also known as the wholesale inflation gauge, the 4.1% figure is lower than May's revised print of 5.2%, and also the slowest inflation rate recorded since April 2021.
The corporate goods price index measures the price companies charge each other for their goods and services.
— Lim Hui Jie
South Korea's unemployment ticks up in June to 2.6%
South Korea's seasonally adjusted unemployment rate inched up slightly to 2.6% in June, after hitting a joint-record low figure of 2.5% in May.
Compared to the same period a year ago, unemployment fell by 0.4 percentage points and stood at 763,000 people in June
Data from the country's statistics department showed that South Korea's employment to population ratio stood at 63.5% in June, up 0.6% percentage points year-on-year.
— Lim Hui Jie
CNBC Pro: Goldman picks a raft of discounted global stocks — and gives two more than 100% upside
Analysts at Goldman Sachs have picked a number of global stocks it says are trading at a discount — and said two of its picks could rise more than 100% over the next 12 months.
The stocks all appear on Goldman's list called "value buys with earnings upside potential."
"We screen for Buy rated stocks that are trading at attractive valuations relative to their own history … and the broader market (SXXP), where our analysts see upside risks to consensus 2023/24E EPS [earnings per share]," the bank's analysts said.
— Lucy Handley
CNBC Pro: Stocks will tank if the U.S. avoids a recession, Investec equities strategist says
Stock markets might suffer if the United States economy sidesteps a recession that many believe is just around the corner, according to Investec equities strategist Roger Lee.
Lee also explained why markets will fall and where to hide when the downturn begins.
— Ganesh Rao
Dollar index hits 2-month low
The dollar index weakened to 101.666 Tuesday morning, marking its lowest level since May 11, when it hit a low of 101.304.
The Euro traded at 1.1026 against the dollar, its highest level since May 8, before dipping negative against the dollar.
The Pound touched a high of 1.2934 against the dollar, which its strongest level against the dollar since April 22, 2022, when it traded as high as 1.3035 against the dollar.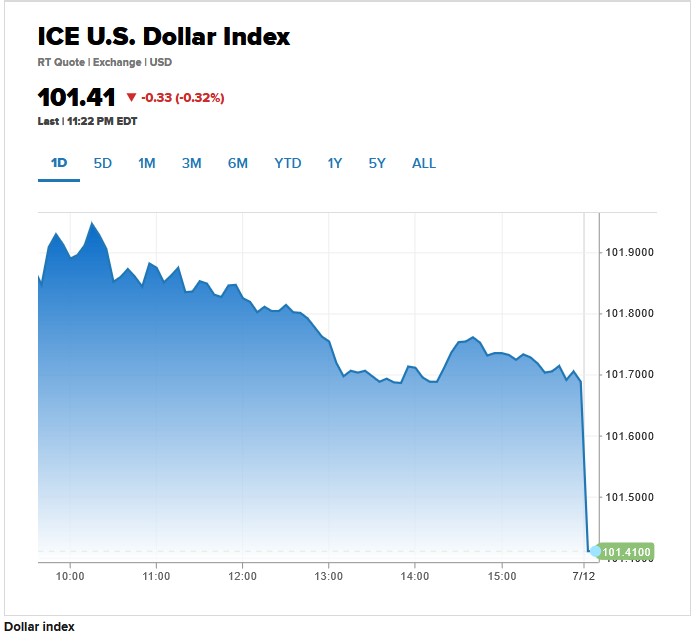 — Hakyung Kim, Gina Francolla
Activision Blizzard shares jump more than 11%
Shares of Activision Blizzard surged 11.3% Tuesday after a federal judge in San Francisco denied the Federal Trade Commission's motion for a preliminary injunction to stop Microsoft from completing its acquisition of the video game company. The two companies have been trying to complete their $68.7 billion deal by July 18.
Microsoft shares traded down 0.4% Tuesday.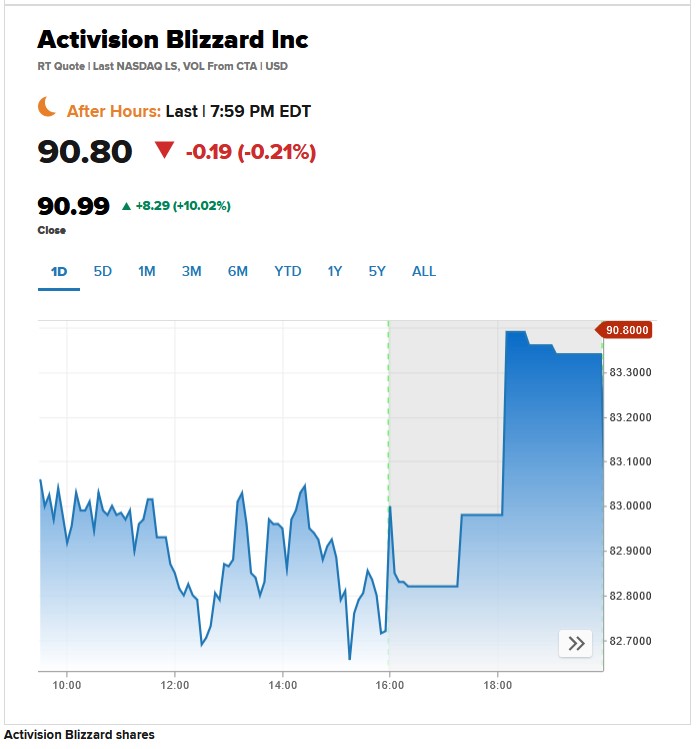 — Hakyung Kim, Jordan Novet
Nasdaq 100 will undergo a 'special rebalance' following tech rally
The rapid rise of a few already massive tech stocks this year is causing Nasdaq to make unusual adjustments to its popular growth index.
The company announced on July 7 that it will do a special rebalance of the Nasdaq 100 Index, which will take effect before the market opens on July 24.
The company said a special rebalance can be used to "address overconcentration in the index by redistributing the weights."
While the index is already rebalanced on quarterly basis, Nasdaq tries to keep the five biggest stocks below a 40% combined weighting in one rebalance per year designated as the annual adjustment, according to the firm's methodology. The five biggest stocks appear to be over that threshold currently, according to the holdings of the Invesco QQQ ETF, which tracks the index.
— Hakyung Kim, Jesse Pound
WTI Crude settles at the highest level since May
WTI Crude settled up 2.5% at 74.83, marking the highest level since May 1, when it settled at 75.66. However, WTI Crude still is down 6.7% year to date.
Brent crude settled 2.2% higher at 79.4, at its highest level since Apr 28. The commodity is down 7.6% in 2023.
— Hakyung Kim, Gina Francolla
Source : cnbc