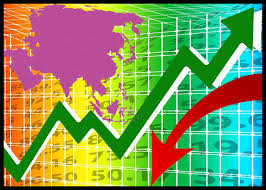 Lim Hui Jie
Asia-Pacific markets mostly fell Tuesday, after Wall Street saw a tech rally led by Tesla and Qualcomm.
Tesla shares jumped 10% after Morgan Stanley upgraded the stock and predicted a significant rally ahead because of breakthroughs with its autonomous software. Qualcomm shares rose nearly 4% after the semiconductor company said it will supply Apple with 5G modems for smartphones through 2026.
Investor sentiment was also helped by a report in The Wall Street Journal on Sunday saying there was consensus among the Federal Reserve not to raise rates at next week's meeting.
Hong Kong's Hang Seng index was marginally lower, as shares of real estate developer Country Garden Holdings climbed as much as 8.7%. This comes after creditors voted to extend repayments on six onshore bonds late Monday.
Mainland Chinese stocks were subdued, with the CSI 300 hovering just above the flat line.
In Australia, the S&P/ASX 200 was trading flat, as the country's business confidence survey for August strengthened to +2, up from +1 in July.
South Korea's Kospi slipped 0.52%, and the Kosdaq was 0.97% lower. Japan's Nikkei 225 was 0.61% up and the Topix gained 0.36%.
| TICKER | COMPANY | NAME | PRICE | CHANGE | %CHANGE |
| --- | --- | --- | --- | --- | --- |
| .N225 | Nikkei 225 Index | *NIKKEI | 32720.84 | 253.08 | 0.78 |
| .HSI | Hang Seng Index | *HSI | 18083.62 | -12.83 | -0.07 |
| .AXJO | S&P/ASX 200 | *ASX 200 | 7203.1 | 10.8 | 0.15 |
| .SSEC | Shanghai | *SHANGHAI | 3136.84 | -5.94 | -0.19 |
| .KS11 | KOSPI Index | *KOSPI | 2542.94 | -13.94 | -0.55 |
| .FTFCNBCA | CNBC 100 ASIA IDX | *CNBC 100 | 8352.5 | 34.97 | 0.42 |
Overnight in the U.S., all three major indexes gained ground as tech rallied, with the Nasdaq Composite leading gains and rising 1.14%.
The S&P 500 gained 0.67% and the Dow Jones Industrial Average 0.25%, aided by a rise in Walt Disney shares.
— CNBC's Sarah Min and Tanaya Macheel contributed to this report.
Country Garden shares jump about 9% after creditors agree to extend onshore bonds
Shares of Chinese real estate developer Country Garden Holdings jumped by nearly 9% before paring gains.
It came after the company's creditors reportedly voted to extend repayments on six onshore bonds by three years.
Creditors voted Monday for proposals by the embattled firm to extend repayments on eight onshore bonds worth 10.8 billion yuan ($1.48 billion).
Reuters, citing two sources, said creditors approved extending six out of the eight bonds, while the other two bonds will see voting delayed.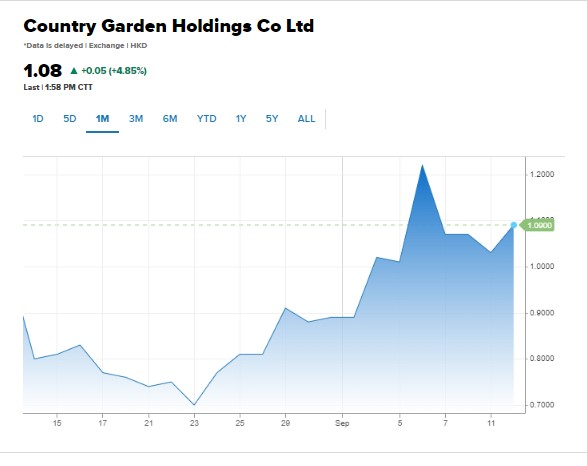 — Lim Hui Jie
Arm IPO's price could top $51 per share: Reuters
Chip designer Arm is reportedly "getting close" to securing enough investor support to attain the fully diluted valuation of $54.5 billion it seeks in its initial public offering, Reuters reported, citing sources familiar with the matter.
This means Arm will likely be able to price the IPO "at the top or above" the $47-to-$51-per-share range, the report said.
The sources said Arm is also discussing the possibility of raising the price range and seeking a valuation of more than $54.5 billion, in light of strong investor interest.
However, Arm will not offer more shares, as SoftBank wants to retain a 90.6% stake in Arm following the IPO, the sources said.
— Lim Hui Jie, Reuters
CNBC Pro: Top tech investor Paul Meeks says he'd buy these tech stocks once the dip runs its course
Tech investor Paul Meeks said he's looking to buy into the weakness surrounding tech stocks — once the correction has run its course.
The S&P 500 has rallied hard for most of this year on the strength of tech stocks. But in August, the Wall Street index fell 1.8%, snapping a five-month winning streak. The tech-heavy Nasdaq Composite fell more than 2%.
He names nine tech stocks — including his favorite mega-cap U.S. tech stock — as well as some smaller, "contrarian" picks.
— Weizhen Tan
Fed officials feeling less urgency for another rate hike, WSJ report says
Federal Reserve officials are growing less certain about the need for more interest rate hikes, marking a significant shift in their inflation-fighting policy, according to a Wall Street Journal report.
The central bank's rate-setting Federal Open Market Committee is still likely to pass on an increase at its meeting next week while indicating that one more move is likely before the end of the year.
However, as inflation data has improved, the willingness of committee members to do too much to fight inflation as opposed to too little is beginning to shift, the report states. In recent statements, a number of officials say the balance of risks has shifted and they are now feeling less urgency to tighten.
Market pricing points to a 44.6% chance of a final rate hike at the November meeting, according to CME Group data.
—Jeff Cox
CNBC Pro: Apple bear says he's not shorting the stock just yet despite China concerns. Here's why
Apple shares fell sharply last week on reports that China is restricting government employees from using iPhones and other Apple devices for work purposes.
Itau BBA analyst Thiago Kapulskis, an Apple bear, said in a note to clients that China concerns were proving to be a catalyst that could bring down Apple's "hard-to-understand valuation" to more reasonable levels.
However, Kapulskis said he was holding off on shorting the stock for now.
— Ganesh Rao
Morgan Stanley's Adam Jonas upgrades Tesla over autonomous driving leap
Morgan Stanley Adam Jonas and top auto analyst is convinced Tesla's autonomous driving supercomputer is the next catalyst for massive growth.
The analyst upgraded Tesla stock to overweight from equal weight in a Sunday note, and now forecasts more than 60% upside. Jonas says the company's supercomputer project, Dojo, could add as much as $500 billion in company value as Tesla continues its own vertical integration.
The bank also made Tesla one of its top picks. Tesla stock is up nearly 6% in premarket trading.
— Brian Evans
CNBC Pro: HSBC names its 'must see stocks' in the UK with substantial upside
British bank HSBC has revealed a bucket list of "must see stocks," in the U.K. regardless of how market conditions pan out over the rest of the year.
The stocks were selected based on factors such as price, growth prospects and value.
— Amala Balakrishner
Chip funds fall despite Qualcomm rally
Major semiconductor funds are struggling on Monday even as the Nasdaq Composite outperforms and Qualcomm rallies after announcing an extended supply relationship with Apple.
The iShares Semiconductor ETF (SOXX) was down 1.1% in late morning trading. The VanEck Semiconductor ETF (SMH) was down nearly 1%.
On the individual stock level, Nvidia, Advanced Micro Devices and On Semiconductor were all under pressure.
— Jesse Pound
Consumer discretionary stocks give S&P 500 upward momentum
Outperformance among consumer discretionary stocks in the S&P 500 helped the broad index take a leg higher in Monday morning trading.
The S&P 500 sector gained 1.9%, while the index as a whole rose 0.4%. It was the best performing sector of the 11 that make up the index, with materials and communication services following at 0.9% and 0.8%, respectively.
Just three of the 11 sectors traded down in Monday's session. Industrials and information technology each slid 0.2%, while energy shed 0.1%.
Tesla led the consumer discretionary sector higher with a gain of nearly 7%. PulteGroup and Amazon were the next best performers, with both up more than 2%.
— Alex Harring
Source : cnbc