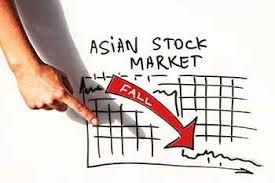 Jihye Lee & Lim Hui Jie
Asia-Pacific markets fell as banking fears were reignited on Wall Street, sending the three major U.S. indexes into a four day losing streak. Regional bank shares sold off, with the SPDR S&P Regional Bank ETF (KRE) dropping more than 5% and some banks seeing volatile trading.
In Australia, the S&P/ASX 200 fell 0.23% in early trade. The Reserve Bank of Australia will release its statement on monetary policy, which will detail the central bank's deliberations when it unexpectedly raised interest rates by 25 basis points to 3.85%.
Futures for Hong Kong's Hang Seng index stood at 19,904, pointing to a lower open compared to its last close of 19,948.73.
China's Caixin services purchasing managers index for April will be published later today, a day after the Caixin manufacturing PMI fell into contraction territory. Markets in Japan and South Korea are closed for a holiday Friday.
| TICKER | COMPANY | NAME | PRICE | CHANGE | %CHANGE |
| --- | --- | --- | --- | --- | --- |
| .N225 | Nikkei 225 Index | *NIKKEI | 29157.95 | 34.77 | 0.12 |
| .HSI | Hang Seng Index | *HSI | 19948.73 | 0 | 0 |
| .AXJO | S&P/ASX 200 | *ASX 200 | 7171.9 | -21.2 | -0.29 |
| .SSEC | Shanghai | *SHANGHAI | 3350.46 | 0 | 0 |
| .KS11 | KOSPI Index | *KOSPI | 2500.94 | -0.46 | -0.02 |
| .FTFCNBCA | CNBC 100 ASIA IDX | *CNBC 100 | 8137.86 | 3.16 | 0.04 |
Overnight in the U.S., the Dow Jones Industrial Average fell 0.86%, while the S&P 500 slid 0.72% and the Nasdaq Composite shed 0.49%. The Dow turned negative for the year on Thursday, pulling back 0.06% year to date.
— CNBC's Hakyung Kim and Darla Mercado contributed to this report
Goldman Sachs advises investors to be overweight in non-U.S. markets
In the case that markets avoid a recession, Goldman Sachs says interests rates will likely then rise, putting downward pressure on valuations. In this case, the bank tells investors to position themselves to position themselves in markets outside of the U.S.
"We continue to recommend an overweight in non-US markets which are cheap with a similar growth profile. Returns for dollar-based investors should also get a boost from a gradually lower dollar," several analysts wrote in a Thursday note.
The company added that it favors quality growth and stable margin businesses "together with some deep value – Energy, Natural Resources and European Banks." Our strategists in the US and Asia have a preference for quality and defensive equities as well.
— Hakyung Kim
Every stock in closely followed regional banking index trades down
Every stock in the SPDR S&P Regional Banking ETF traded lower on Thursday as investors kept focus on the sector. The fund as a whole lost more than 8% in trading on Thursday. Western Alliance and PacWest led the fund lower, with each shedding more than half of their respective share values during the session. Home BancShares, the best performer, was still down 0.7%.
As a whole, the index has tumbled around 41% since 2023 began.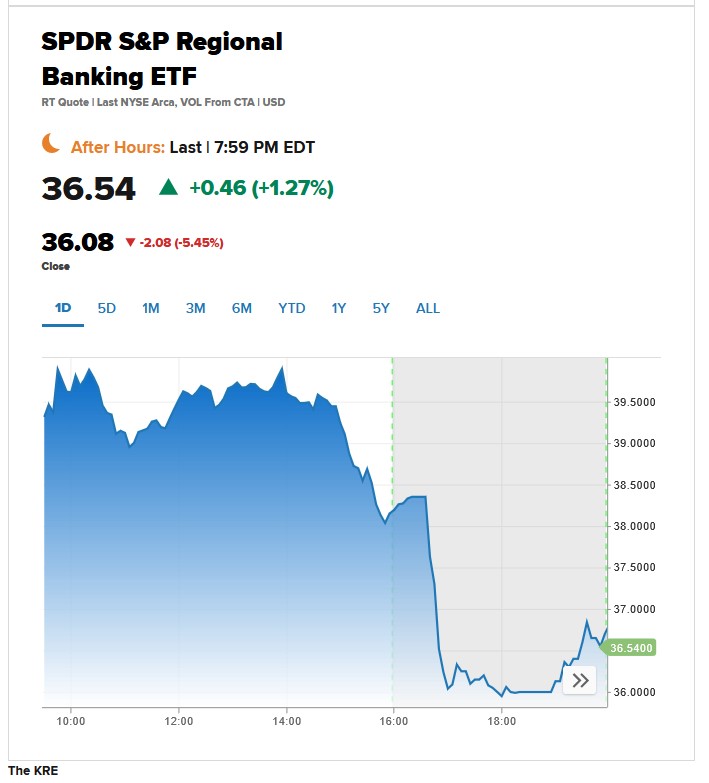 — Alex Harring
Western Alliance shares lose more than half their value, trading halted for volatility
Trading for Western Alliance Bancorp shares was paused multiple times on Thursday, as the stock plunged 58.2%. The move comes as regional banking peer PacWest Bancorp saw its stock lose 59% on news of exploring a sale. The SPDR S&P Regional Banking ETF lost more than 9% Thursday amid the uncertainty.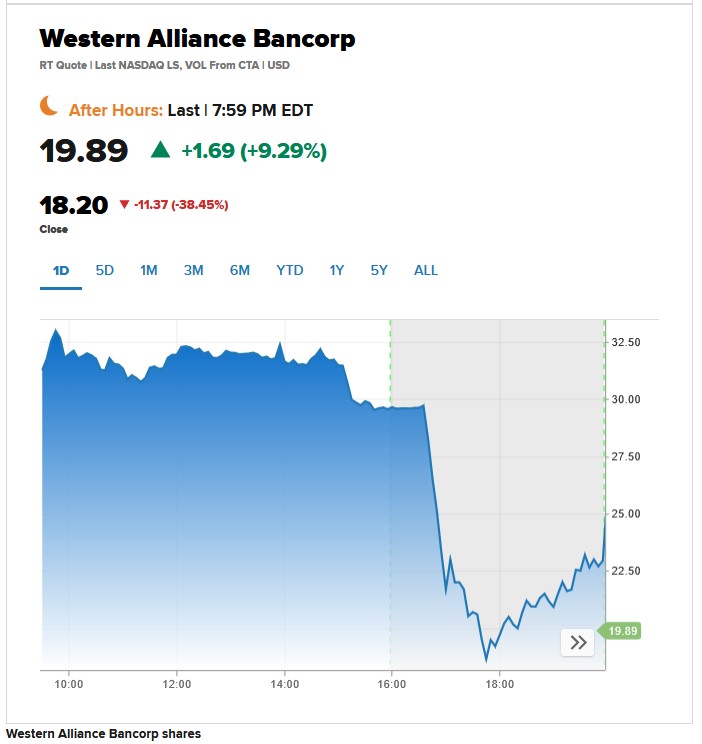 — Hakyung Kim
Claims, productivity, labor costs and trade data miss estimates
A round of economic data points Thursday morning mostly came in worse than Wall Street expectations.
Jobless claims totaled 242,000 for the week ended April 29, higher than the 236,000 estimate from Dow Jones. Worker productivity in the first quarter declined 2.7% against the estimate for a 1.9% drop, while unit labor costs, an inflation gauge, accelerated 6.3% in Q1, higher than the 5.5% expectation.
Finally, the trade deficit declined to $64.2 billion, but that was higher than the $63.1 billion estimate.
—Jeff Cox
ECB hikes rates a quarter point as expected
The European Central Bank on Thursday raised interest rates by a quarter percentage point, in line with market expectations, noting that inflation is still too high and underlying pressures persist.
A day after the U.S. Federal Reserve announced a similar hike, the ECB took its key borrowing rates up to a respective 3.75%, 4% and 3.25%, near a 15-year high. The Fed's move brought its fund rate to a target range of 5%-5.25%.
Headline inflation is running around 7% in the euro zone, well above the ECB's 2% target.
—Jeff Cox
Source : cnbc