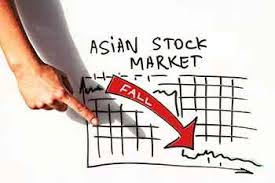 Lim Hui Jie
Asia-Pacific markets fell across the board as investors assess key economic data out of Japan and South Korea.
South Korea's unemployment rate in August came in at 2%, its lowest since June 1999. Meanwhile, corporate confidence in Japan fell in September, among both manufacturers and non-manufacturers, according the Reuters Tankan poll.
Confidence among large manufacturers slid to +4, from +12 in August. The non-manufacturers index dropped nine points to hit +23 in September.
Japan's Nikkei 225 fell after a three-day winning streak, sliding 0.21% to 32,706.52 while the Topix saw a smaller loss of 0.05% to close at 2,378.64.
South Korea's Kospi inched lower by 0.07% to end at 2,534.7 but the Kosdaq was down 1.71% to 882.72. Australia's S&P/ASX 200
slid 0.74% to close at 7,153.9.
Hong Kong's Hang Seng index reversed earlier gains and shed 0.09% to end at 18,009.22, while mainland Chinese stocks also fell, with the CSI 300 down 0.64% to end off at 3,736.65.
| TICKER | COMPANY | NAME | PRICE | CHANGE | %CHANGE |
| --- | --- | --- | --- | --- | --- |
| .N225 | Nikkei 225 Index | *NIKKEI | 32706.52 | -69.85 | -0.21 |
| .HSI | Hang Seng Index | *HSI | 18009.22 | -16.67 | -0.09 |
| .AXJO | S&P/ASX 200 | *ASX 200 | 7153.9 | -53 | -0.74 |
| .SSEC | Shanghai | *SHANGHAI | 3123.07 | -13.99 | -0.45 |
| .KS11 | KOSPI Index | *KOSPI | 2534.7 | -1.88 | -0.07 |
| .FTFCNBCA | CNBC 100 ASIA IDX | *CNBC 100 | 8331.88 | -15.69 | -0.19 |
Overnight in the U.S., all three major indexes lost ground as traders braced for inflation figures out from the U.S. later on Wednesday.
The Nasdaq slid 1.04% to snap a three day losing streak, while the S&P 500 dropped 0.57%. Meanwhile, the Dow Jones Industrial Average declined 0.05%.
— CNBC's Sarah Min and Alex Harring contributed to this report.
Indonesia could be a 'gateway' to EV investment opportunities in Southeast Asia, says Bakrie & Brothers
Indonesia may be a "good gateway" for electric vehicle investment opportunities in Southeast Asia, Anindya Novyan Bakrie, CEO and president director of Bakrie & Brothers told CNBC's "Squawk Box Asia."
"Producing the actual EV in Indonesia, I think it is something that these companies will take a look at ASEAN as a region," he said.
The Indonesian conglomerate's electric vehicle unit VKTR manufactures electric buses as well as EV parts.
The Southeast Asian country has discussed potential investment opportunities with U.S. electric carmaker Tesla.
— Quek Jie Ann
Japan wholesale inflation rate slows for eight straight months
Japan's corporate goods price index climbed 3.2% year-on-year in August, lower than a revised figure of 3.4% in July. The CGPI gauges prices for goods that Japanese companies charge one another.
This was in line with a Reuters poll of economists, and marked eight straight months that the wholesale inflation rate slowed.
On a month-on-month basis, the CGPI rose 0.3%, higher than the 0.1% expected by the Reuters poll.
— Lim Hui Jie
Corporate sentiment less optimistic in Japan due to weak global demand
Corporate sentiment in Japan soured in September as optimism among both large manufacturers and non-manufacturers fell.
According to the Reuters Tankan survey, the manufacturers sentiment index slid to +4, down from +12 in August. That was the biggest drop since January, when the index declined 14 points.
A positive figure means optimists outnumber pessimists.
The non-manufacturers index also dropped nine points to hit +23 in September from the previous month, the biggest decline since May 2020, the survey showed.
Reuters said that Japanese firms complained about higher costs of raw materials, as well as weak global and domestic demand. Other headwinds cited include the Ukraine war, as well as China- U.S. tensions.
— Lim Hui Jie
South Korea's unemployment rate falls to lowest level since June 1999
South Korea unemployment rate fell to a record low in August, coming in at 2% compared with the 2.7% seen in July.
This was the lowest level recorded since the data series began in June 1999, according to Statistics Korea.
On a seasonally adjusted basis, unemployment in August stood a 2.4%, compared to July's 2.8%.
— Lim Hui Jie
CNBC Pro: Alibaba and more: CLSA names 3 of the 'cheapest AI plays' worldwide — giving two over 50% upside
Analysts at capital markets and investment group CLSA picked three global stocks they expect will benefit from the "lucrative potential" of artificial intelligence.
"We estimate the global AI market could reach $1 trillion by 2026, with generative AI, the next big driver of productivity and innovation, making up $100 billion," the analysts said in a note.
— Amala Balakrishner
CNBC Pro: Morgan Stanley names its top stock picks — and its 'least favored' — in a corner of the chip market
A "recovery narrative" has been playing out in a corner of the semiconductor market this year, according to Morgan Stanley.
Pricing and inventory conditions are improving further for this segment, the bank said.
It names its top picks and least favored stocks.
— Weizhen Tan
Apple stock falls as company unveils iPhone 15
Apple stock slipped 1.8% Tuesday after the company unveiled the iPhone 15 at its "Wonderlust" launch event in Cupertino.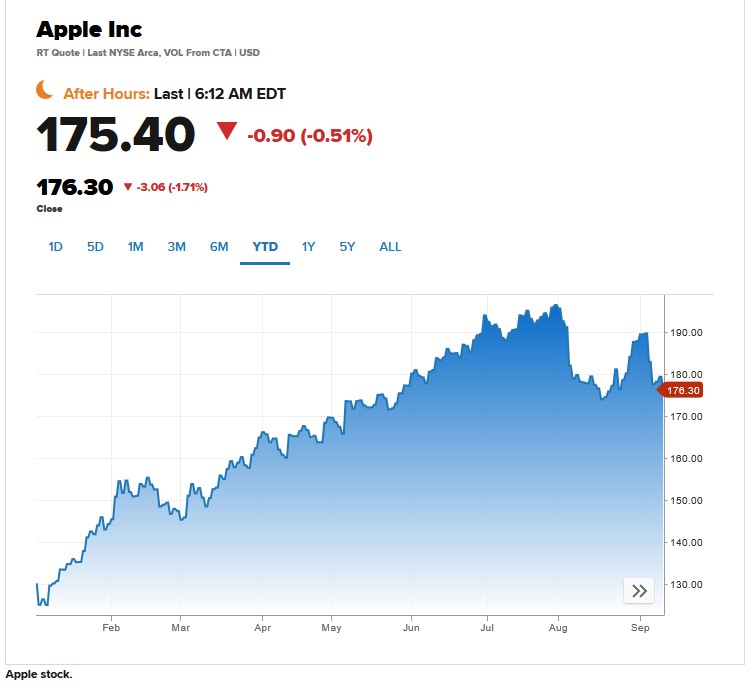 The latest handset in the popular iPhone line of smartphones boasts a 48 megapixel main camera, the A16 Bionic chip and 4K cinematic mode. The iPhone 15 is also made with 75% recycled aluminum and 100% recycled copper. The iPhone 15 will start at $799 for the base model, $999 for the Pro and $1199 for the Pro Max.
— Brian Evans
CNBC Pro: A $16 billion lawsuit payout is going to send this stock soaring, analysts say
Shares of U.S. and UK dual-listed stock jumped 20% last week after a U.S. judge ruled in favor of the company.
The share of a $16 billion payout from the lawsuit is expected to take the stock soaring, according to Jefferies and Numis.
— Ganesh Rao
October WTI crude oil futures reach highest since last November
October West Texas Intermediate crude oil futures climbed as high as $88.45 a barrel (42 gallons) early Tuesday, the highest since Nov. 15, 2022.
WTI hasn't closed above above $90 a barrel since last Nov. 11.
November Brent futures — the global benchmark — also hit a 10-month high Tuesday, reaching $91.50 a barrel.
Permian Resources,Range Resources, EQT, Denbury
and other energy plays are all up 1% or more in early trading.
— Scott Schnipper, Gina Francolla
Energy notches biggest sector gains Tuesday
The energy sector outperformed Tuesday as U.S. crude prices hit their highest point since November 2022.
The Energy Select Sector SPDR Fund added 2.1%. The sector gains were led by Occidental Petroleum, APA Corporation and Marathon Oil
, which all rose more than 3%.
The financials and industrial sectors were the only other industries that were positive as of midday Tuesday. The Financial Select Sector SPDR Fund ticked up 0.8%, while the Industrial Select Sector SPDR Fund
traded near the flatline.
— Hakyung Kim
Information technology underperforms the S&P 500, but some chip stocks shine
Information technology was the biggest laggard in the S&P 500, with the sector last down by 1.2%. Oracle dragged on the sector, dropping more than 12%. Apple shares lost 1.5%.
However, some semiconductor stocks such as Nvidia and Qualcomm were higher by 0.4% and 1.2%, respectively. Intel
shares rose 1.9% after the chip company said it would sell a roughly 10% stake in its IMS Nanofabrication business to TSMC.
— Sarah Min
source : cnbc