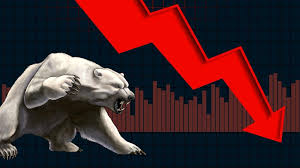 Lim Hui Jie
Asia-Pacific markets were mixed as investors assessed China's industrial data and Australia's August inflation figures due on Wednesday.
Australia's weighted inflation rate climbed 5.2% year on year in August, in line with expectations from economists polled by Reuters, while headline inflation came in at 5.5%.
The Australian S&P/ASX 200 slipped 0.14%, while Japan's Nikkei 225 dropped 0.77%, leading losses in Asia and the Topix slid 0.76%.
South Korea's Kospi was 0.1% lower, but the Kosdaq was 0.37% up.
Hong Kong's Hang Seng index rose 0.56%, reversing losses from Tuesday, while the mainland CSI 300 index also gained marginally.
| TICKER | COMPANY | NAME | PRICE | CHANGE | %CHANGE |
| --- | --- | --- | --- | --- | --- |
| .N225 | Nikkei 225 Index | *NIKKEI | 32371.9 | 56.85 | 0.18 |
| .HSI | Hang Seng Index | *HSI | 17616.29 | 149.39 | 0.86 |
| .AXJO | S&P/ASX 200 | *ASX 200 | 7030.3 | -7.9 | -0.11 |
| .SSEC | Shanghai | *SHANGHAI | 3110.92 | 8.65 | 0.28 |
| .KS11 | KOSPI Index | *KOSPI | 2465.07 | 2.1 | 0.09 |
| .FTFCNBCA | CNBC 100 ASIA IDX | *CNBC 100 | 8138.21 | 19.51 | 0.24 |
Overnight in the U.S., all three major indexes saw a sell off after the latest home sales and consumer confidence reports stoked concern over the state of the U.S. economy, with the Dow Jones Industrial Average seeing its worst day since March.
The Dow lost 1.14% and closed below its 200-day moving average for the first time since May. The S&P 500 slipped 1.47%, closing below 4,300 for the first time since June 9, while the Nasdaq Composite pulled back 1.57%.
— CNBC's Sarah Min and Brian Evans contributed to this report
China industrial profits see softer fall in August
For the first eight months of the year, profits at China's industrial firms extended a double-digit drop, but the pace of declines eased slightly in August.
Profits fell 11.7% year on year as of August, a smaller contraction than the 15.5% drop for the first seven months.
China's National Bureau of Statistics said the profits of industrial enterprises climbed 17.2% year on year in August, which is the first monthly growth since the second half of 2022.
— Lim Hui Jie
Bank of Japan members split over when to raise interest rates in July meeting, minutes show
Japan's central bank board was split over when should the Bank of Japan should start to raise interest rates, according to minutes from its monetary policy meeting in July.
This was in light of inflation then hitting 15 straight months above the BOJ's 2% inflation target.
A member said that there is a "still a significantly long way to go before revising the negative interest rate policy, and the framework of yield curve control needed to be maintained."
However, a different member noted that achievement of the 2% "in a sustainable and stable manner" seemed to have "clearly come in sight" and that it would be possible to assess if the BOJ would achieve this target around January to March next year.
— Lim Hui Jie
CNBC Pro: This cutting-edge British chip designer's shares are set to soar over 100%, says Jefferies
Shares of a British chip designer are set to soar by over 100% over the next 12 months, according to Jefferies
The investment bank believes the company is designing chips for American Big Tech firms, which is expected to increase its profit margins.
The chip stock is also seen as "one of the key potential beneficiaries" of the growing trend in artificial intelligence applications.
— Ganesh Rao
Hong Kong trade sees smaller declines in August
Hong Kong's trade declined at a slower rate in August, with imports and exports falling by 0.3% and 3.7% year on year respectively.
This is compared to July's drop of 7.9% for imports and 9.1% for exports.
Total trade for August came in at 742.18 million Hong Kong dollars, a 2% fall year on year.
— Lim Hui Jie
CNBC Pro: Forget India: One portfolio manager bucks the trend, says another market offers 'great value'
India's growth prospects have seen many investors and big-name banks turn bullish on the country, but portfolio manager Kamil Dimmich says he's steering clear.
"We are probably in the minority in here [and] we don't mind being in the minority," Dimmich from North of South Capital told CNBC Pro Talks last week.
Instead, he revealed an emerging market he says offers "great value," with two of his favorite stocks.
— Amala Balakrishner
CNBC Pro: 'I believe in the sector': Investing in K-pop? Bernstein is a fan of this stock
K-pop is a music phenomenon that stretches far beyond South Korea — and for investors wanting to cash in, there are just a few major agencies behind its more than 300 groups.
Bokyung Suh, director and senior research analyst at Bernstein, is bullish on one of them in particular and shares a key reason behind his outperform rating on the stock.
— Lim Hui Jie
Dow falls below 200-day moving average
Tuesday's sell-off pushed the Dow Jones Industrial Average below its 200-day moving average, a key long-term technical level. The move suggests the benchmark's long-term momentum may be waning.
FactSet
The Dow hasn't closed below that level since May.
— Fred Imbert
S&P 500 dips below 4,300 for the first time since June 9
All three major indices accelerated losses Tuesday morning after the release of disappointing economic data.
The S&P 500 fell roughly 1% to 4,295, its lowest level since June 9. Year to date, the index is still up nearly 12%.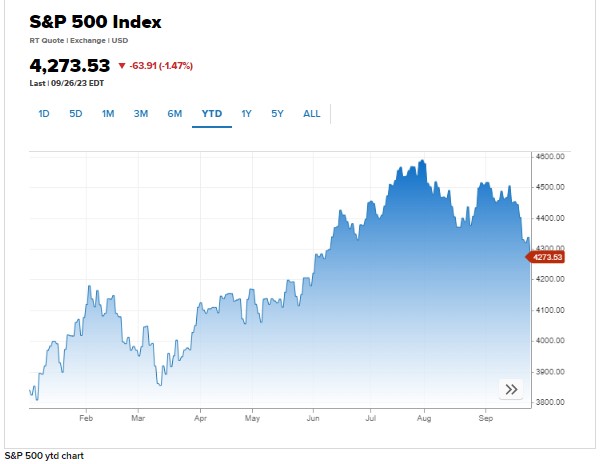 August new home sales fell short of analyst expectations and were also down 8.7% from July, according to the Commerce Department. The Conference Board's consumer confidence index also missed expectations, falling to 103 in September from 108.7 in August.
Comments made by JPMorgan Chase CEO Jamie Dimon anticipating additional room for rates to rise also pushed stocks down earlier this morning.
— Lisa Kailai Han, Jeff Cox
Oil prices continue ascent this quarter
A strong past few months for oil prices is putting crude on pace for its best quarter in more than a year.
With just days left in the trading month and quarter, both West Texas Intermediate and Brent crude are on pace for their first straight month of price gains. That means, if it holds, both will have climbed in price every month of the third quarter.
WTI has gained about 26.1% since the quarter began, while Brent has climbed around 23.8% in the same period. With those advances, both are on pace to post their best quarters since the first quarter in 2022.
— Alex Harring, Gina Francolla
Tesla falls after report that EU will probe EV maker over China exports
Tesla shares were down more than 1% after a European Union trade official told The Financial Times that the company, along with other carmakers in Europe that export from China, will face an investigation over whether the EV makers are unfair subsidies.
"Strictly speaking, it's not limited only to Chinese brand electrical vehicles, it can be also other producers' vehicles if they are receiving production-side subsidies," EU executive vice-president Valdis Dombrovskis told The FT.
— Fred Imbert
source : cnbc