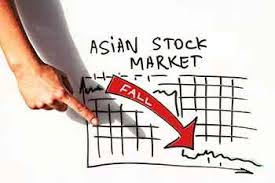 Lim Hui Jie
Asia-Pacific markets fell as Australia's central bank's held its benchmark policy rate at 4.1% for the third straight month in a row and investors assessed inflation and business activity readings from across the region.
The Reserve Bank of Australia's decision was in line with expectations from economists polled by Reuters. The S&P/ASX 200 slid 0.33% after the announcement.
Elsewhere, South Korea's inflation rate for August came in higher than expected at 3.4%. Thailand and the Philippines are also expected to release inflation data Tuesday.
Investors will also be monitoring purchasing managers index readings from China, India and Hong Kong.
South Korea's Kospi slid 0.2%, while the Kosdaq saw a larger loss of 0.37%. Japan's Nikkei 225 and Topix were lower by 0.13% and 0.31% respectively.
Hong Kong's Hang Seng index led losses in Asia and fell 1.06%, while mainland Chinese markets are also in negative territory, with the CSI 300 down 0.24%.
| TICKER | COMPANY | NAME | PRICE | CHANGE | %CHANGE |
| --- | --- | --- | --- | --- | --- |
| .N225 | Nikkei 225 Index | *NIKKEI | 32924.2 | -14.98 | -0.05 |
| .HSI | Hang Seng Index | *HSI | 18559.92 | -284.24 | -1.51 |
| .AXJO | S&P/ASX 200 | *ASX 200 | 7298.8 | -20 | -0.27 |
| .SSEC | Shanghai | *SHANGHAI | 3157.16 | -19.9 | -0.63 |
| .KS11 | KOSPI Index | *KOSPI | 2583.81 | -0.74 | -0.03 |
| .FTFCNBCA | CNBC 100 ASIA IDX | *CNBC 100 | 8409.31 | -73.07 | -0.86 |
U.S. markets were closed on Monday for the Labor Day holiday, but futures for the three major indexes were little changed, with Dow Jones Industrial Average and S&P 500 futures both marginally below the flatline and Nasdaq Composite slightly above.
— CNBC's Sarah Min and Alex Harring contributed to this report
Philippines inflation rises for first time since January, but core inflation slows
The headline inflation rate in the Philippines rose for the first time in seven months to 5.3% in August, up from 4.7% in July.
This figure was also higher than expectations from economists polled by Reuters, who expected the inflation rate to remain unchanged at 4.7%.
However, the core inflation rate — which excludes selected food and energy items — decelerated further to 6.1% in August, down from 6.7% in July.
— Lim Hui Jie
Country Garden pays bond coupon due in August, avoiding default: Reuters
Chinese property developer Country Garden Holdings wired bond coupon payments that were due last month, Reuters reported, citing a source close to the company.
China's largest private property developer failed to pay a $22.5 million coupon on two U.S. dollar bonds on Aug. 6, raising market fears of a default. Both payments had 30-day grace periods.
— Lim Hui Jie
China service sector activity logs slowest expansion in eight months: Caixin survey
China's services sector recorded its slowest expansion since December 2022, according to a Caixin survey.
The Caixin purchasing managers index for August came in at 51.8, down from 54.1 in July.
The survey noted that this was amid a softer rise in overall new work, adding that "notably, new business from abroad fell for the first time in 2023 so far."
Nevertheless, companies remained optimistic onthe 12-month outlook, and planned company expansions supported a further increase in employment across the sector, the report said.
— Lim Hui Jie
Japan's service sector activity expands at fastest pace in three months
Japan's service sector activity expanded at the fastest pace since May, according to a private survey from au Jibun bank.
The country's service purchasing managers index stood at 54.3 in August, unchanged from the flash estimates released in late August and higher than the 53.8 in July.
The bank noted that a faster rise in new business was a key factor in driving business activity growth higher, adding that firms cited greater consumer spending and customer numbers.
While service providers in Japan saw a faster increase in operating expenses, "firms remain strongly optimistic that activity will rise over the coming 12 months," the bank added.
— Lim Hui Jie
Qantas CEO steps down 2 months early as regulators scrutinize ticket sales
Qantas announced Tuesday that CEO Alan Joyce will step down from his role two months early, effective Wednesday. In line with previously announced succession plans, the airline's current CFO Vanessa Hudson will take over as CEO.
The accelerated change comes after the Australian Competition & Consumer Commission alleged that between May and July 2022 Qantas advertised thousands of flights it had already canceled.
On Monday, Qantas said it was reviewing the ACCC's allegations and would comment further after. The airline said it fully cooperated in the investigation and understands the significant concerns it has created among its customers.
"We openly acknowledge that our service standards fell well short and we sincerely apologize. We have worked hard to fix them since and that work continues," it said in the statement.
— Christine Wang
Hong Kong private sector activity still in contraction, but sees improvement over July
Hong Kong private sector activity contracted for a second straight month in August, albeit at a slower pace compared to July.
According to a private survey done by S&P Global, the city's global purchasing managers index came in at 49.8 compared to the 49.4 in July.
A PMI reading of above 50 indicates expansion in the sector, while one below 50 indicates contraction.
S&P Global said this was due to weaker underlying demand, weighed by softening economic conditions. However, this was offset slightly by exports growing fractionally in August.
— Lim Hui Jie
Singapore picks Chia Der Jiun as next central bank head
The Monetary Authority of Singapore announced late Monday that Chia Der Jiun will be its next managing director starting Jan. 1. Chia currently serves as permanent secretary at Singapore's Ministry of Manpower.
Chia succeeds Ravi Menon who will retire from public service and step down from his roles at MAS on Dec. 31.
Singapore's central bank didn't provide further details on the reasons for Menon's retirement. In May, he had been reappointed for another two years.
— Christine Wang
South Korea inflation rate quickens more than expected after six months of slowdowns
South Korea's consumer price index climbed 3.4% year-on-year in August, the first rise recorded in the inflation rate since January.
The figure was sharply higher than the 2.3% gain in July and also higher than the 2.7% expected by economists polled by Reuters.
The consumer price index also rose by 1% month-on-month, higher than the 0.3% expected.
— Lim Hui Jie
CNBC Pro: UBS downgrades 2 large global automakers over 'highly competitive' Chinese EVs threat
UBS has downgraded two large global automakers over mounting competition from Chinese electric vehicle manufacturers.
The investment bank also cut price targets as it sees mass market car makers lose market share to Chinese firms such as Warren Buffett-backed BYD.
— Ganesh Rao
CNBC Pro: Here's where to invest $50,000 right now, according to the pros
Markets now look pretty different from just a few months ago when stocks were rallying.
If you had $50,000 to invest, where should you put it and how much should you allocate to each asset class? CNBC Pro spoke to portfolio managers and other investors to find out.
We also got back to those who told CNBC Pro how they would allocate $50,000 in June to ask what — if anything — they would change.
— Weizhen Tan
UBS expects 'clear signs of slowing' for U.S. economy by November's FOMC meeting
UBS is sticking by its view of a "softish" landing for the U.S. economy, saying inflation is moving closer to the Federal Reserve's target without a recession this year.
"August was a tough month for investors," said Mark Haefele, global wealth management chief investment officer at UBS, noting that the S&P 500 ended last month down 1.6%. "Contradictory evidence and conflicting interpretations of economic data, asset pricing, and the outlook for Fed policy have buffeted asset prices in recent weeks as expectations of a soft landing for the US economy have ebbed and flowed."
Some remaining uncertainties could still keep market on edge, Haefele said in the Monday note. Last month's increase in core PCE came out well above the Fed's target, which could sustain the possibility of another rate hike, the analyst said. UBS is also watching for a potential rebound in savings rates and further cooling in the labor market.
"Our base case view is that by the November FOMC meeting, the economy will have shown clear signs of slowing, leading the Fed to finally put an end to its sharpest rate hike cycle since the 1980s. We expect US Treasury yields to fall by year-end as both US economic growth and inflation moderate," Haefele wrote.
— Pia Singh
Stocks will try to keep momentum next month, but headwinds await
Investors are preparing for what history says is the weakest month for markets.
In September, traders will weigh fresh data from economic reports, including the personal consumption expenditures price index, which is the Federal Reserve's preferred inflation measure. Traders also await September's two-day Fed meeting, during which central bank policymakers will announce their interest rate decision Sept. 20.
— Pia Singh, Sarah Min
Source : cnbc