Lim Hui Jie
Asia-Pacific markets slipped Monday as investors look ahead to a week of central bank decisions.
The U.S. Federal Reserve's decision is expected early Thursday in Asia, while Australia's central bank will release its minutes for its Sept. 5 policy meeting on Tuesday.
On Friday, the Bank of Japan will conclude its monetary policy meeting and traders will be looking for clarity on when the BOJ will start to shift its ultra-easy monetary policy. Elsewhere, the People's Bank of China is also expected to release its loan prime rate decisions on Friday.
In Australia, the S&P/ASX 200 started the week down 0.74%, while South Korea's Kospi also fell 0.68% and the Kosdaq slumped 0.72%.
Hong Kong's Hang Seng index slid 1.16%, leading losses in Asia, while mainland Chinese markets were more subdued, with the CSI 300 trading close to the flatline.
| TICKER | COMPANY | NAME | PRICE | CHANGE | %CHANGE |
| --- | --- | --- | --- | --- | --- |
| .N225 | Nikkei 225 Index | *NIKKEI | 33533.09 | 364.99 | 1.1 |
| .HSI | Hang Seng Index | *HSI | 17996.76 | -186.13 | -1.02 |
| .AXJO | S&P/ASX 200 | *ASX 200 | 7232.1 | -46.9 | -0.64 |
| .SSEC | Shanghai | *SHANGHAI | 3116.06 | -1.69 | -0.05 |
| .KS11 | KOSPI Index | *KOSPI | 2576.75 | -24.53 | -0.94 |
| .FTFCNBCA | CNBC 100 ASIA IDX | *CNBC 100 | 8414.41 | -59.14 | -0.7 |
On Friday in the U.S., all three major indexes lost ground, with the the Dow Jones Industrial Average sliding 0.83%, while the S&P 500 was lower by 1.22% and the Nasdaq Composite dropped 1.56%.
— CNBC's Sarah Min and Samantha Subin contributed to this report.
SoftBank eyes OpenAI tie up after Arm IPO: FT
Japanese investment holding company SoftBank is reportedly planning to invest "tens of billions" into artificial intelligence, according to the Financial Times.
Citing "two people familiar with [SoftBank founder Masayoshi] Son's thinking," the FT reported the company is considering several options, including investing in or a "broad strategic partnership" with Microsoft-backed OpenAI.
SoftBank could also invest in rivals, the report added. FT also said that SoftBank made a preliminary approach to buy U.K.-based AI chipmaker Graphcore.
SoftBank told the FT it does not comment on rumors, and Graphcore denied to FT that it received an offer from SoftBank.
— Lim Hui Jie
Singapore trade slides more than expected in August; 11th straight month of decline
Singapore's non-oil domestic exports slid for an 11th straight month, falling 20.1% year on year.
The fall was much larger than the 15.8% drop forecast by economists polled by Reuters, but slightly less than the 20.3% fall recorded in July.
Total trade in Singapore declined 15.2% year on year in August to 100 billion Singapore dollars ($73.4 billion) , following the 20.9% contraction in the preceding month.
Both imports and exports fell year on year, dropping 15.6% and 14.7%, respectively.
— Lim Hui Jie
CNBC Pro: China's AI applications are coming — where it matters for monetization
China's market advantage has been a huge user base, coupled with an ability to ramp up internet penetration to support an online ecosystem – from Taobao e-commerce sales to scan-to-ride bike shares.
"Early movers in the [large language model] market have already started the commercialization process, and regulatory approval for 10+ LLMs to open to the public has further cleared roadblocks to monetization," Nomura analysts said in a Sept. 10 note, citing meetings with businesses and industry experts in Beijing in the few days prior.
CNBC Pro: Bank of America names 2 European chip stocks as its 'top picks' into year-end
Bank of America has named two European chip stocks as its "top picks" going into the end of the year.
The Wall Street bank's "top autos semis pick" is expected to rise by more than 60% over the next 12 months.
— Ganesh Rao
FRI, SEP 15 202310:09 AM EDT
Inflation outlook tumbles to lowest since early 2021, survey shows
The inflation outlook for one year from now fell to its lowest level in more than 2½ years, according to a widely followed sentiment gauge released Friday.
The University of Michigan's consumer sentiment survey showed one-year inflation expectations plunged to 3.1% in September, tied for the lowest since January 2021. Also, the five-year outlook fell to 2.7%, tied for its lowest since December 2020.
However, the overall sentiment gauge declined to 67.7, down from 69.5 in August and below the Dow Jones estimate for 69.2.
—Jeff Cox
CNBC Pro: Nvidia or Arm? Dan Niles reveals which he'd 'much rather' own
U.K.-based chip design company Arm debuted on the Nasdaq on Thursday, and now it's trading at a premium to even fellow semiconductor firm Nvidia.
Hedge fund manager Dan Niles told CNBC's "Squawk Box Asia" that he'd "much rather own" one of them.
He also advised investors to tap the AI theme with other names, naming four top plays he likes.
— Weizhen Tan
Arm shares are slightly higher Friday after blockbuster IPO-driven rally
Shares of Arm Holdings added 0.8% during midday trading Friday, crawling back slightly from its previous rally. The stock popped nearly 25% during Thursday's trading session, when the company made its blockbuster Nasdaq debut through an initial public offering that priced shares at $51 each and valued the company at about $54.5 billion.
Some analysts are concerned about Arm's valuation.
Needham earlier initiated coverage of British semiconductor stock with a hold rating, but said the company's valuation may look "full" in a post-smartphone era. Quilter Cheviot earlier told CNBC that "the pricing is expensive."
Investors are focusing on some of the risk around the company, including its exposure to China and rising competition from a rival semiconductor architecture, called RISC-V, that is backed by some of Arm's biggest customers. Arm's chip architecture is in 99% of the world's smartphones.
— Pia Singh
Dollar index on pace for longest weekly win streak since 2014
The Dollar Index is headed toward its 9th straight weekly gain for the first time since Oct. 3, 2014. The Dollar Index marked a 12-week win streak then, which is the longest winning streak on record.
Week to date, the Dollar Index is up 0.16%.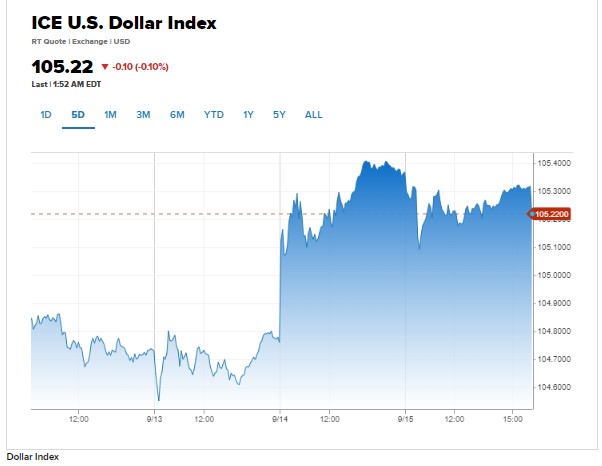 — Hakyung Kim, Gina Francolla
Netflix, chip equipment stocks among biggest weekly Nasdaq losers
The Nasdaq Composite erased earlier weekly gains on Friday, putting the tech-heavy index on pace for a 0.5% loss for the week. The concentrated Nasdaq-100 is slated for a 0.6% loss.
Some of the biggest laggards include chip equipment stocks KLA Corporation, Lam Research and Applied Materials, down at least 7% each. Adobe's shed more than 6%, while On Semiconductor's slumped 5.4%. Netflix is the biggest loser in the Nasdaq-100, headed for a 10.6% weekly loss.
Despite the downtrend, some stocks are poised for weekly gains. That includes Charter Communications, PayPal and Qualcomm, up more than 6% each. Tesla is the biggest winner, on pace for a 9.2% gain, followed by Moderna.
— Samantha Subin
Source : cnbc